Caught on video: Man flips over street vendor's cart in Hollywood, unleashing public anger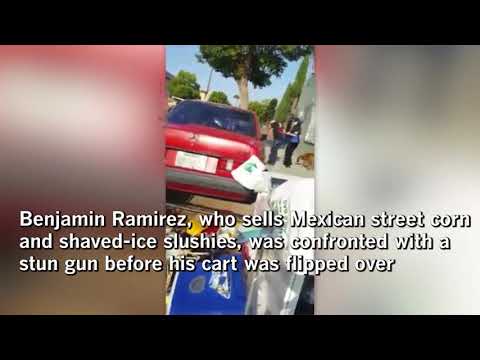 A man was confronted with a stun gun before his cart was flipped over. (July 26, 2017)
Benjamin Ramirez first noticed the thin, bearded man in late June, standing across the street, staring at him, as he sold shave-ice slushies and Mexican street corn.
Over the next few weeks, on three occasions, Ramirez, 24, said the man and a woman harassed him about doing business in their Hollywood neighborhood. They told him that it was illegal and that he was blocking the sidewalk, he said.
When Ramirez — only two months into street vending — told his father about the encounters on Romaine Street and El Centro Avenue, he gave his son a piece of advice.
"I told him: next time, get it on video," Alex Ramirez said.
The next time happened last week, and this time Ramirez captured the encounter.
Late Monday afternoon the video exploded on social media, showing the bearded man tipping over Ramirez's white, wooden cart, spilling ears of corn, bottles of syrup and chips on the street.
The confrontation unleashed public fury at the man, who wore a hat and a Guns N' Roses shirt, and swelling support for the street vendor.
On Tuesday a small rally was held outside the green apartment complex where the altercation occurred. In an interview for a Spanish morning radio show, Ramirez, a soft-spoken Mexican immigrant, said he appreciated the community's support.
More than 30 people gathered at the location, some from other neighborhoods.
"It really hurts me that people are being bullied like that," said Galo Coñote, 46, of Koreatown. "It's uncalled for … and it hits close to home because I'm Mexican."
In the hierarchy of immigrant occupations, street vending is near the bottom. It's a job from which you can't be fired — but it takes long hours every day to make a living. There are few symbols more potent of the slogging work than the pushcart — which, balky as it can be, is a virtual livelihood on wheels.
In Los Angeles, most street vending is illegal, but spurred by President Trump's tough talk on illegal immigration, city officials moved to decriminalize it this year in order to reduce the risk of deportation for vendors who are living in the country illegally.
In the video, recorded July 17, the bearded man is seen standing several feet from Ramirez. The man is walking his dog with the woman who appears to be his girlfriend. After several exchanges, Ramirez tells the man that he has room to pass.
"Move the cart, or I'm going to move it myself," the man said in Spanish.
"Go ahead," Ramirez said.
The man then handed the dog's leash to the woman, and walked toward Ramirez. He held an object in his right hand that Ramirez believed to be a knife. Ramirez said that in self-defense he threw chili powder at the man. Enraged, the man flipped Ramirez's food cart. Ramirez said it was only after speaking to a Los Angeles police detective that he learned the object in the man's hand may have been a stun gun.
Shortly after tossing the chili powder, Ramirez grabbed a metal bar to protect himself, apparently causing the woman to step in and warn him.
Ramirez turned the cellphone on himself.
"I'm recording this because this ... racist threw my things," he said.
"I'm not racist," the man said from a distance. "I'm Argentinian, you retard."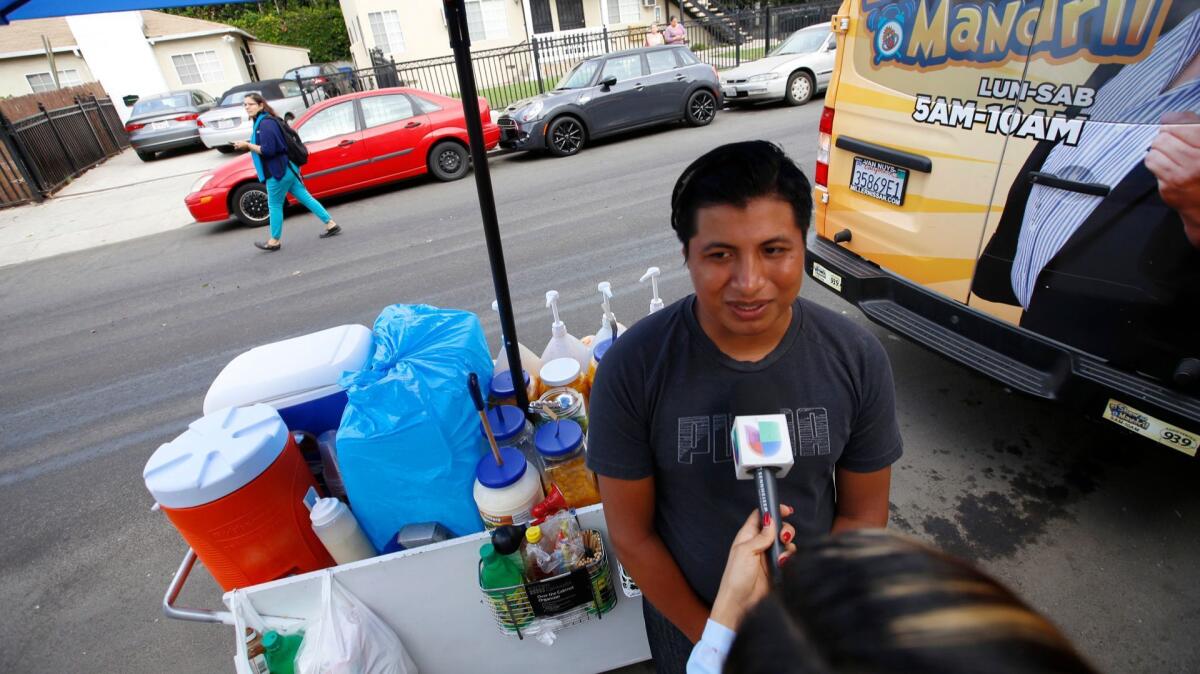 "You're impacting someone's ability to make a living and affecting their ability to get a piece of the American pie, the American dream," said Ulisses Sanchez, a Boyle Heights community organizer who is planning a happy-hour event to raise money for Ramirez. "Your actions have repercussions."
The Los Angeles Police Department said it is looking into the matter but did not provide further information. A city attorney's spokesman said it is his understanding the LAPD is still investigating the incident.
The man who shoved the cart has not been identified by authorities.
Ramirez said all he wants is for the man to pay for the damage he caused and for the food he lost. One by one, residents and neighbors approached him to encourage him to stay strong.
"Don't you stop coming around here, look around, you have all this support," a woman yelled at Ramirez, who smiled and replied: "I'm grateful for it."
For more Southern California news, follow @latvives on Twitter.
ALSO
'She killed her own sister': Family reeling after California teen livestreamed deadly DUI crash
San Diego teacher detained after refusing to answer Border Patrol questions at checkpoint
Street vendors launch citywide effort to clean up sidewalks
'Why do you go after us like this?' Video shows Riverside sheriff's deputy arresting a woman selling flowers without a permit
Sign up for Essential California for news, features and recommendations from the L.A. Times and beyond in your inbox six days a week.
You may occasionally receive promotional content from the Los Angeles Times.