January storms fill up state's water reserves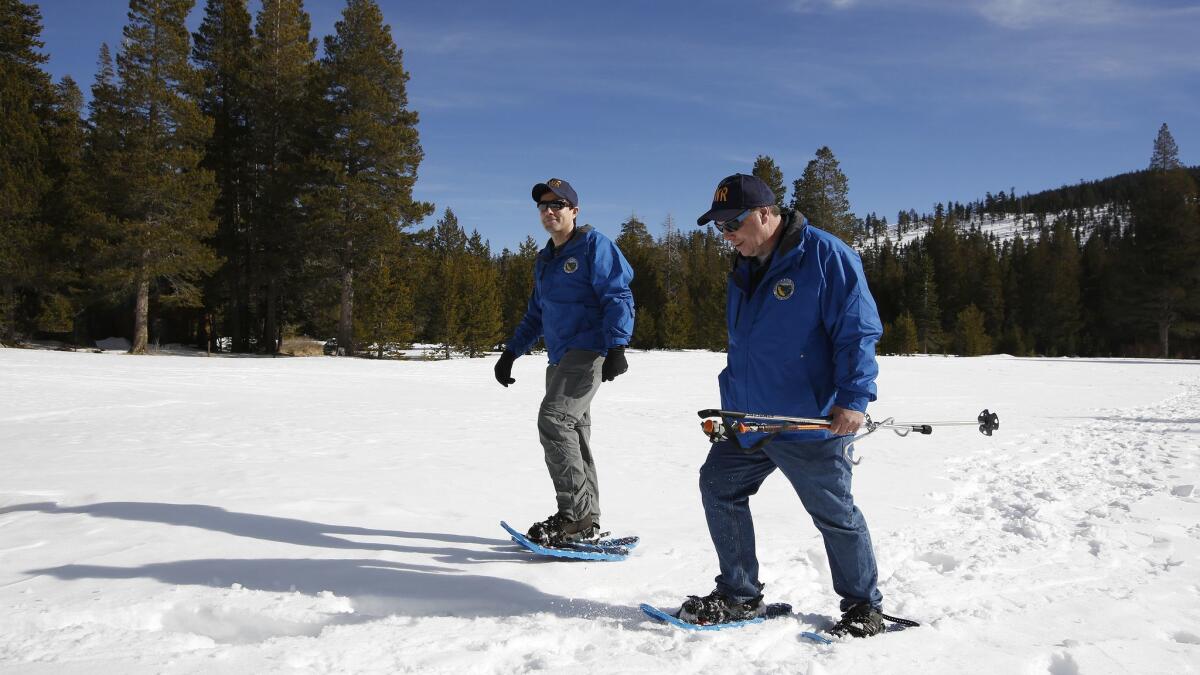 Storms swept through California in recent weeks, drenching striking teachers and blocking roads with debris flows in recent burn areas, but they weren't all bad: The state's reservoirs are healthy and full, a good sign for the water supply.
Nearly all California reservoirs are at or above average levels. Overall, 580 billion gallons of water were added across the state since Jan. 1. Some major water sources, such as the San Luis Reservoir in Merced County and Lake Perris in Riverside County, are near capacity.
The Sierra Nevada snowpack— a major source of water which state water departments monitor throughout the year — is looking good, too, with snow measuring 115% of average Tuesday, compared with 26% of average the same day last year.
"Right now, we're doing OK," said Department of Water Resources spokesman Chris Orrock. "We had some good storms … that pushed our totals above average."
Central California's lakes fared particularly well.
On Wednesday, the New Melones Lake was filled with nearly 1.9 million acre-feet of water and was at 131% of average, while Lake McClure had 602,219 acre-feet of water and was 126% of average compared to the same day last year.
The San Luis Reservoir is 82% full, and Lake Perris is 88% full. Taken altogether, 1.8 million acre-feet of water was added between Jan. 1 and Wednesday.
After a relatively dry fall, the wet weather has been welcome news. The hope is that the rain and snow will continue, topping off the year with slightly above-average water supply levels.
Unfortunately, Orrock said, a high pressure zone off the coast is pushing storms to the north. That means for the next week, the forecast is dry and sunny.
"We don't know if we're going to get any more rain the rest of the year," Orrock said. "We're only halfway through."
Orrock said it's hard to tell what shape the state's water supply will be in when the rainy season is over. The state can't only rely on a rainy January, he said, and another drought is always a possibility.
"The only thing that's constant about our climate is that it's variable," Orrock said. "We never know when that drought will come back."
After a years-long drought that sucked the state's water resources dry, experts were thrilled by a "miracle March" in 2017, when the rain came pouring down, making it a record-breaking water year, Orrock said. That year, rain totaled 27.81 inches, making it the rainiest since 1895.
But in 2018, water levels returned to below average.
"It's not if, it's when," Orrock said of returning drought conditions. "Turn off faucets. Only water your lawn every couple of days."
alejandra.reyesvelarde@latimes.com
Twitter: @r_valejandra
Sign up for Essential California for news, features and recommendations from the L.A. Times and beyond in your inbox six days a week.
You may occasionally receive promotional content from the Los Angeles Times.