California is having its rainiest water year on record, lifting many out of drought conditions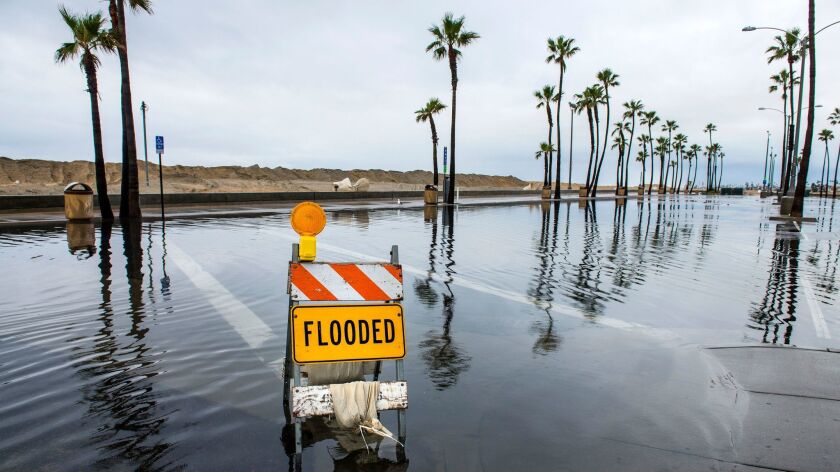 California is having its rainiest water year since record-keeping began in 1895 — a deluge that has been rapidly altering the landscape of a state that until recently was in drought.
It has rained an average of 27.81 inches statewide from Oct. 1 to Feb. 28, the National Oceanic and Atmospheric Administration's National Centers for Environmental Information reported. A water year begins on Oct. 1.
The 20th century average was 15.5 inches in the same time period, and the previous record was the winter of 1968-69, when it rained an average of 27.34 inches, the agency reported.
Signs of this shift are everywhere.
In the Anza Borrego desert near the Mexican border, state park officials said "plants are exploding into bloom" thanks to good rains in December, January and February. Lillies are growing in the badlands, notch-leaved phacelia are beginning to appear and bright yellow poppy fields are sprouting in the hillside, park officials said.
Many of the state's reservoirs are full or above their historic averages. On Friday, Castaic Lake was filled to 92% of its capacity, which is above average for this time of year.
Along the coast, months of rain have pounded Pacific Coast Highway near Big Sur, forcing a months-long closure of the Pfeiffer Canyon Bridge after it began to crumble. The community has endured months of highway closures and reopenings as repeated storms have triggered mud slides, Caltrans said.
So much water came rushing down from the state's rivers this month that for the first time since Dec. 31, 2005, state workers opened up the floodgates of the Sacramento Weir — a low spot in the levees that can allow river waters to pour into this historic floodplain.
The waters have fed the Yolo Bypass to a point it hasn't been filled to since the drought began years ago.
The bypass is one of California's most daring and critical pieces of water infrastructure, collecting runoff from various streams and rivers from Sierra Nevada and other mountain ranges to prevent flooding in Sacramento and surrounding suburbs.
"It's an inland sea," said Jay Lund, director of the Center for Watershed Sciences at UC Davis.
The numbers bear out the progress made statewide.
As of Friday in downtown Los Angeles, it has rained 12.55 inches since Jan. 1, while the average is 7.87, the National Weather Service said. Since Oct. 1 it has rained 18.5 inches downtown and the average is 11.9, the agency said.
Data at Long Beach Airport show a similar increase this year. The average rainfall from Jan. 1 to Friday was 14.1 inches, more than double the average of 6.42, the weather service said. It has rained 19.3 inches at the airport since Oct. 1 while the average is 10, data show.
Even in Redding, which gets its fair share of rain annually, the numbers are staggering. The Redding Airport receives 13.08 inches of rain on average, from Jan. 1 to Friday, the National Weather Service reported. So far this year it has received 20.26. Since Oct. 1, the airport has received 38.99 inches of rain, a significant leap from its average of 25.93, data show.
"All that rain we got knocked us down pretty good in the drought severity," said Stuart Seto of the National Weather Service.
According to Thursday's U.S. Drought Report, only 7% of California remains in moderate drought conditions and 1% remains in severe drought. No portion of the state can be categorized as being in extreme or exceptional drought. About 15% of the state is considered to be "abnormally dry," according to the weekly report.
The state's drought outlook is a turnaround from this time a year ago, when 99% of California and 37.1 million of its residents endured some category of drought.
As of Thursday, only 10.2 million Californians were living in some form of drought, according to report authors.
The drought turnaround began in October, when rainfall hit four-times the annual average for that month.
Since Oct. 1, California has been soaked by some 30 atmospheric rivers — Pacific-based storms that are 250 miles wide and can hold as much water as the mouth of the Mississippi River.
But it's unclear just how much rain is left for California this year. The traditional rain season ends in March, and NOAA's Climate Prediction Center forecasts a bone-dry summer.
"Our precipitation is going to start declining rather rapidly after March. The good news is you have a great snowpack," said CPC meteorologist David Miskus.
The Sierra Nevada snowpack sat at 178% of average Friday. The range provides about a third of the state's water when its snow melts over the spring and summer.
For breaking California news, follow @JosephSerna on Twitter.
ALSO
Investigators say pilot struggled to start one engine before crashing into Riverside home
Earthquake on the beach: Scientists think a 7.4 temblor could reach from L.A. to San Diego
Riverside County deputy shoots and kills knife-wielding man, authorities say
---
UPDATES:
4:25 p.m.: This post was updated with examples of wet year around the state and forecast information.
---
The stories shaping California
Get up to speed with our Essential California newsletter, sent six days a week.
You may occasionally receive promotional content from the Los Angeles Times.