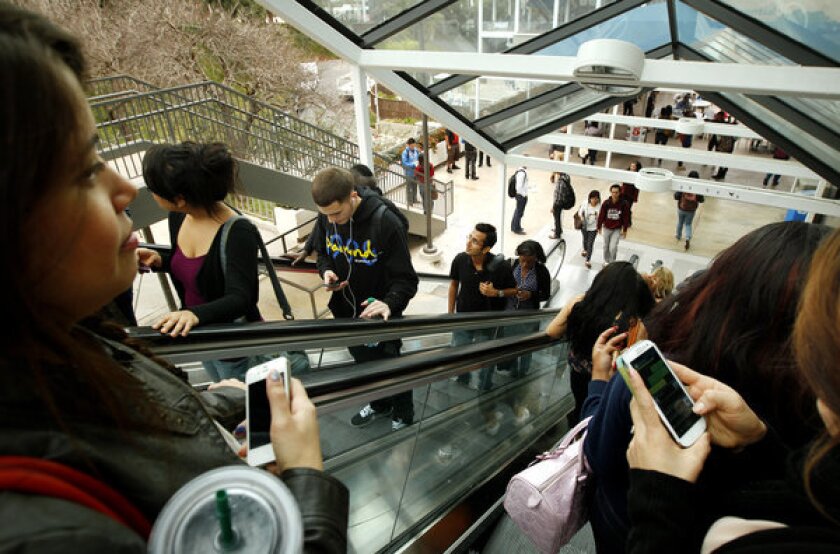 Nearly 20,000 more students and 1,000 more classes would be accommodated next year under a preliminary budget plan that will be presented to California State University trustees Tuesday.
The plan seeks an additional $250 million from the state and, in a statement likely to cheer the hearts of students and their families, assumes there will be no increase in tuition for the 2014-15 academic year.
More than 430,000 students attend Cal State's 23 campuses, which make up the largest system of higher education in the nation.
The Board of Trustees will discuss the budget outline during a meeting in Long Beach. Gov. Jerry Brown, a member of the board, is expected to attend the meeting, which will continue Wednesday.
The budget plan reflects optimism in an improving state economy and more stability for the system, which lost nearly $1 billion in state support since 2008.
Bolstered by the passage of Proposition 30, which raised taxes for education and other purposes, the governor proposed a multiyear funding plan that included an increase of $125.1 million each for Cal State and the University of California in the 2013-14 budget year.
Brown has proposed an increase of $142.2 million for 2014-15.
"This preliminary expenditure plan clearly exceeds the minimum $142.2 million increase specified for 2014-15 under the governor's multiyear plan," said Cal State assistant vice chancellor for budget Robert Turnage. "However, it is a statement of the university's true funding need and -- given the possibility that 2014-15 state revenues could grow substantially above current levels -- presents worthy opportunities for the state to invest further in the students, faculty and staff of the CSU."
Under the proposal, about $75 million would be used to boost enrollment by more than 20,000 students. Tuition from those new students would generate an estimated $85 million in revenue, Turnage said.
About $50 million would be used to expand advisory and other programs to help students move toward graduation.
Another $90 million would pay for salary increases for most faculty and staff. Money for compensation was also set aside in last year's spending plan and the faculty union and system recently struck a deal for an overall 1.34% salary increase, said Cal State spokesman Mike Uhlenkamp
Most Cal State employees had gone without pay raises since 2007 as the state's economy bottomed out. All the while, trustees had received heat from Brown and others for handing out 10% pay increases to many new campus presidents.
Under Chancellor Timothy P. White, six recent appointees received no raises. White also declined a pay hike when he succeeded Charles B. Reed in December.
A final budget proposal is set to be approved by trustees in November before being presented to Brown's Department of Finance.
ALSO:
Woman loses leg after man, possibly driving drunk, rams her car
Vin Scully says no thanks to mayor's idea of naming street after him
Transgender homecoming queen breaks down on YouTube after victory
carla.rivera@latimes.com
Twitter: @CarlaRiveraLat
---