Homelessness isn't huge in this part of L.A. — but it's a huge campaign issue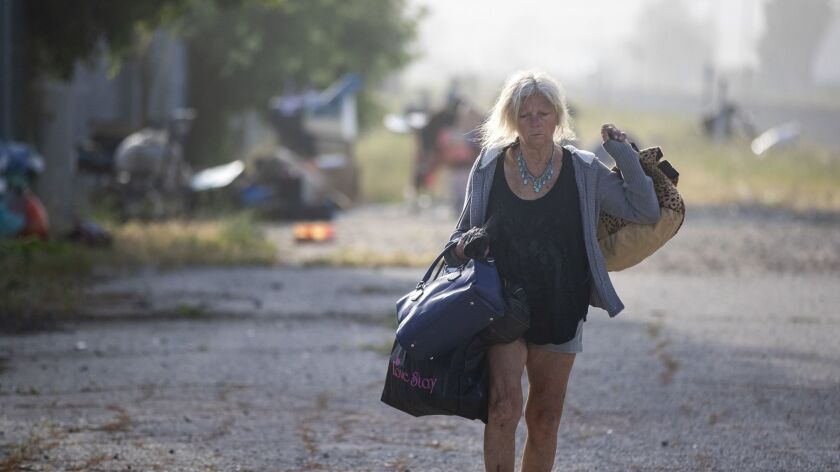 In Los Angeles, the San Fernando Valley neighborhoods of Chatsworth, Porter Ranch and Granada Hills are about as far as you can get from skid row.
Fewer people live without shelter in this suburban stretch of the city than in any other L.A. City Council district, according to the last available data from the homeless count.
Yet homelessness has been a simmering topic here as more than a dozen candidates vie for a seat on the City Council, exposing stark divisions over how to address the needs of the destitute and the concerns of other residents. The June election, which will probably be followed by an August runoff, could decide how homelessness is confronted in the northwest Valley.
"It is arguably the No. 1 issue I hear about from voters," said candidate Scott Abrams, who works as district director to U.S. Rep. Brad Sherman (D-Northridge). "We moved to the North Valley and West Valley for a high quality of life. Good schools. Safe streets. Clean streets."
Homelessness, he said, has left many people feeling as if "their neighborhoods are at stake." In neighborhood groups and on Facebook, residents have complained about trash and filth, tents popping up on sidewalks and dilapidated RVs lining local streets.
"I see more homeless and I don't see any facilities," said Chatsworth resident Kathy Perger, who questions where tax money to address homelessness is going. "We're letting this homeless issue overwhelm the citizens that want a clean, safe environment."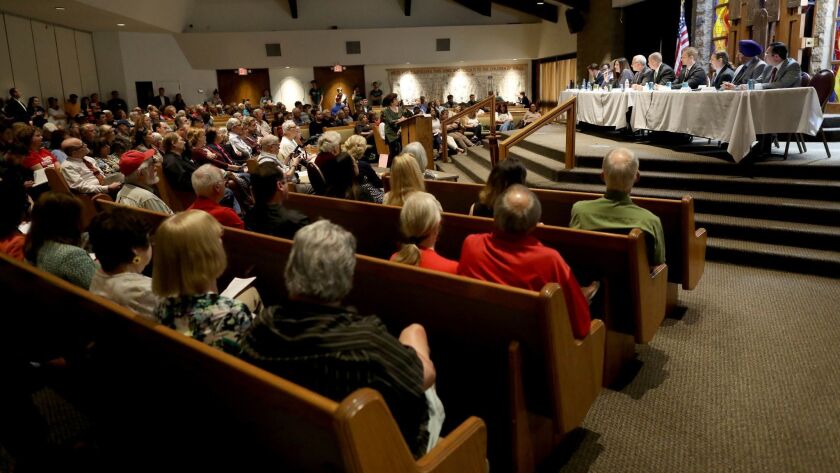 So far, no supportive housing for homeless people has been approved here under Proposition HHH, the $1.2-billion bond measure approved by voters, which did not have winning margins in most of the council district.
Nor have any new shelters been set up under the "bridge housing" program touted by Mayor Eric Garcetti. And there are no "safe parking" facilities for those living in their cars.
When Janet Barrett was ejected late last month from a Chatsworth encampment parallel to the Metrolink tracks, she was at a loss when asked where she would go. In the morning heat, Barrett sat on the edge of a De Soto Avenue parking lot, waiting for her husband to return from McDonald's with cold water for their dog Sam. Others sat in a jumble of their belongings.
"There's nowhere to go other than this," said Barrett, growing teary as a cleanup crew raked up and tossed out things they hadn't carried out.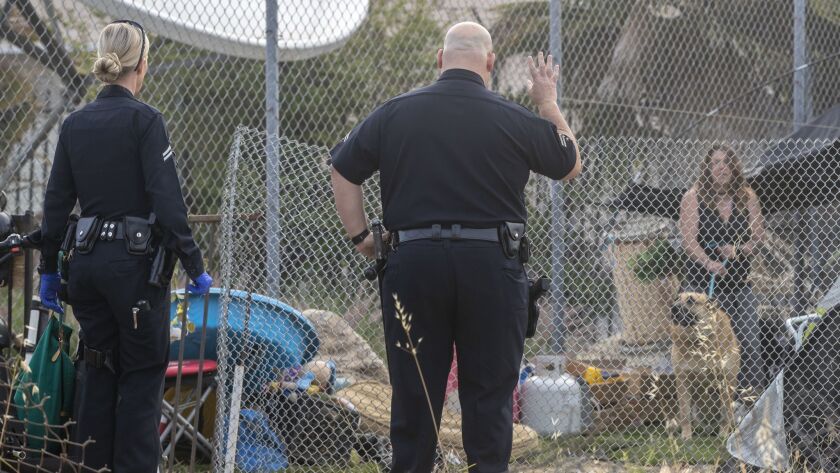 Council District 12, more politically conservative than much of L.A., has long been represented by a City Hall dynasty that passed from Hal Bernson to his chief of staff, Greig Smith, then to Smith's chief of staff, Mitchell Englander, who stepped down last year. A former top aide to Englander, John Lee, is now in the running along with challengers from the left and right.
Many candidates have vowed to make sure that new housing for homeless people is built. At a forum at Temple Ahavat Shalom, candidate Stella Maloyan said the "homeless community are our neighbors" and said that as long as social services were provided, she would fight hard to make sure they were housed in the district.
"This is not something that we can push to other places," Maloyan, who works with the advocacy group Los Angeles Alliance for a New Economy, later added.
Lee has touted his work to help open the San Fernando Valley Rescue Mission shelter in Northridge, calling it "a model of what we should be doing." And Josh Yeager, a public affairs executive running for the seat, said he has already scoped out a possible location for bridge housing: a Metro lot at the corner of Nordhoff Street and Canoga Avenue.
"We have to provide the opportunity for those who are suffering to get on their feet," Yeager said.
Others have argued that although housing is needed, L.A. first needs to address mental illness and addiction.
LAPD senior lead Officer Sean Dinse, another candidate, said he would back bridge housing in the district, but "you have to stabilize the irrational behavior caused by drug addiction and potential mental illness before a person can accept housing or keep it."
He has pinned the blame for those problems on California ballot measures that reduced criminal penalties and a state law that shifted responsibility for many less serious felonies from state prisons to county jails.
Another candidate, Brandon Saario, said he wouldn't support bridge housing in the district unless the city confronts mental illness, calling it "just a Band-Aid." Saario, who works in film production, said at a recent forum that such housing would not have saved his uncle, who suffered from drug addiction and died homeless in an RV.
"I've seen people in my neighborhood shirtless, yelling to the sky," Saario said in an interview. "Bridge housing won't solve that."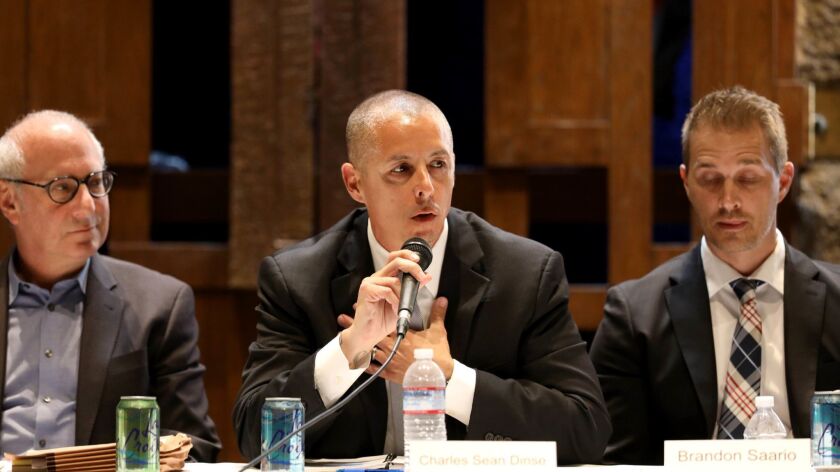 Los Angeles Homeless Services Authority survey data indicate that 33% of homeless people in the council district suffer from a serious mental illness and 20% have a substance use disorder. West Hills resident Tom Booth said that framing the problem as chiefly one of mental health, rather than "people who are in need and have a variety of problems," is misleading and stigmatizing.
"People are seeing this level of poverty for the first time in the West Valley" and are reacting with fear, said Booth, a social worker who sees homelessness as stemming from poverty and housing costs. He backs candidate Loraine Lundquist, citing her involvement with the West Valley Neighborhood Alliance on Homelessness.
Whenever the topic comes up, Booth said, "we're really polarized."
Last year, several nonprofits complained to the state attorney general about "vigilante" Facebook groups active in the Valley, arguing that they were being used to shame and harass homeless people. They said Dinse had shared sensitive and "potentially defamatory" information about individuals on the pages, including their criminal records and mental illnesses.
"If that had been a celebrity or a rich person and a cop did that, there would have been holy hell," said Paul Boden, director of the Western Regional Advocacy Project.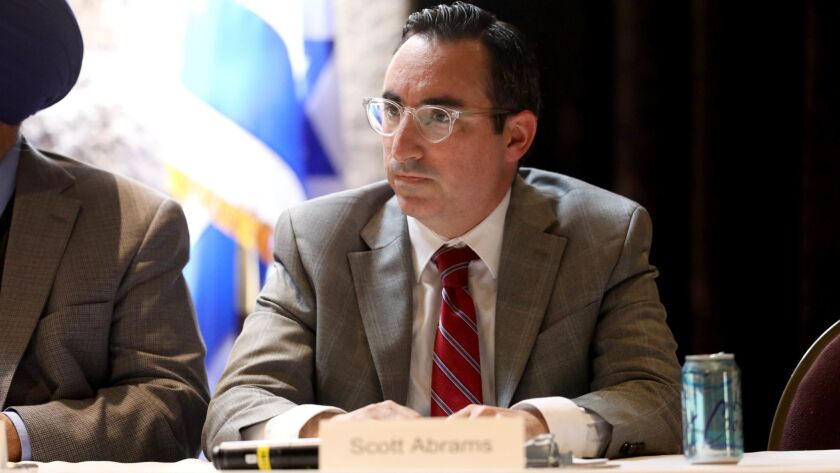 The attorney general's office said it could not confirm or deny whether it was investigating the complaint. Dinse argued that "if I have a person that has been arrested 25 different times in the same area, the community has a right to know that."
Even the word "homeless" can be divisive: Some residents reject using the term to describe many of those living on the streets, drawing a distinction between homeless people and "transients" who refuse help.
Chatsworth resident Tia Ivanyi, a Dinse supporter, said that bridge housing "sounds great for those who want the help — but the people we're dealing with don't want the help."
During a recent forum at a Porter Ranch school, some in the audience scoffed when Maloyan talked about "working homeless" who "are not lazy people." When Lee asserted that you don't see the same kind of problems in the area as other parts of L.A., one attendee remarked aloud, "Yeah we do."
The council race "is nonpartisan, so people don't necessarily know who's a Democrat and who's a Republican," said Samantha Stevens, a political consultant who has run campaigns in the San Fernando Valley. "But you can clearly see two different views of what the problem is and how to deal with it."
Despite the divide, some candidates argue that they can still bring people together around the issue. Lundquist, a sustainability educator, said that although she firmly backs a "housing first" approach, "we definitely all have this common ground."
"Which is that we want people off of our streets," she said.
Twitter: @AlpertReyes
---
The stories shaping California
Get up to speed with our Essential California newsletter, sent six days a week.
You may occasionally receive promotional content from the Los Angeles Times.