Political donations flow as Rick Caruso seeks approval for a 20-story tower near the Beverly Center
Real estate developer Rick Caruso has been a reliable benefactor at Los Angeles City Hall, giving donations big and small to the city's politicians and their pet causes.
Caruso, known for the Grove and other shopping destinations, has donated to all but one of the city's 17 elected officials. His charitable foundation provided $125,000 to a nonprofit set up by Mayor Eric Garcetti. And his companies recently gave $200,000 to the campaign for Measure M, the sales tax hike Garcetti championed in last month's election.
Add in money from his employees and his family members, and Caruso-affiliated donors have provided more than $476,000 to the city's elected officials and their initiatives over the past five years, according to contribution reports.
Now, Caruso wants Garcetti and the council to approve a 20-story residential tower on La Cienega Boulevard, on a site where new buildings are currently limited to a height of 45 feet. Opponents of the project view Caruso's donations with alarm, saying the steady stream of contributions has undermined their confidence in the city's planning process.
"I'm sorry, but that's a lot of money," said Keith Nakata, a foe of the project who lives roughly five blocks from the site. "That is obviously something that the community cannot compete against."
Caruso's residential tower is one of several real estate projects — some already approved, others still under consideration — to be reviewed at City Hall as six-figure contributions arrive from developers or donors with close ties to them.
The Times reported in October that campaign contributors with direct and indirect ties to real estate developer Samuel Leung provided more than $600,000 to L.A.-area politicians as his 352-unit apartment project was being reviewed. Garcetti and the council approved Leung's Sea Breeze project, located north of the Port of Los Angeles, in 2015.
In the San Fernando Valley, shopping mall company Westfield Corp. unveiled plans in October for Westfield Promenade, a $1.5-billion project featuring two hotels and 1,432 new homes. Westfield affiliates have contributed $950,000 to two Garcetti initiatives — Measure M and the effort to bring the 2024 Olympics to Los Angeles — over the past 14 months, contribution records show.
Westfield representatives said they view the Olympics and the city's transportation investments as initiatives that will spur significant economic growth.
In Century City, entertainment giant 20th Century Fox Film is pursuing a 1.1-million-square-foot expansion of its studio facilities. Fox's parent company has given $1 million to the Mayor's Fund for Los Angeles, a nonprofit set up by Garcetti in 2014 to advance his initiatives. A related company, Fox Entertainment Group, gave the Measure M campaign $250,000 in September.
A Fox representative declined to comment on the donations.
Six-figure donations from real estate interests, while perfectly legal, erode public confidence in city planning decisions, said Michael Manville, an assistant professor of urban planning at UCLA. They are also the natural byproduct of a process where developers routinely request — and receive — changes to city planning and zoning rules for their projects, he said.
"If you have a system that relies so heavily on [those changes] to get things built, then you are going to get lots of campaign contributions," Manville said. "Because you're shifting a lot of power away from the Planning Department and toward the elected officials."
Garcetti, who supports Caruso's project, said in an interview that development decisions at City Hall are "absolutely separate" from the contributions that are made to his campaigns and policy initiatives.
"Projects should be assessed on their merits and nothing else," he said.
Caruso said in an interview that his political contributions are part of a much broader approach to charitable giving, with donations going to churches, nonprofit groups, educational institutions and other causes. Some of the most recent donations, he said, were designed to help city leaders who are working to address homelessness and build a new transit network.
"We love Los Angeles, as corny as it may sound, and making Los Angeles a more livable city," he said.
Caruso also defended the city's planning process, calling it "very open and democratic," and dismissed the notion that donations influence policy makers. "I've never believed for one minute that any contribution I've given has changed the opinion of any elected official," he said.
Garcetti's appointees on the City Planning Commission unanimously endorsed Caruso's La Cienega project last month, agreeing to provide a zone change, a height district change and an amendment to the general plan — the document that governs citywide real estate development — for his project.
Although two commissioners voiced concerns about the building's height, the majority said the city needs to embrace projects of that scale.
"The city is transforming," said commissioner Caroline Choe.
The La Cienega project is expected to come up for a City Council vote in January. The council approved a separate Caruso project, a new retail village in Pacific Palisades, last summer.
The La Cienega residential tower has divided residents in Beverly Grove, a community bordered by West Hollywood on the north, Wilshire Boulevard on the south, Fairfax Avenue on the east and Beverly Hills on the west. Foes of the project view Caruso as one of many well-connected developers who ask city leaders to rewrite local planning laws for a single project.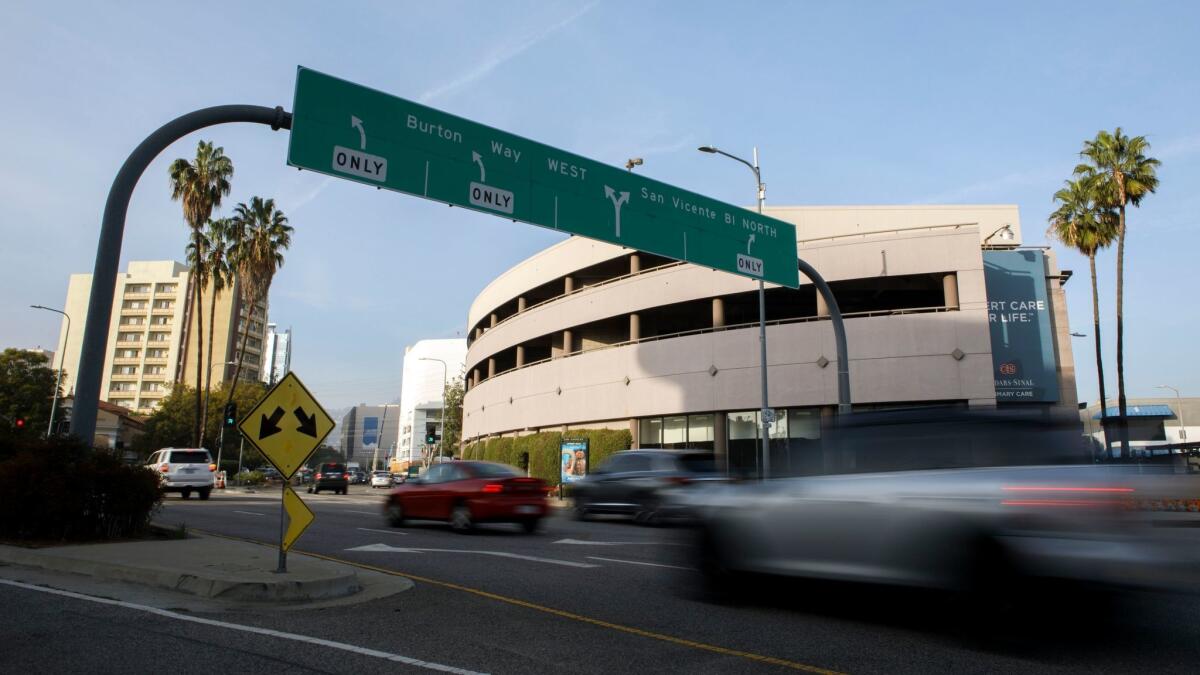 If approved without changes, the La Cienega project will stand roughly twice as tall as the Beverly Center, an eight-story shopping mall right next door. And it will be roughly eight times higher than the one- and two-story buildings that run along the east side of La Cienega.
"He could build a building like this in Century City, where it's intended to be, or on parts of Wilshire Boulevard, like 'Condo Canyon' near UCLA," said Dick Platkin, a board member with the Beverly Wilshire Homes Assn., a group fighting the project. "But this part of L.A. is not intended to have it."
Backers of the project point out that the area already has a handful of tall buildings, including the Cedars-Sinai Advanced Health Sciences Pavilion, which is about 185 feet tall. Caruso's project is expected to reach 240 feet.
"We felt this is a unique location where density makes sense," said Scott Epstein, chairman of the Mid City West Community Council, the neighborhood council for the area, which endorsed the project. "In the middle of a housing crisis, if you're going to put housing somewhere, this is a good place to put it."
Epstein said Caruso responded to the needs of the community by offering a grocery store, much-needed housing and new outdoor spaces, including a 6,910-square-foot plaza with a fountain. And he praised the developer for ensuring that 14 of the building's 145 apartments will be rented at below-market rates.
Those concessions, he said, show what can be accomplished when residents and developers "collaborate for mutual benefit," he said.
Still, what some view as hard-fought concessions, others criticize as unsavory dealings.
Last summer, the La Cienega project was sharply criticized by residents of Westbury Terrace, a condominium building across the street from the Caruso site. Dozens of the building's condo owners turned in a petition to their neighborhood council, saying Caruso's project would obstruct their views and generate unwanted noise and traffic.
Weeks later, many of those same petition signers switched sides, becoming ardent supporters of Caruso's project. The condominium board's president soon disclosed that Caruso had agreed to make extensive repairs on the 11-story building, upgrading the entrances and replacing the windows with multipaned glass.
In correspondence with the neighborhood council, Westbury Terrace Homeowners Assn. President Philippe Cohanim said Caruso's contribution would help the building's occupants cope with increased noise and dust while Caruso's project was being built.
Cohanim, when approached by The Times, would not discuss the arrangement. But a Caruso spokeswoman confirmed the developer agreed to spend $500,000 on repairs to the building.
Foes of the project have called that a payoff. Caruso said he had an obligation to address the Westbury's concerns about noise and other construction issues.
Caruso said he has worked to meet the neighborhood's needs in other ways, offering to pay for street improvements and even redesigning the project.
"The way I get the community to support the project," he said, "is to give them what they want."
Last month, many Westbury condominium owners testified in favor of Caruso's project at a planning commission hearing. Others who spoke at that meeting also had financial dealings with Caruso.
The Los Angeles Area Chamber of Commerce sent a representative to the hearing to speak on behalf of Caruso's project. The group's political action committee received $50,000 from the developer in 2014, according to campaign donation records.
Also speaking in favor of Caruso's project was planning aide Shawn Bayliss, who read a support letter from his boss, Councilman Paul Koretz. Caruso donated $5,200 to two campaign committees that supported Bayliss' unsuccessful bid for state Senate in June.
Caruso's lawyer on the La Cienega project also gave Bayliss $1,000. And that lawyer's colleagues — all registered as lobbyists at City Hall — provided another $4,000, state campaign records show.
Koretz, who represents Beverly Grove, said he — not Bayliss — made the decisions on the Caruso project. And he commended Caruso for working to secure the support of both Westbury Terrace and the neighborhood council.
"That's exactly what I asked the developer to do: Go work with the neighbors and make this work for everybody," said Koretz, who has received $2,200 in donations from Caruso since 2011.
Koretz's arguments have not reassured Peter David Harris, a Beverly Grove resident who lives about five blocks from the Caruso site. Harris fears that if Caruso succeeds, other property owners on La Cienega and San Vicente boulevards will propose luxury high-rises — the kind that cast shadows on nearby single-family homes.
"It becomes a domino effect," he said.
An environmental review of Caruso's project concluded that the 20-story building would not cast a "significant" amount of shadow on nearby residential properties. Under the city's guidelines, shadow from a tall building is deemed significant if it covers certain areas for more than three or four consecutive hours, depending on the time of year.
Even if there had been a significant amount of shadow, it could not be used as the basis for a state environmental challenge — thanks to a law signed by Gov. Jerry Brown three years ago.
Senate Bill 743 established that shadow, glare and other aesthetic concerns would no longer be considered significant impacts under the state environmental review process for residential projects that sit within a half mile of a major transit stop — one where buses or trains arrive at least every 15 minutes during rush hour.
Brown signed the bill in September 2013. Two months later, Caruso contributed $54,400 to the governor's reelection bid.
::
Tracking developers' donations
Individuals and companies with real estate projects that need approval from Los Angeles' elected officials have made six-figure contributions to those officials' campaigns and political causes in recent years.
333 S. La Cienega/Rick Caruso
Project: A 20-story apartment building with market, restaurant and 145 homes
Location: Beverly Grove
Contributions: $476,350
$200,000 to the campaign for Measure M, the transportation sales tax measure
$125,000 to the Mayor's Fund for Los Angeles *
$100,000 to Los Angeles Forward, a campaign committee set up by Councilman Mike Bonin to support ballot measures
$51,350 to city candidates and officeholders over five years
Source of donations: Caruso, his wife, his companies, his charitable foundation and his employees
Westfield Promenade
Project: 1,432 homes, two hotels, shops, restaurants and a 15,000-seat sports/entertainment center
Location: Warner Center
Contributions: $950,000
$250,000 to the campaign for Measure M
$700,000 to the LA 2024 Olympic committee *
Source of donations: Westfield affiliates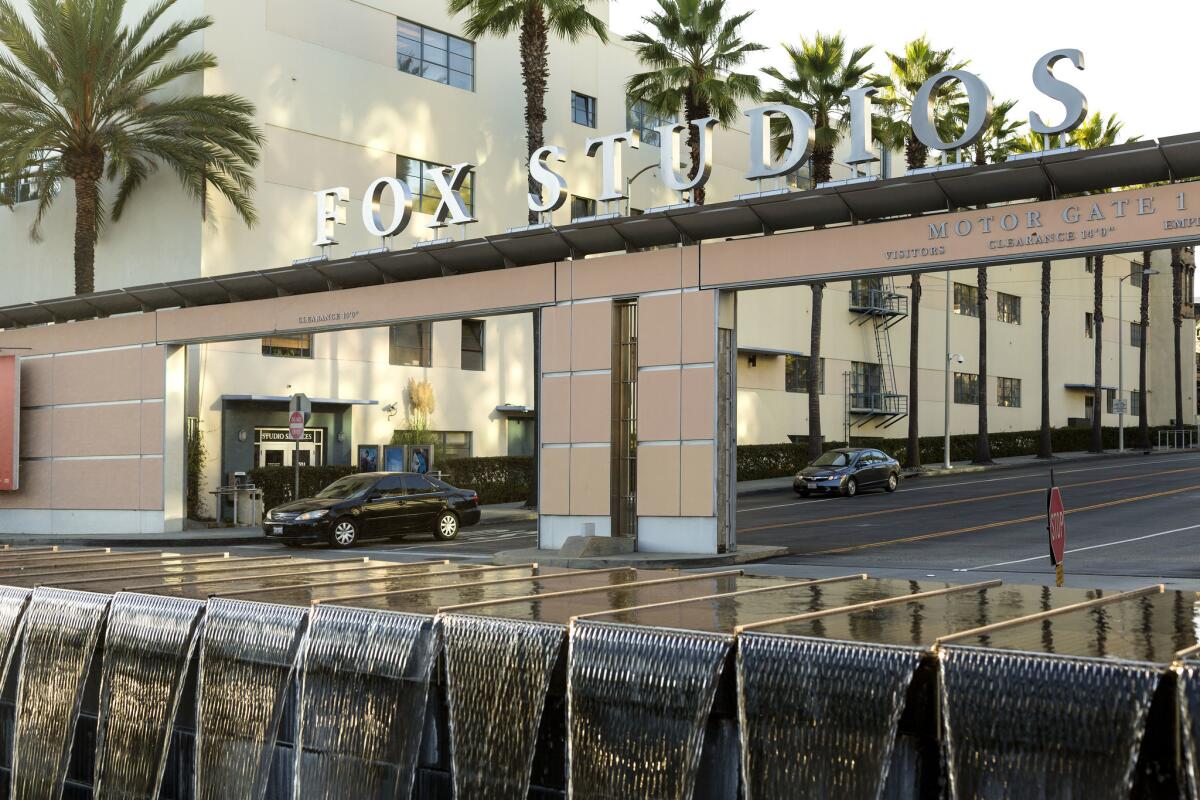 20th Century Fox Film
Project: The Fox Studios Master Plan, a 1.1-million-square-foot expansion of studio facilities
Location: Century City
Contributions: $1,250,000
$500,000 to the Mayor's Fund for Los Angeles *
$500,000 to the Mayor's Fund for Los Angeles *
$250,000 to the campaign for Measure M
Source of donations: 21st Century Fox, the film studio's parent company; Fox Entertainment Group
* Contribution made at Mayor Eric Garcetti's request
Source: Los Angeles City Ethics Commission, Los Angeles Department of City Planning, Los Angeles County Registrar-Recorder/County Clerk
Twitter: @DavidZahniser
MORE LOCAL NEWS
Battle over defunct brewery's failed relocation deal with City of Industry comes to a head
As illegal warehouse living flourished, Oakland struggled to enforce safety rules — until the Ghost Ship fire
Perjury and retaliation allegations hit the San Diego Police Department
Hypodermic needles, syringes wash up in Newport Beach after storms
Sign up for Essential California for news, features and recommendations from the L.A. Times and beyond in your inbox six days a week.
You may occasionally receive promotional content from the Los Angeles Times.