Casey Kasem's children sue his widow, saying alleged abuse led to his death
For decades, Casey Kasem's warm voice graced the airwaves, serving up the week's hits on "American Top 40" and urging listeners to keep their "feet on the ground, and keep reaching for the stars."
But an acrimonious — and at times bizarre — family rift seemed to eclipse his legacy during his final months, spawning sensational headlines and a pitched legal battle over who controlled his medical care.
That long-running feud took a new turn this week when three of Kasem's adult children from a previous marriage and his brother filed a civil lawsuit against his widow, Jean Kasem, accusing her of neglecting his medical needs and hastening his 2014 death.
Interested in the stories shaping California? Sign up for the free Essential California newsletter >>
The lawsuit filed Wednesday in Los Angeles County Superior Court alleges that Jean Kasem moved her husband between medical facilities, a Las Vegas hotel room and a bungalow in Washington state, all in an effort to isolate him from his children and medical professionals.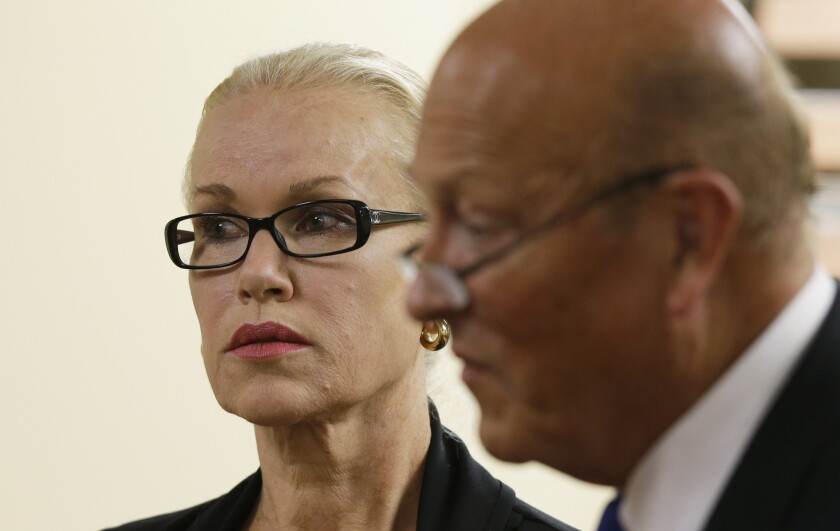 As his health declined from Lewy body dementia and other ailments, the affable radio host and "Scooby Doo" voice actor often went without a hospital bed, intravenous medicine, adequate nutrition and necessary hospitalization, the suit alleges.
With such "grossly harmful mistreatment," he developed up to four infections that led to his death on June 15, 2014, at age 82, according to the complaint.
"Casey's early death occurred as a direct and proximate result of Jean's neglect and physical abuse of Casey," the lawsuit states.
After Kasem's death, the children allege that Jean Kasem continued to inflict harm by having her husband's body buried in Norway in an unmarked grave, according to the suit. No autopsy was performed.
Jean Kasem's attorney did not respond to a request for comment.
The 28-page lawsuit chronicles in detail how a few disputes over the children's ability to visit their father at a Tarzana hospital devolved into a multi-state fight for control over the final stages of his medical care.
Kasem's declining health forced him to retire in 2009, and around Dec. 6, 2013, his wife placed him in Providence Tarzana Hospital, according to the complaint. It would be one week before Kasem's children learned he was hospitalized, the suit says.
Once the children learned of his hospitalization, their visits were restricted by a private security guard hired by Jean Kasem, the suit alleges. Michael, Kerri and Julie Kasem — all born during Kasem's first marriage to Linda Myers — contend that the security guard took notes on their conversations, according to the complaint.
When Kasem's brother, Mouner Kasem, traveled from Michigan, he was required to sign an agreement each day before seeing his brother, the suit states.
Kasem's whereabouts were often cloaked in mystery.
Hours after an attorney notified Jean Kasem that stepdaughter Kerri Kasem was seeking a temporary conservatorship, she removed her husband from a Santa Monica convalescent hospital about 2:30 a.m., placed him in a sport-utility vehicle and traveled in a two-car convoy to Las Vegas, the suit states.
Days later, as her husband experienced "inadequate medical care" in a hotel room, Jean Kasem told a Los Angeles judge that her husband was out of the country, the suit said.
At one point, the children reported their father missing to the Santa Monica Police Department.
When Casey Kasem was eventually located at a home in Washington state and Kerri Kasem tried to remove him, Kasem's wife flung raw hamburger meat at her stepdaughter, according to the suit.
After much wrangling, Kerri Kasem was granted control of her father's care and had him admitted to a Washington hospital about two weeks before his death. There, doctors found Kasem was suffering from a urinary tract infection, wound and lung infections, septic shock and a deep ulcer in his back, the suit said.
In May, the Los Angeles County district attorney's office found there was insufficient evidence to charge Jean Kasem with elder abuse or neglect, according to a prosecutor's memo obtained by The Times.
Deputy Dist. Atty. Belle M. Chen concluded that Jean Kasem had made "continuous efforts to ensure that Mr. Kasem was medically supervised." The prosecutor noted that the disc jockey's enduring health problems made it nearly impossible to prove that neglect or abuse contributed to his death.
An attorney for Kasem's children, Troy L. Martin, said in an email that his clients were "devastated by the district attorney's decision not to prosecute Jean Kasem for the horrible abuse."
The lawsuit, which alleges negligent and intentional infliction of emotional distress, was a final resort to bring justice for the late entertainer, said Steve Shuman, another attorney representing Kasem's children and brother.
"The criminal justice system has not taken an interest. That leaves them with the civil justice system," Shuman said, noting that the family hoped the suit would shed light on the wider issue of elder abuse.
The children and Kasem's brother are seeking $250,000 in damages for elder abuse, the maximum allowed by law.
The suit also asks for a jury to award unspecified damages for wrongful death and infliction of emotional distress, among other claims.
For breaking news in California, follow @MattHjourno

ALSO
Perspective: Being black is exhausting, and here's why
L.A.'s 'soft targets' draw more scrutiny in the wake of Paris attacks
While other areas are bone dry, San Diego has too much water
---
The stories shaping California
Get up to speed with our Essential California newsletter, sent six days a week.
You may occasionally receive promotional content from the Los Angeles Times.