A vehicle ignited the Ferguson fire, which shut Yosemite this summer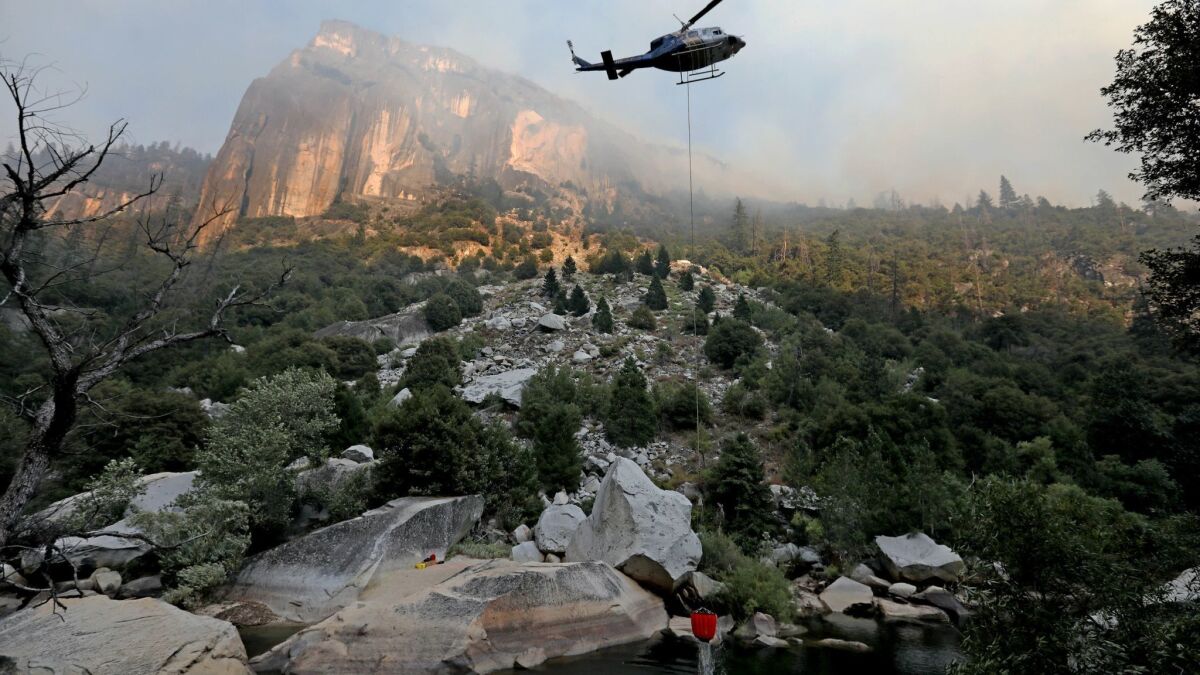 The wildfire that forced the closure of Yosemite Valley this summer began when a hot part of a vehicle's exhaust system ignited dry vegetation along a key canyon highway route into the national park, officials investigating the Ferguson fire have concluded.
The U.S. Forest Service said Friday that "superheated pieces of a catalytic converter came into contact with dry, roadside vegetation" on the shoulder of Highway 140, along the Merced River. The roadway is one of just a few that bring motorists from the cities of California to Yosemite National Park.
The fire — which grew to nearly 97,000 acres, an area triple the size of San Francisco — is believed to have begun on eastbound Highway 140 near Savage's Trading Post between 8 p.m. and 8:25 p.m. on July 13. Anyone with information on the vehicle that may have caused the fire is asked to call the Sierra National Forest at (559) 297-0706.
It wasn't clear how the exhaust parts came into contact with the vegetation.
It wasn't clear how the exhaust parts came into contact with the vegetation.
Driving on dry grass or brush can lead to the ignition of devastating wildfires. Motorists are responsible for many wildfires that start along roads, the U.S. Forest Service says, and taking the following precautions can prevent almost all of them:
Secure chains when towing
Be sure there are no dragging parts on a vehicle
Maintain tires — check tire pressure and tread to prevent a flat tire causing a spark
Don't toss cigarette butts out the window.
Do not drive or park on dry grass or brush
The Ferguson fire began in an extremely vulnerable location — in the heart of mountainous wildlands that had become a tinderbox, devastated by trees killed by five years of drought and whose weakened condition left them to be infested by bark beetles. More than 129 million drought-stressed and beetle-ravaged trees have died across 7.7 million acres of California forest since 2010, mostly in the Sierra Nevada.
The dead trees left behind flammable needles — whether remaining on the tree, draping brush or carpeting the ground — the U.S. Forest Service has said, contributing significantly to the rapid spread of the fire.
The fire also occurred during an extraordinarily hot month. In the nearby San Joaquin Valley, Fresno recorded its warmest July on record. From July 6 through Aug. 4, Fresno recorded 30 straight days where temperatures reached or exceeded 100 degrees — the longest continuous stretch on record.
Across California, July recorded the hottest average minimum temperature of any month since 1895, rising to 64.9 degrees.
Two men fighting the Ferguson fire died. Braden Varney, 36, of the Madera-Mariposa-Merced Unit of the California Department of Forestry and Fire Protection, was killed on July 14 when the bulldozer he was driving to cut flammable vegetation tumbled down a canyon.
Brian Hughes, 33, was killed two weeks later when a tree fell on him while working with his crew to set a backfire — a tactic designed to limit a fire's spread. Hughes was the captain of the Arrowhead Interagency Hotshots from Sequoia and Kings National Parks.
Thousands of firefighters were called to battle the blaze, lugging hoses and hand tools through rugged terrain while water- and retardant-dropping aircraft roared overhead. Ten structures were destroyed.
Yosemite Valley was ordered closed to visitors on July 25, forcing tourists to leave all hotels and campgrounds at the heart of the nation's fifth most-visited national park. The smoke blanketed the valley and created air conditions worse than in Beijing, which notoriously suffers from bad air pollution. Officials handed out high-grade filtration masks and set up clean air centers where visitors and workers could get a break from the smoke. The park service reopened Yosemite Valley to visitors on Aug. 14.
The Ferguson fire was declared 100% contained on Aug. 22.
More than 1.5 million acres of land has burned in California this year, according to the National Interagency Fire Center.
---
The stories shaping California
Get up to speed with our Essential California newsletter, sent six days a week.
You may occasionally receive promotional content from the Los Angeles Times.