It's the end of an era: Channel 18 cancels international format that served generations of L.A. immigrants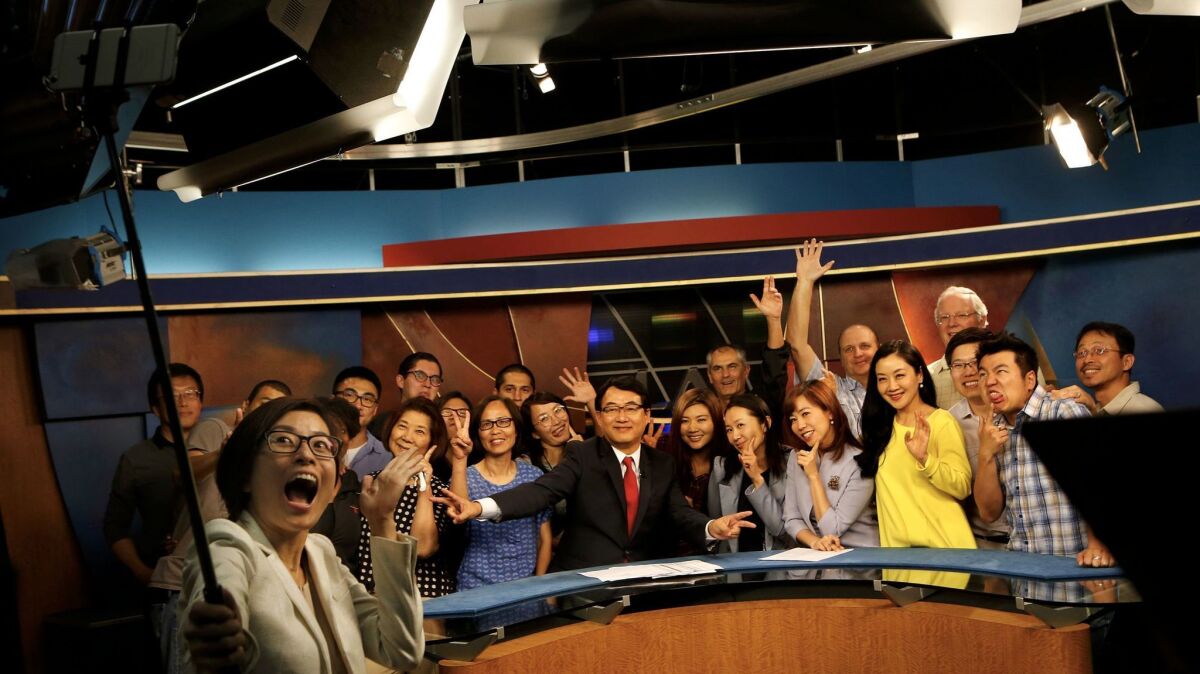 Night after night, Paul Ho sat in the same chair, with his head resting on the same pillow as he tuned in to the Chinese-language newscast on Channel 18.
The East Los Angeles resident called the KSCI show, with anchors Harry Chang and Christine Chiang, "my dessert" after a meal.
"I watched them to understand Asia and America, and the commercials can show me where to eat or buy insurance," the 63-year-old former accounting clerk said. "They are part of our family."
For more than 30 years, Channel 18 served as a TV United Nations in a city of immigrants desperate for programming in their own languages. The station broadcast an eclectic mix of shows that covered news and topics such as music, sports, travel and religion.
At various times, it offered content in 14 Asian languages, including Japanese, Vietnamese and Tagalog, along with Spanish, Hindi, Arabic, Armenian, Persian, Hebrew, French, German, Hungarian, Italian and Russian.
But this multiethnic quilt is coming to an end Saturday, when Channel 18 switches formats and begins broadcasting info commercials in English.
Officials have said little publicly about the reasons for the change. The station has struggled in recent years, filing for bankruptcy in 2012.
Experts also are quick to note that the types of programs Channel 18 offers are now commonly available on the Internet, cable TV and through video rentals.
In the past, KSCI "might have been the only place the audience could go to for certain type of Asian language entertainment," said Lena Chao, professor of communication studies at Cal State L.A. "Now people can go to video bookstores and rent soap operas by the stacks."
But even with more options available to immigrants, Chao said the loss of Channel 18 is "heartbreaking" because the station focused so much attention on news and information about Asian culture and society.
"When mainstream news highlights Asians, it's just a blip," she said. "We already have such a small market share. Now Asian coverage is shrinking even further."
Channel 18 was beloved by generations of new arrivals to Los Angeles because many believe it operated as a public service to the community.
The format started in 1976, and officials said it was the first station in the U.S. to provide programs in so many different languages.
It forged a deal to broadcast the 1988 Seoul Olympics in Korean. During the Tiananmen Square crisis in 1989, the station added a live call-in show in Mandarin.
When the 1992 L.A. riots broke out, the station provided live coverage in multiple languages. It did similar simulcasts for candidates' debates while also offering information about consumer protections and immigrant rights.
The operators of Channel 18 said back then that their mission was to help immigrants assimilate into society by both informing and entertaining them.
Over the years, the station has grappled with controversial issues including AIDS, sex education, international conflicts and race relations.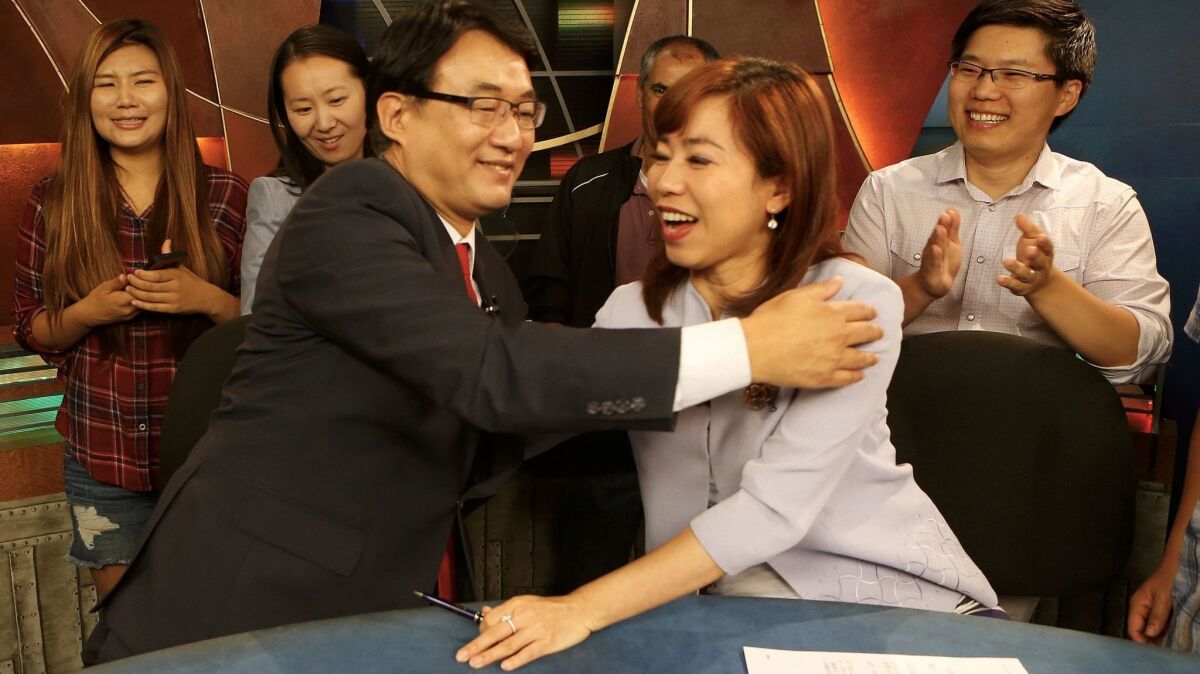 "Each time I put on my show, I try and teach Iranian people what to look out for in this country," a host of a talk show for L.A. Persians told The Times in 1989. "When it's over, if they haven't learned anything, then I don't call it a show."
The end of Asian community coverage is like "losing a friend welcomed in your living room," says Minan Tiwari, a retired bank custodian from Glendale. The Indian immigrant from Bombay is a fan of Diya TV, the only national broadcast TV network serving the Indian American community, focusing much of its news on public figures such as Indian Prime Minister Narendra Modi and airs the kind of Bollywood films Tiwari said he used to watch as a child.
"Where else can I get that?" Tiwari, 70, asked. "These business people, they don't care about us from the audience. L.A. is one of the biggest economies in the world, and we are left without the TV we need. Why?"
Ravi Kapur, the Indian American owner of Diya TV, said his broadcasts were taken off the air several weeks ago.
"We've been getting feedback from folks who are grieving because they don't know where else to turn to," he said.
Dennis Davis, the station's general manager, did not respond to requests for comment.
Sources at the company, including in management, said they were notified in May about the shutdown and later heard about the station's involvement in a profitable auction of its spectrum.
Jack Song, a Taiwanese immigrant who grew up in Arcadia, said his family's routine would be to "switch on the TV at 7 p.m. and we would be glued to it for any kind of breaking news."
To them, KSCI, broadcasting on digital channels, "seemed unbiased, and it offered an important tool for elected officials to reach immigrant voters," the public relations specialist added.
Song, 35, said that for his parents and others who may be monolingual and "feel isolated by the mainstream," watching the shows "made it comfortable to know you're not alone."
Clayton Dube, director of the U.S.-China Institute at USC, said that even in a climate of media downsizing — as advertisers migrate online, bypassing the traditional print and broadcast platforms — the programming change "took many people by surprise."
Often at 10 p.m., Dube would get home from work and watch a Mandarin rebroadcast of prime-time news. He and his wife, Xiaowei, had settled in the South Bay, and she knew when not to call her parents each evening during their TV time "because they tuned in religiously," he said.
"If we asked them, 'Where do you want to go eat this weekend?' they would cite a restaurant advertised on Channel 18," he recalled. "This is a station that not only carried news from their home country of China, but news from down the street so everyone understood the new world they were living in."
Dube said "it's a very sad day for countless viewers who depend on their depth of information to know what's going on — not just in their native countries but right here in Los Angeles where it's so vibrant. Who else can do Asian programming to this degree?"
On Friday, employees gathered for a group selfie after the final Mandarin newscast, hugging and high-fiving. The anchors, Chang and Chiang, had asked for a box of tissue before delivering their last newscast.
Twenty minutes in, Chiang began crying on air as they did a retrospective of past reports. They then thanked viewers for tuning in. New programming starting Saturday will include limited Korean content from international contributors.
"Many people new to L.A. may have felt lost, but we tried to share information that would help them," Chiang said.
"I'm sorry I cannot see them anymore each evening," Chang said. "But if I meet them in any corner of the city, I want them to say hello."
Twitter: @newsterrier
ALSO
Judge in Stanford sexual assault case offers first defense of his decision
L.A. overrules tenant activists, allows Beverly Grove apartments to become condos
'We got a mayday!' Small plane crashes onto 405 Freeway in Orange County
---
Life is stressful. Our weekly mental wellness newsletter can help.
You may occasionally receive promotional content from the Los Angeles Times.