L.A. City Council: Cedillo wins reelection, Rodriguez heads to victory in northeast Valley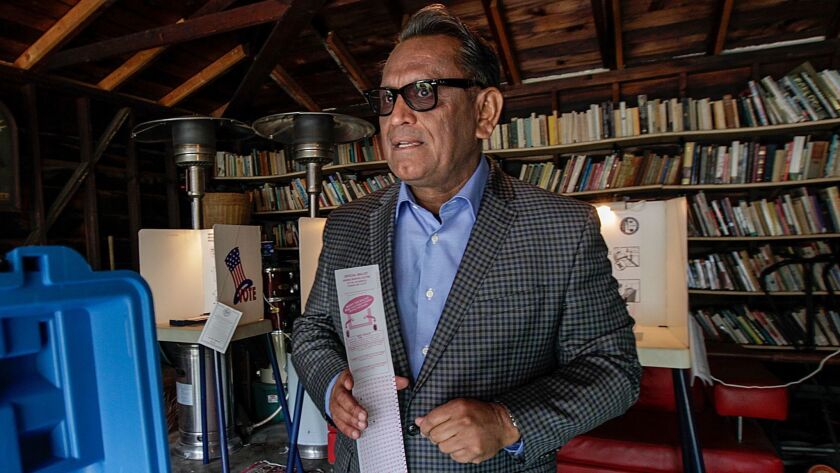 Incumbent Gil Cedillo handily won reelection Tuesday night over challenger Joe Bray-Ali in a heated runoff for a Los Angeles City Council seat representing a swath of northeast L.A.
With 100% of precincts reporting, Cedillo had received more than 70% of the votes cast in District 1, which includes Westlake, Highland Park and Chinatown.
In March, Cedillo was forced into a run-off by Bray-Ali, a Lincoln Heights resident and bicycle advocate who had been a vocal critic of the councilman's positions on street safety, development and gentrification.
Spirits were high at Cedillo's election night party at a rooftop bar in Chinatown. Cheers greeted Cedillo's arrival, and he stopped to dance with one supporter, as a group of women shouted, "Si, se puede!"
Late Tuesday night Cedillo gave what amounted to a victory speech, as members of the crowd snapped photos of him.
"These voters in the 1st District are smart," Cedillo said, prompting cheers. "They chose experience. They chose an incredible record. … They chose someone who wants to bring people together."
With 100% of precincts reporting early Wednesday, former city commissioner Monica Rodriguez built a five-point edge over Karo Torossian, an aide to Councilman Paul Krekorian, in the District 7 runoff. Rodriguez captured nearly 53% of the vote in the northeast San Fernando Valley district.
The seat representing neighborhoods including Sylmar, Pacoima and Sunland-Tujunga has been empty since September, when Felipe Fuentes resigned to take a job as a lobbyist.
The results are unofficial pending a tally of late absentee and provisional ballots.
Shortly after 10 p.m., Rodriguez, 43, addressed a crowd of supporters at a Mexican restaurant in Sylmar, saying she was "very anxious about getting the next set of numbers, but … incredibly optimistic."
At an election night party in Tujunga, held in a campaign office that was formerly a Denny's, Torossian, 33, opened the early results on his phone and showed them to a friend, saying, "It's going to be a long night."
Tuesday was at least the fourth election in a year for many local voters, and turnout was expected to be low, though figures were not immediately available.
The District 1 race capped a bitter, months-long contest between Bray-Ali and Cedillo, who was formerly a state senator and assemblyman. Cedillo, 63, faced criticism from constituents that his office has not been responsive to residents' concerns.
L.A. Unified School Board candidate Nick Melvoin is congratulated by supporters Tuesday night.
(Brian Vander Brug / Los Angeles Times)
LAUSD District 4 candidate Steve Zimmer with supporters Sharon Delugach, left, and Anika Fernandez, right, at a subdued election-night party in Venice.
(Brian van der Brug / Los Angeles Times)
Supporters join Kelly Gonez at an LAUSD School Board District 6 election-night event in San Fernando.
(Patrick T. Fallon / For The Times)
LAUSD School Board District 6 candidate Imelda Padilla, with niece Alejandra Lepe, watches early results at an election-night event in Mission Hills.
(Patrick T. Fallon / For The Times)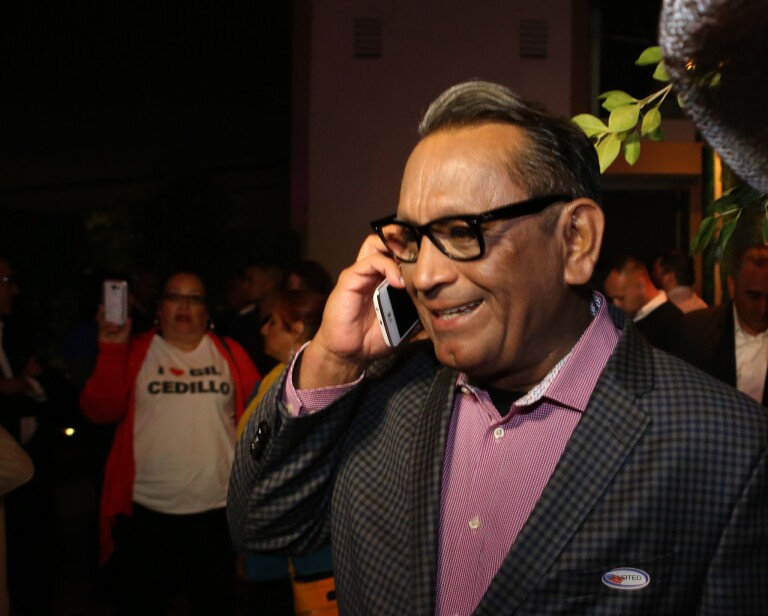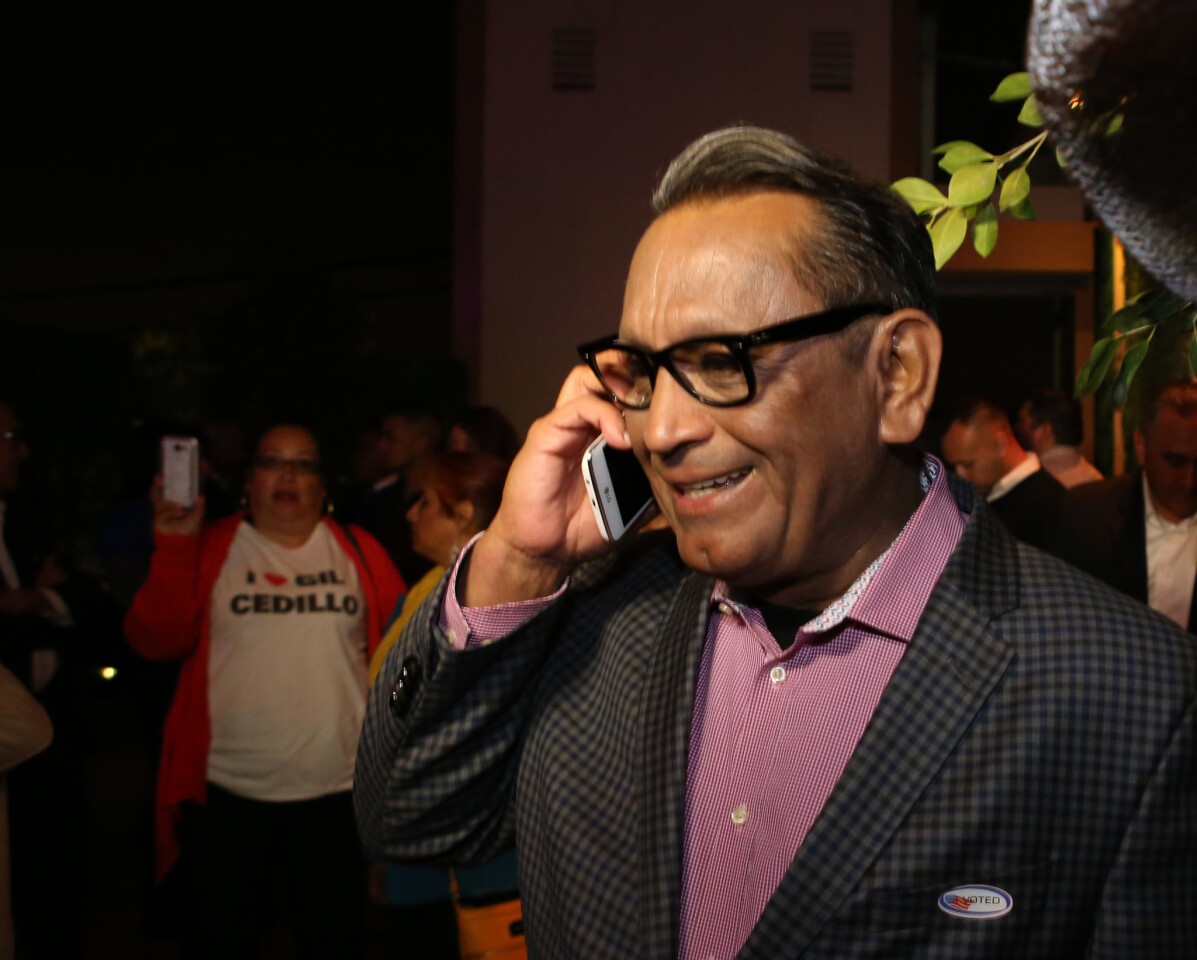 L.A. City Councilman Gil Cedillo takes a congratulations phone call during his election-night party in Los Angeles.
(Glenn Koenig / Los Angeles Times)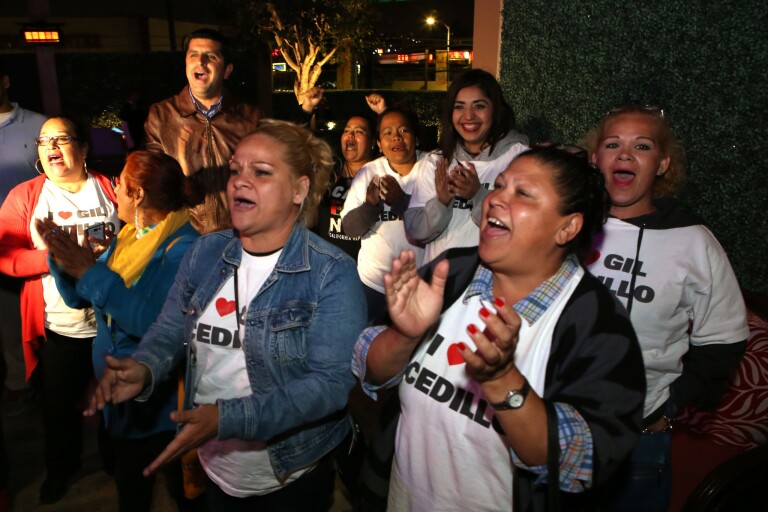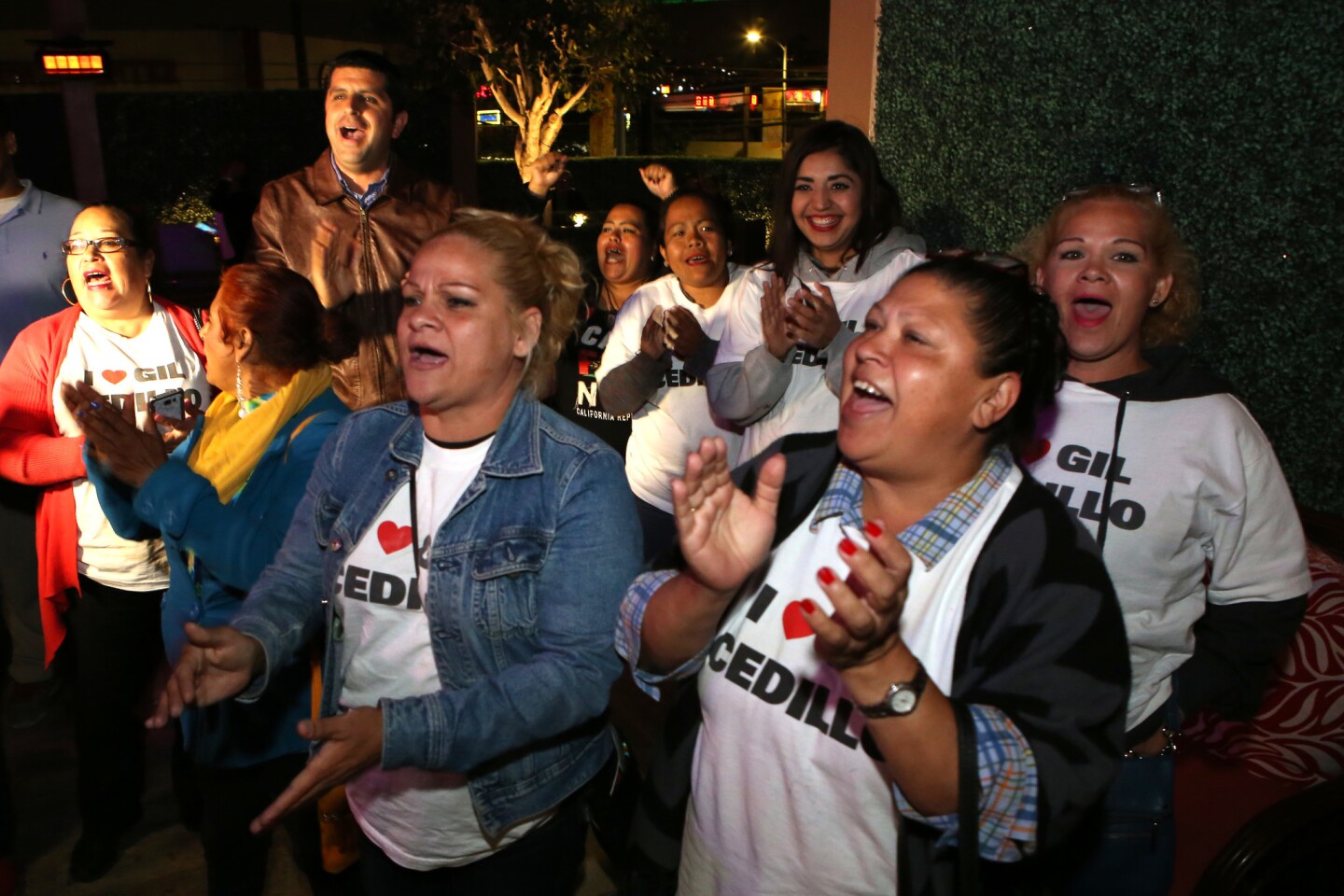 Supporters cheer L.A. City Councilman Gil Cedillo at his election-night party in Los Angeles.
(Glenn Koenig / Los Angeles Times)
Voter Susan Chivaratanond casts her ballot while her dog, Mookie, waits at the Hollywood Recreation Center.
(Mark Boster / Los Angeles Times)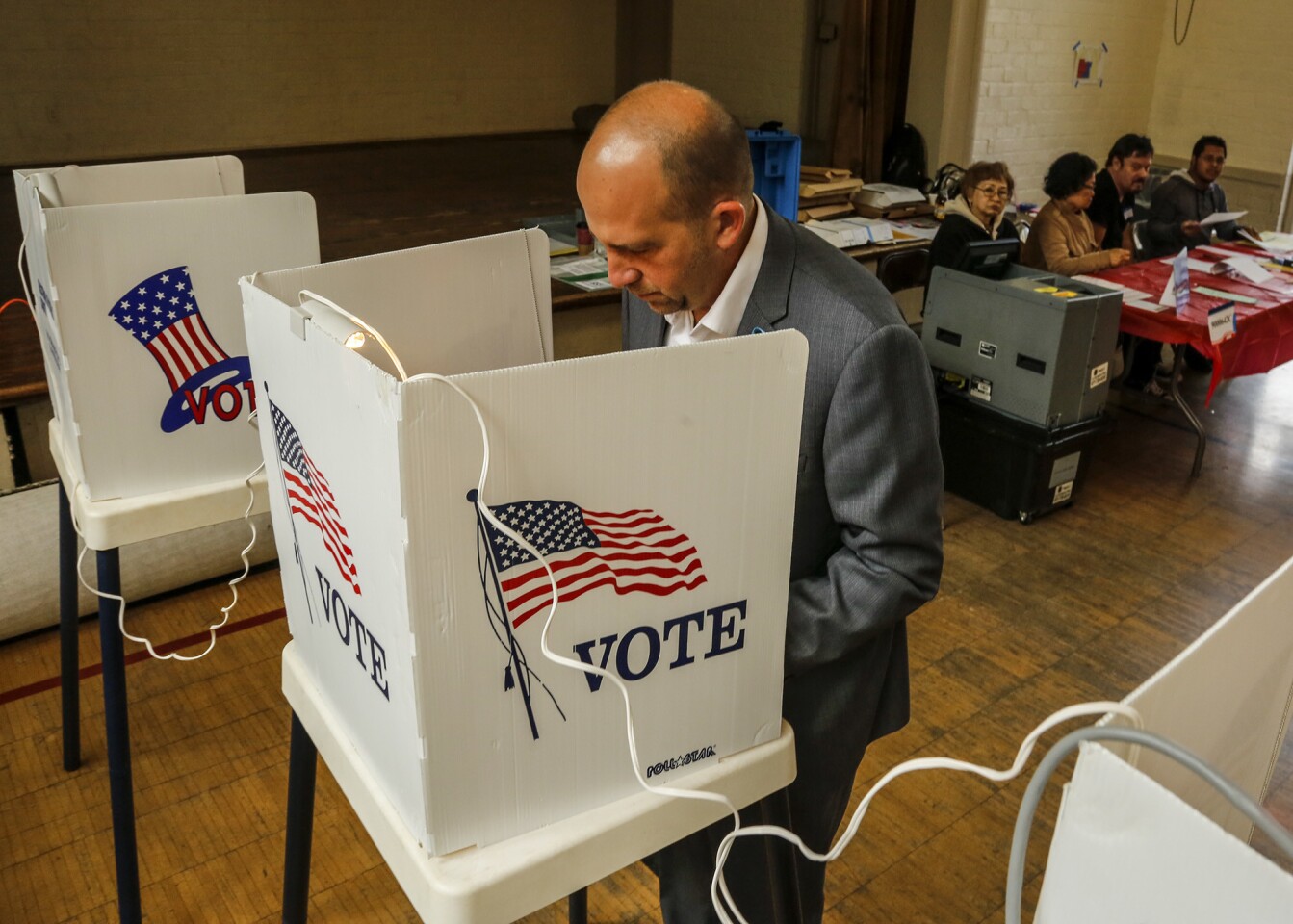 LAUSD School Board President Steve Zimmer casts his ballot the voting booth at the Hollywood Recreation Center.
(Mark Boster / Los Angeles Times)
An elderly woman exercises near a polling station in the Angelino Heights area of Los Angeles Tuesday morning. Voters will choose two new school board members, two new L.A. City Council members and weigh in on a police discipline ballot measure.
(Irfan Khan / Los Angeles Times)
Ruben Sedano was the first voter to cast his ballot at Lincoln Heights Senior Center on Tuesday morning. On the ballot are two L.A. City Council races and a ballot measure that would create an all-civilian review board for police disciplinary hearings.
(Irfan Khan / Los Angeles Times)
Voters arrive early to cast their ballots at the Hollywood Recreation Center for the Los Angeles municipal election.
(Mark Boster / Los Angeles Times)
Los Angeles City Council candidate Joe Bray-Ali, who already voted by mail, arrives at the Lincoln Heights Senior Center with his wife Susan Wong and dog Rosie on Tuesday morning.
(Irfan Khan / Los Angeles Times)
Francisco Cobos gets ready to raise a flag at the Lincoln Heights Senior center polling place Tuesday morning.
(Irfan Khan / Los Angeles Times)
Poll workers at the Hollywood Recreation Center prepare the polling place. Voters will choose two new school board members, two new L.A. City Council members and weigh in on a police discipline ballot measure.
(Mark Boster / Los Angeles Times)
Cedillo, who heads the City Council's housing committee, also has been criticized for not doing enough to stop displacement in his district, which has seen a wave of gentrification that has contributed to rapidly rising rents.
Cedillo said Tuesday night that he had listened to voters during the campaign and "learned a lot."
Bray-Ali, 38, formerly ran a Highland Park bike shop and has advocated for bike lanes on Figueroa Street.
He came under fire last month for comments he made on a provocative website that encourages fat-shaming and racism. He later posted a Facebook video that contained a litany of admissions. He said in the video that he "slept with several other women" who were not his wife, and owed nearly $50,000 in state business taxes and fees.
The comments cost Bray-Ali the endorsements of The Times, City Councilman Mitch O'Farrell and Bike the Vote, a transportation advocacy group.
Bray-Ali was greeted Tuesday night by dozens of cheering volunteers and supporters at the Huron Substation, an event space in Cypress Park. He said he felt "elated," despite early results that showed him behind.
Addressing the crowd, Bray-Ali said his campaign had been heavily outspent by "a City Hall political machine."
If he won, Bray-Ali said, he had work to do. He added: "And if I lose, on day one, I'm ready to hold [Cedillo] accountable for every misstep, every false move, every idiotic proposal."
In an interview, Bray-Ali said he hadn't been prepared for "personal smear attacks" and had been hindered by some campaign staffers who didn't react effectively.
"People have still asked, 'Why didn't you scrub your Web history?'" he said. But he said that failing to do so wasn't his regret and that he had "lived a life where I've sort of intellectually let a lot of things fly. ... It's part of the package of who I am."
As guests lined up for Nicaraguan food at Cedillo's party, City Council President Herb Wesson reflected on the race, which took a dramatic turn after Bray-Ali's comments were discovered.
"I'm glad it's over," said Wesson, who endorsed Cedillo. "It's not the type of race you would like to see, but Gilbert ran hard and proved he could do the job."
Other councilmen at Cedillo's party included Joe Buscaino, David Ryu and Curren Price. Several top staffers from Mayor Eric Garcetti's office were also in the crowd, as was former Mayor Antonio Villaraigosa, who is now running for governor.
In the District 7 race, Rodriguez and Torossian advanced to the runoff after beating 18 other candidates in the March primary. Most of those candidates endorsed Torossian, but Rodriguez won the endorsements of Wesson and Garcetti, as well as fundraising support from the mayor's longtime political advisor Rick Jacobs.
Rodriguez — a resident of Mission Hills and a former Board of Public Works commissioner — would become the second woman on the City Council. She would join Nury Martinez, who represents a district that includes Panorama City, Arleta and Van Nuys.
If her lead holds up, Rodriguez will face voter discontent on issues as varied as homelessness, illegal dumping and the proposed route of the California bullet train through Sunland.
Torossian, a Tujunga resident, opposed the rail project. Rodriguez supports high-speed rail, but said the route should connect Palmdale to downtown, rather than going through the district.
Tuesday's election was the last one in Los Angeles scheduled for an odd-numbered year.
A change in the election schedule, approved by voters in 2015, will shift municipal races to even years to coincide with the gubernatorial and presidential schedules. The move is expected to improve voter turnout.
To adjust to the new schedule, the winners of Tuesday's races and the incumbents who won reelection in March, including Garcetti, are set to serve 5½-year terms that end in 2022.
Outside a polling place in Mt. Washington Elementary School, Rick Keyes said he cast a ballot in Tuesday's election but not for Bray-Ali or Cedillo.
"I didn't have a good reason to vote for either of them," Keyes said.
Cedillo, he said, had failed to impress him as a leader. But he had heard that Bray-Ali, in turn, had been a Republican — something that left Keyes with "a lot of questions."
Originally a Democrat, Bray-Ali registered as a Republican in 2012 and later switched his affiliation back, a spokesman for the Los Angeles County Registrar-Recorder/County Clerk said.
Outside a green house on Edgeware Road that served as a polling place, Pedro Mateo said he had just voted for Cedillo, saying in Spanish that he liked "his way of working for the community."
Times staff writer Laura J. Nelson contributed to this report.
Twitter: @dakotacdsmith
Twitter: @latimesemily
Twitter: @agrawalnina
ALSO
Charter backers poised to win their first L.A. school board majority
Meet the City Council aide who's become the 'Superman' of cleaning up illegal dumping
Judge rules against group that sued Irvine synagogue over ritual chicken slaughter
UC regents to tackle hot-button issues of state audit and nonresident enrollment
---
UPDATES:
12:50 a.m.: This article was updated with final unofficial vote totals in districts 1 and 7.
May 17, 12:20 a.m.: This article was updated with new vote totals in District 7.
11:40 p.m.: This article was updated with Cedillo's victory.
11 p.m.: This article was updated with new vote totals and reaction.
10:30 p.m.: This article was updated with additional reaction.
9:30 p.m.: This article was updated with details about early returns and comments from Cedillo, Bray-Ali and Torossian.
This article was originally published on May 16 at 8:05 p.m.
---
The stories shaping California
Get up to speed with our Essential California newsletter, sent six days a week.
You may occasionally receive promotional content from the Los Angeles Times.