Clayton fire arson suspect had previously worked as inmate firefighter, authorities say
Firefighters work to contain embers on the remains of a house destroyed by the Clayton fire in Lower Lake, California.
(Gabrielle Lurie / AFP/Getty Images)
A marijuana plant is seen covered in fire retardant material in Lower Lake, Calif.
(Elijah Nouvelage / Getty Images)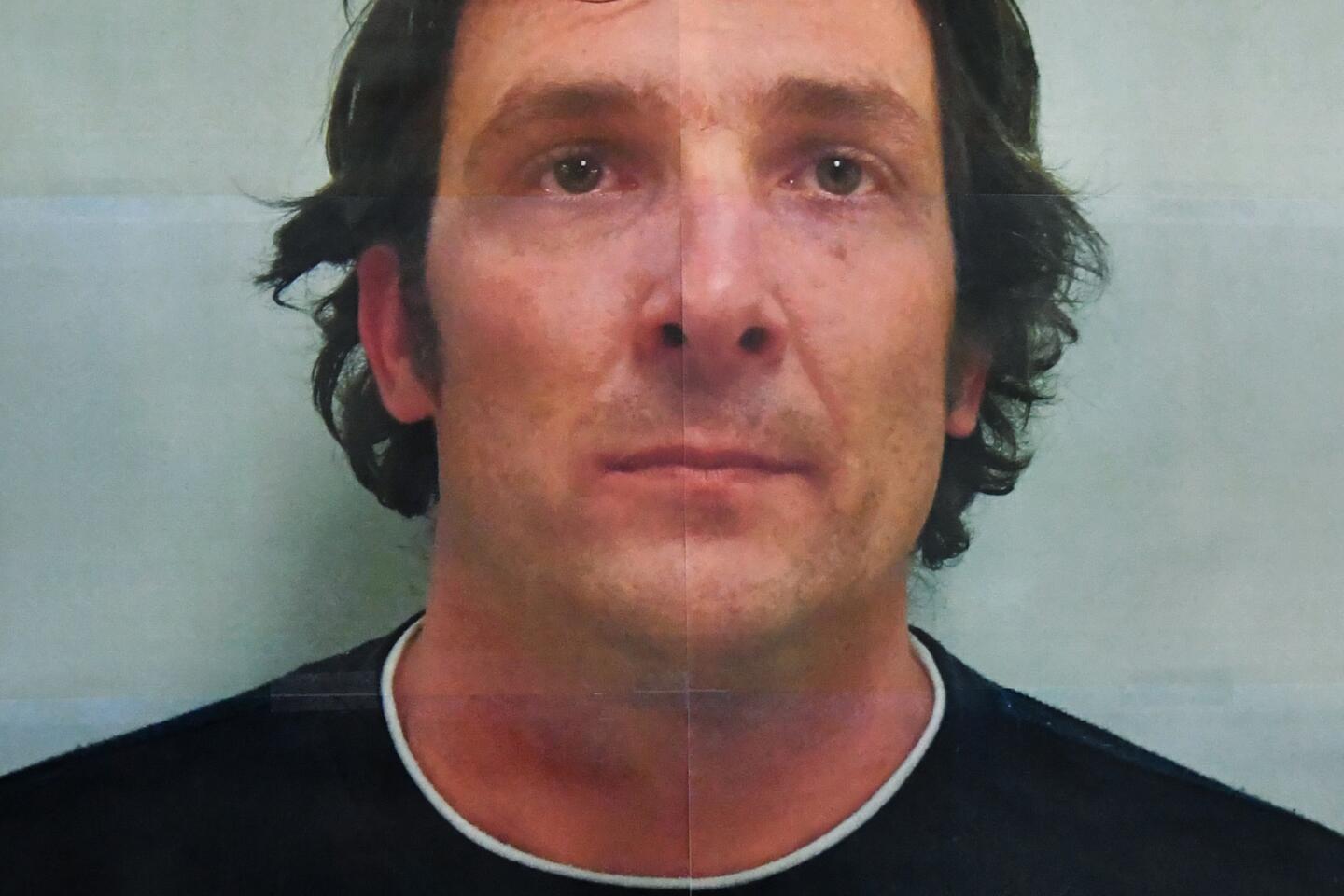 Damin Pashilk, seen here in a poster on display at a news briefing in Middletown, Calif., was arrested on arson charges. Officials say he sparked a wildfire that exploded over the weekend in the Northern California town of Lower Lake.
(Josh Edelson / Associated Press)
Juan Tapia, left, and Alicia Palominos hug their granddaughter Emily Avalos, 1, during a news conference where it was announced that a California man had been arrested on arson charges in connection with a wildfire in Lower Lake, Calif.
(Josh Edelson / Associated Press)
Firefighters work to control flames as a home burns in the town of Lower Lake, Calif.
(Josh Edelson / Associated Press)
Tyrol Martin of the U.S. Forest Service douses flames as a structure burns near the town of Lower Lake, Calif.
(Josh Edelson / Associated Press)
Hannah Lee coordinates with a friend to save horses as flames approach the town of Lower Lake.
(Josh Edelson / Associated Press)
A firefighter rescues goats as flames envelope the area in Lower Lake.
(Josh Edelson / Associated Press)
A truck burns in the town of Lower Lake. A wildfire destroyed homes and forced thousands of people in two Northern California towns to flee as flames jumped a road and moved into populated areas.
(Josh Edelson / Associated Press)
A firefighter battles flames as a house is engulfed in the town of Lower Lake, located more than 100 miles north of San Francisco.
(Josh Edelson / Associated Press)
Firefighters battle flames as a house burns in Lower Lake.
(Josh Edelson / Associated Press)
Firefighters work to control flames as the Terrill Cellars Winery burns along Main Street in Lower Lake.
(Josh Edelson / Associated Press)
A helicopter drops water on Lower Lake, where signs and lamp posts are covered in fire retardant.
(Josh Edelson / Associated Press)
Reporting from Clearlake, Calif. —
A suspected serial arsonist charged with starting the Clayton fire that destroyed more than 175 buildings in Northern California this week worked as an inmate firefighter while in prison for drug and weapons charges years ago, authorities said.
Damin Pashilk, of Clearlake, faces 17 counts of arson in connection with the 4,000-acre Clayton fire in Lake County, as well as numerous others set in the area in recent months, California Department of Forestry and Fire Protection Chief Ken Pimlott said.
Pashilk had been under investigation for about a year and has a lengthy criminal record, authorities said.
When Lake County Sheriff Brian Martin announced Pashilk's arrest at a community meeting in Middletown late Monday, weary residents — including some who had lost homes to the fire — cheered.
"String him up!" someone shouted.
"You're going to hell, bud!" someone else yelled.
Here in this rural pocket, besieged last year by a string of deadly wildfires, news that the Clayton fire was attributed to arson was met with fury but little surprise. The arson rumors started about as soon as the Clayton fire did, residents said. This summer has been full of smaller fires — far too many to blame on bad luck.
"We that call Lake County home know that the fire activity that we've been experiencing over the last couple of years is definitely not normal," Martin said Monday. "Fires don't just simply start."
The fast-moving Clayton fire started late Saturday afternoon off Highway 29 and Clayton Creek Road, according to Cal Fire. Thousands of people in the small towns of Lower Lake and Clearlake were evacuated because of the fire, which was 20% contained Tuesday.
It remains unclear how arson investigators linked Pashilk to the blaze or how it started. Gov. Jerry Brown on Monday declared a state of emergency in Lake County to help expedite aid to those affected by the fire.
Scott Stephens, a professor of fire science at UC Berkeley, said arson is to blame in a small number of wildland fires in California. Most wildland fires, he said, are started by humans accidentally, and half of the ones in the mountains are caused by lightning strikes.
"It is very unusual to catch an arsonist so close to the fire starting," said Stephens, who has spent decades studying fire behavior. Often, he said, it take years of investigation and other fires to eventually reveal the culprit.
The Clayton fire ravaged tiny Lower Lake, blazing through its Main Street commercial district. A Habitat for Humanity office, whose staff had been helping victims of last year's fires rebuild their homes, was destroyed. So was a Methodist church.
Lake County Chief Deputy Dist. Atty. Richard Hinchcliff said prosecutors expect to arraign Pashilk on Wednesday. He was being held in the Lake County jail on $5.1-million bail, Hinchcliff said.
Pashilk has been arrested more than 20 times throughout Northern California during the last two decades, a law enforcement source said. He was arrested at least a dozen times in Lake County for a variety of offenses, according to the Sheriff's Department.
Pashilk worked as an inmate firefighter while serving a five-year prison term for drug and weapons convictions years ago, state corrections officials said. He was trained at the California Correctional Center in Susanville and assigned to Trinity Camp in Lewiston from April 12, 2007, through July 5, 2007, Vicky Waters, a California Department of Corrections and Rehabilitation spokeswoman, said in a statement.
Pashilk was committed to state prison from Lake County in January 2002 and was released on parole on July 25, 2007. He was subsequently brought back into custody six times for parole violations but did not serve again as a firefighter, Waters said.
Authorities said about 340 inmate firefighters were battling the Clayton fire Tuesday.
In 2009, Clearlake police arrested Pashilk on suspicion of being a felon in possession of a weapon and possession of a controlled substance, methamphetamine, police said at the time.
According to an account of the arrest in the Lake County News, officers detained a driver suspected of drug possession, and authorities went with a search warrant to that man's home. Pashilk answered the door with a loaded handgun, then ran back into the residence — which held a marijuana-growing operation — to try to hide the weapon. He was wanted at the time on parole violations in Napa County.
A Facebook page with Pashilk's name and photos of him, and which lists him as a Clearlake resident, has a cover photo depicting a pair of white SS lightning bolts, a neo-Nazi symbol.
Clearlake resident Joshua Manion said Tuesday that he's known Pashilk for a few years.
"He seems like a pretty good guy," Manion said. "If he's innocent, he's innocent. If he's guilty, he almost killed my family. That's all I have to say."
Paul Dawson, a longtime Clearlake resident, said he was watching television Monday night when he saw a picture of Pashilk, whom he's known for eight years. He didn't believe the accusations.
"He's a good guy," Dawson said. "He's got a jaded past, but your past is your past. He served his time."
Dawson said Pashilk "doesn't seem like the kind of guy to destroy things," and said he was "always helping people out."
Dawson, leaving his house on a bicycle on a dirt road not far from the Clearlake Police Department, said Pashilk lived in the area and did odd jobs around the neighborhood for money.
Last year, Lake County was devastated by the Rocky, Jerusalem and Valley fires, which burned more than 170,000 acres and destroyed more than 1,000 homes. The Valley fire killed four people. The Clayton fire is now burning in an area between those major fires.
News of Pashilk's arrest seemed to confirm the suspicions of many residents and firefighters that the Clayton fire and other recent blazes did not start by natural causes.
The chatter of air tanker pilots involved in Monday's attack on the blaze included their own hints of arson. About noon, they reported suspicious puffs of white smoke rising near an unburned area. They swooped over to put out the new fire and alerted other pilots to be watchful for signs of others popping up outside the char.
The Clayton fire was preceded this summer by a rash of fires near highways around Clearlake that destroyed some homes, caused power outages and subjected residents to repeated evacuation orders. Firefighters were able to douse those fires before they blossomed into full-fledged wildfires.
Three of the fires were last week; two of those were reported within minutes of each other.
Chris McMullin, 47, was hanging out at the B&B Cocktail Lounge in Clearlake on Tuesday afternoon, trying to find out any news about the fire victims. The Clearlake resident knows people who lost their homes and trucks this week. Last year, McMullin, who installs fire sprinklers for a living, let some friends who were evacuated by the Valley fire stay on his couch.
"Everyone's tired of it, that's for sure," he said of the fires.
McMullin said he was suspicious about the Clayton fire. Another fire was set in the area at almost the same time exactly a week before, he said.
Lake County residents have already been through so much, and they're furious at the suspect, he said.
"Nobody's happy," McMullin said. "There are a lot of displaced people right now because of the fire. There's probably a lot of people who want to kill him right now."
richard.winton@latimes.com | Twitter: @lacrimes
hailey.branson@latimes.com | Twitter: @haileybranson
joseph.serna@latimes.com | Twitter: @JosephSerna
Times staff writers Winton and Branson-Potts reported from Los Angeles and Serna from Clearlake. Times staff writers Paige St. John, Sarah Parvini and Erica Evans contributed to this report.
ALSO
Alleged stalker arrested at reality TV star Kendall Jenner's home
Police catch 'Dreaded Bandit' suspect after a series of bank robberies in San Francisco
In Santa Monica, parents are paying $1,000 for a boot camp to get their kids ready for kindergarten
---
UPDATES:
8:50 p.m.: This article was updated throughout.
3:17 p.m.: This article was updated with information about Pashilk's time as an inmate firefighter.
10:15 a.m.: This article was updated with details on an earlier arrest.
9:39 a.m.: This post was updated with details on the suspect's arrest.
This article was originally published at 8:20 a.m.
Sign up for Essential California for news, features and recommendations from the L.A. Times and beyond in your inbox six days a week.
You may occasionally receive promotional content from the Los Angeles Times.