Latino clowns struggle for respect and pay in a country that celebrates Krusty the Clown
Carlos Clemente, a.k.a. Papo, says being a clown is an artform.
Erick Murias leaned forward, gesturing with his hands as he tried to explain to a bunch of clowns that their job was serious business.
It's a trade that has an "ideological and technical basis," he said, with "theatrical fundamentals" at play. Murias, 42, emphasized the importance of empathy and "human identification" in drawing out emotions from an audience.

For the record:
12:00 a.m. Aug. 20, 2018In the Aug. 19 California section, a photo caption accompanying an article about the sixth annual International Latino Clown Convention misspelled the last name of professional clown Erick Murias as Munias.
Finally, he declared to the roughly 30 people gathered at a park in South Gate: "I don't want to bore you with text. Let's do something more practical."
He grabbed a monocle and popped on a bright red nose.
About three dozen professional clowns from around the U.S. — Chicago, Dallas, Las Vegas, Kansas City — traveled to Los Angeles recently for the sixth annual International Latino Clown Convention. They took part in workshops on topics such as makeup application, finding your clown character and circus techniques.
But for organizers like Murias, a professional clown who has studied "clown pedagogy," there was a bigger goal: To teach these Latino party clowns how to perform on larger stages, while demanding more money — and respect.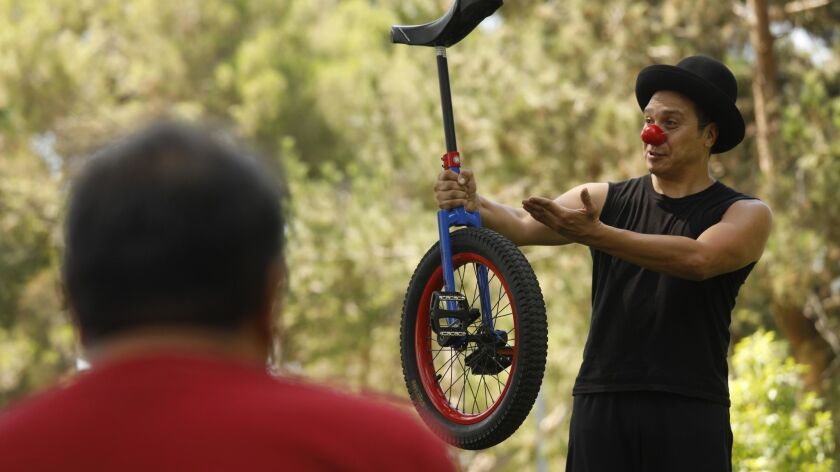 Being a clown in America is not always easy.
The words "I hate clowns" flow like a well-oiled cliche. Stephen King harnessed the fear of clowns — coulrophobia — with "It," a bestselling novel that became a hit horror movie based on a nightmarish, murderous alien spider-clown that preys on little boys and girls.
Arguably the most famous animated clown, Krusty from "The Simpsons," is a chain-smoking booze hound whose mortified rabbi father, upon discovering his profession, declares: "You have brought shame on our family. Oh, if you were a musician or jazz singer, this I could forgive. But this? I never want to see you again, you, you, clown!"
Ivan Mendez, or Caramelito, a party clown from Kansas City, recalled one show in which a woman demanded he devote all but five minutes of his performance to playing games with the children and making balloon animals. That left him little time to do an actual routine.
"They think I'm a baby-sitter," said Mendez, 37, who doesn't like being called payasito, or little clown. "It's belittling. I'm a party clown, but that doesn't mean I can't be on a big stage."
There are parts of the world — Mexico and some Latin American countries — where clowns are held in higher regard.
Cepillin, one of Mexico's most famous clowns, has been adored by millions for decades. And when Andrés Manuel López Obrador was elected president this summer, there was Brozo, a clown and political pundit, on TV helping to break down the historic vote.
To Dominique Jando, 73, who began his career 60 years ago in France, "a clown is a naked actor. He reveals the part of you that seems totally stupid, carefully hidden by society's conventions. He shows us the truth of the human condition. It's a dangerous thing to do."
(At this point you may be asking: Are we still talking about clowns?)
As for birthday clowns, Jando said, most aren't clowns in a truly artistic sense.
"If they behave like amateurs, they will be seen as amateurs," he declared. "To be a real clown requires talent. You don't just put on a red nose and decide you're a clown."
The Latin American clown culture really started to take hold in the U.S. after President Reagan signed a sweeping immigration reform bill in the mid-1980s, said Carlos Clemente, or Papo Burron, founder of Club De Payasos.
Club De Payasos became the first Latino clown agency in Los Angeles, opening in Boyle Heights in 1985 for aspiring clowns to learn the trade and start independent businesses.
In the United States, said 44-year-old Raul Zamora — or Rulo — who performs in Mexico with Murias, Latino clowns have allowed themselves to be treated shabbily.
"Here, clowns made themselves available to paint little faces, so now the public asks for that," he said. "If you cultivate that culture, that's what you'll get. In Mexico City, more has been done to protect the image of clowns."
Zamora charges $400 for an hour-long show. And he insisted he would never, ever make balloon animals for a party.
"Clowns are disparaged," Zamora said "'Don't be a clown,' they say. Or 'This is a circus!' when referring to politicians."
But a clown, unlike a politician, Zamora said proudly, prepares.
For nearly all the clowns at the convention, the profession is a passion. Some said they stumbled upon it after coming to Los Angeles in search of an acting career. Others have followed in their parents' footsteps.
Juan Antonio Vilches of Sun Valley, an organizer of the convention who goes by the clown name Tony Cocotito, said being a clown isn't just putting on a bright red nose, colorful makeup and giant shoes.
Clowns need to get to a place where they really get to perform their art, said Vilches, 55. Instead, they are often used as party helpers by frazzled moms and dads.
"They're put to work, helping break the piñata or cut the cake," Vilches said. "Would you make a mariachi wait tables? No!"
alejandra.velarde@latimes.com
---
The stories shaping California
Get up to speed with our Essential California newsletter, sent six days a week.
You may occasionally receive promotional content from the Los Angeles Times.