Coachella says it's safe for LGBTQ people, but transgender siblings say they were denied restroom access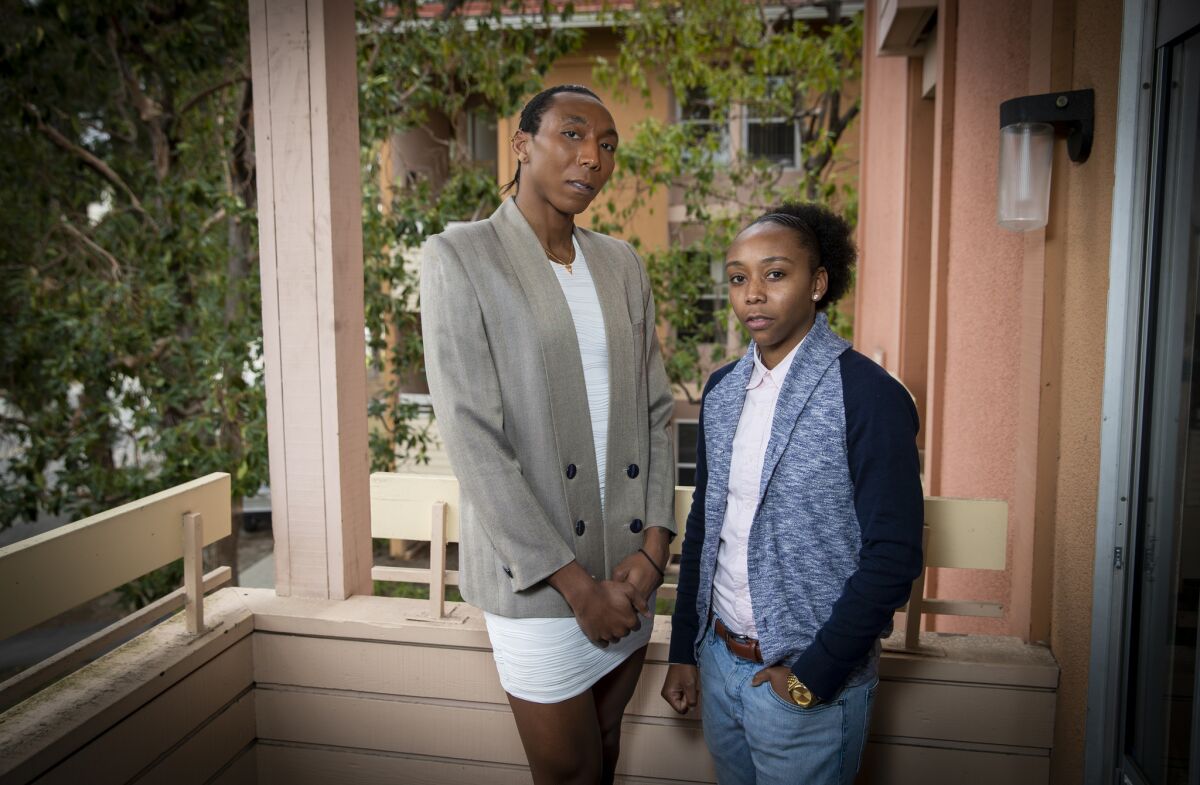 Donavion "Navi" Huskey just wanted to see Beyoncé.
She had waited all day to see Queen Bey perform at the Coachella Valley Music and Arts Festival in Indio last April and made a quick stop at the restroom before the concert began.
After a 10-minute wait, Huskey reached the front of the line. That's when, she said, a security guard told Huskey, a transgender woman, she couldn't use the women's restroom. She was humiliated.
"Coachella is part of the pop culture zeitgeist," Huskey said. "It's all colorful and inclusive. There are tons of LGB [lesbian, gay and bisexual] people typically there. I felt like it would be a good space. … I just didn't know the festival itself didn't have policies that were inclusive. That was jarring."
The next day, Huskey's sibling, Taiyande "Juice" Huskey — who identifies as transmasculine, presents as male and uses the pronouns "they" and "them" — was turned away from a men's restroom and escorted out by a security guard who said he would show Huskey to a gender-neutral restroom but then didn't.
Coachella markets itself as a safe and welcoming environment for lesbian, gay, bisexual, transgender and queer people. But in denying the Huskeys access to restrooms that correspond with their gender identities, the festival illegally discriminated against them and violated California's Unruh Civil Rights Act, according to the American Civil Liberties Union.
"The fortunate reality of California in 2019 is that the law agrees with them," said Amanda Goad, an attorney for the ACLU of Southern California.
On Tuesday, the ACLU of Southern California and Tustin-based attorney Stephen Hicklin sent a letter on the siblings' behalf to Anschutz Entertainment Group and its subsidiaries, AEG Presents and Goldenvoice, which run the festival. The letter demanded they establish and enforce "clear, legally sound policies regarding restrooms and other gendered facilities."
In the letter, the ACLU asked the festival operators to present a written policy by March 6 that guarantees attendees at Coachella and all other AEG and Goldenvoice events access to restrooms and other facilities based on their gender identity. The attorneys also asked the festival operators for a plan to train all Coachella 2019 on-site staff and contractors on that policy.
If those demands are not met, the letter states, the Huskeys could take further action in court.
The siblings could bring a variety of tort claims against AEG and Goldenvoice "given the severe emotional distress they suffered" as well as other potential claims "related to Coachella's false representations of inclusivity."
In a statement to the Los Angeles Times, Coachella producers called the Huskeys' experience "unacceptable" and said the festival is "taking deliberate steps to ensure that this does not happen to anyone else."
"This is not reflective of the safe and inclusive festival culture that we strive for, and this behavior is intolerable," the statement read.
In recent years, there have been calls to boycott Coachella after widely shared reports that Philip F. Anschutz, the owner of AEG, which oversees Coachella's organizers, had donated to several anti-LGBTQ groups, such as Alliance Defending Freedom and the Family Research Council.
Anschutz told The Times in 2017 that he was unaware of anti-LGBTQ work done by any of those organizations and that he had ceased all contributions after learning so. He said reports that he is "anti-LGBTQ are nothing more than fake news" and that "I unequivocally support the rights of all people without regard to sexual orientation."
In January, Coachella launched a safety initiative called Every One, following reports of rampant sexual harassment and assault at the festival. As part of the program, the festival will deploy "safety ambassadors" throughout the festival grounds, and there will be tents staffed with trained counselors "for anyone that needs extra support or a quiet moment away."
A Coachella website detailing Every One states that there will be male, female and all-gender restrooms, and that "All-Gender Restrooms are for anyone regardless of gender identity or expression."
In its statement to The Times, the festival said representatives would be inviting the Huskeys to Coachella offices "to help us perfect this program for 2019."
"We are challenging ourselves and our patrons to do better and be better with the creation of our 'Every One' campaign for this upcoming Coachella," the statement said.
The Huskeys said the existence of an all-gender restroom is not an excuse for denying a person access to a male or female restroom.
"It's a partial solution that they have gender-inclusive options," said Navi Huskey, a 31-year-old graduate student at UC Irvine. But being relegated to another, separate restroom without choice is a harmful "separate-but-equal" situation, she said.
"There are definitely nonbinary people that don't want to use a male or female bathroom. But me? I'm trying to embrace my new gender identity by doing those things that are a little bit scary," she said.
Navi had gone to Coachella in 2017. Beyoncé was scheduled to headline that year but postponed her performance because she was pregnant. But Navi had such a great time that she invited Juice to join her last year, hoping to see Beyoncé at long last.
As she waited in line for the women's restroom, Navi chatted with other festival goers. No one, she said, complained about her presence.
A female security guard stopped her from using the restroom but did not tell her there was a gender-neutral restroom.
"I didn't know one existed," she said. "It wasn't like it was men's, women's and all-gender in the middle."
Navi said she had to urinate but had to hold it the rest of the night if she wanted to see the show. She had just started her gender transition and was embarrassed to talk about it, so she didn't tell Juice about the incident that night.
The next day, Juice was standing in line for a stall in a men's restroom when a male security guard told them to go use the gender-neutral restroom. The guard escorted Juice out a back door and closed it without providing directions, Juice said.
"There were a few people ahead of me, and none of them had an issue with me being there," said Juice, a 29-year-old high school basketball coach from Anaheim.
The siblings, who say they look out for each other, were horrified to learn that the same thing had happened to both of them — and that people in line did not stand up for them when the security guards stopped them from using the restroom.
"When it happened to me, I was like, 'It's just me. It's par for the course,'" Navi said. "Then it happened to Juice … It was Juice's first Coachella, and I felt guilty that I had convinced Juice to come and said it was going to be this great experience. It was a horrible experience."
Navi said she emailed Coachella staff about the incidents immediately after the festival but never got a response. She said she contacted attorneys because she doesn't want the same thing to happen to other people.
Goad, the attorney, said the goal is to have some kind of resolution by this year's festival, which begins April 12.
"Coachella is perceived as this welcome place for people from all walks of life, so it's especially horrible and painful if people are expecting a welcoming and inclusive experience — and have paid for that — and instead find themselves escorted from a restroom and turned away," she said.
Twitter: @haileybranson
The stories shaping California
Get up to speed with our Essential California newsletter, sent six days a week.
You may occasionally receive promotional content from the Los Angeles Times.