Senate OKs bill to give Coastal Commission power to levy fines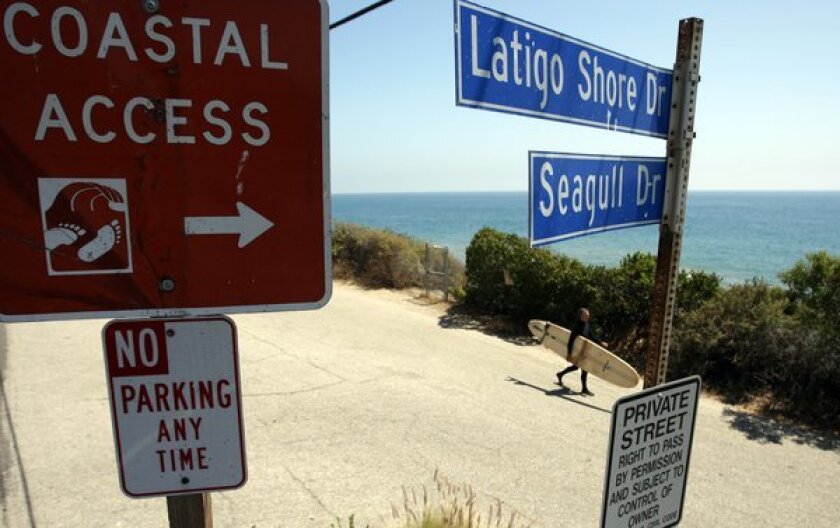 The state Senate approved a measure Friday that would give the California Coastal Commission the ability to impose fines.
The bill, which would grant new power to the agency that oversees land use and public access along California's 1,100-mile coastline, passed narrowly on a 21 to 17 vote. It now goes to the state Assembly, which is expected to approve the Senate's amendments and send the bill to the governor.
Unlike more than 20 other state agencies, California's coastal regulator must go to court to collect penalties from those who harm coastal habitat, build without permission or block public access to the beach.
The agency has long sought the power to issue fines to start clearing its backlog of more than 1,900 enforcement cases, but business groups have opposed the legislation.
Republicans were united in voting against the measure and were joined by five Democrats. The vote came after vigorous debate over public beach access and the power of the 12-member Coastal Commission, formed by voter initiative in 1972 and made permanent through the 1976 Coastal Act.
Sen. Kevin De Leon (D-Los Angeles), who presented the bill on the Senate floor, said fines would be an essential tool for the commission to protect coastal resources and access to the coast.
"It's time that we give them what every other department has," he said. "The ability to do their job."
Other lawmakers said the measure would grant too much authority to an agency that is already viewed by property owners as heavy-handed and overreaching. Sen. Jim Nielsen (R-Gerber) said the bill would give the commission "unbridled, unconscionable powers."
The agency's backlog of Coastal Act cases range from unpermitted development in coastal wetlands to illegal dumping and grading. The most common violations involve blocked coastal access, such as Malibu residents who put up fake "no parking" signs to keep visitors from public beaches.
The bill by Assembly Majority Leader Toni Atkins (D-San Diego) was approved by the Assembly in May on a 42 to 32 vote.
ALSO:
Masked men with guns hold up In-N-Out looking for cash
Outrage after San Francisco mother killed in park by city truck

L.A. Customs officer, brothers charged in gun-smuggling scheme
Twitter: @tonybarboza
---
The stories shaping California
Get up to speed with our Essential California newsletter, sent six days a week.
You may occasionally receive promotional content from the Los Angeles Times.