UC quake researchers give L.A. list of old concrete buildings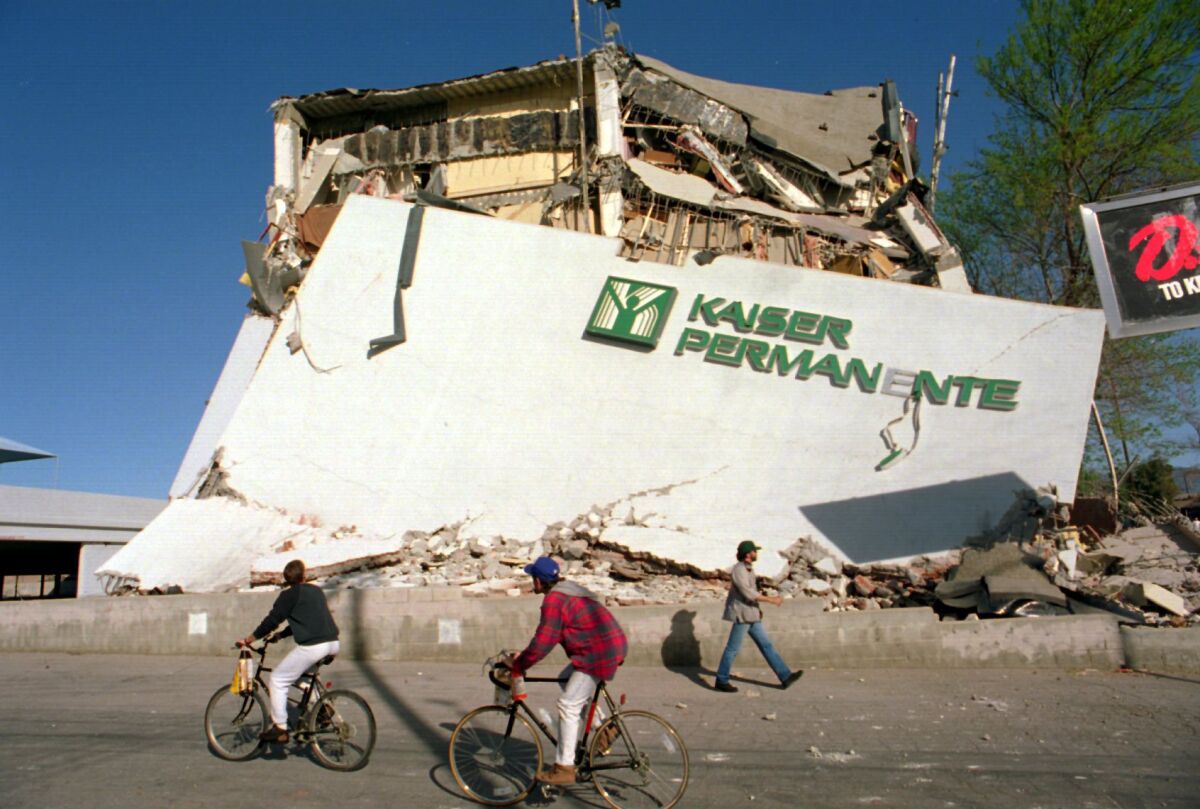 The University of California has released to Los Angeles city officials a list of about 1,500 old concrete buildings that are potentially at risk of collapse during an earthquake.
The release was significant because it gives city officials the first look at identifying concrete buildings most likely to fail in an earthquake -- and it could help officials take steps to strengthen the structures.
Los Angeles city officials have known about the risk of concrete buildings for decades -- ever since several collapsed in the 1971 Sylmar earthquake, killing about 50 people. Despite past attempts to do so, the city has never completed an inventory of the buildings.
The university scientists stressed that the list does not amount to a list of dangerous buildings. Rather, they are a list of concrete buildings built before 1980. Each would need to be examined more closely and undergo extensive testing to gauge their vulnerabilities -- because while some of these pre-1980 buildings are vulnerable, others are not.
The researchers estimate that about 75 of the 1,500 buildings on the list could collapse in a large temblor. Past earthquakes around the world suggest that about 5% of old concrete buildings could collapse in a major earthquake.
Earthquake researchers widely agree that the collapse of concrete buildings poses a high risk of death in a California earthquake. After the Northridge earthquake caused two concrete buildings to collapse and severely damaged others, structural engineers warned that the collapse of a single concrete building "has the potential for more loss of life than any other catastrophe in California" since the 1906 San Francisco earthquake.
"Compared to many other types of buildings, taken as a whole, they are more dangerous," UCLA civil engineering professor Jonathan P. Stewart, a co-author of the report, said Friday. "There is a genuine problem here."
In an interview on Friday, the lead author of the research, UC Berkeley engineering professor Jack Moehle, said the data-gathering project was complete and his team wanted to help the city in its efforts to deal with the problem.
"We would like to be helpful to the city, to help them move forward," Moehle said. "It's the time to release the data."
Moehle confirmed that the university sent over the underlying data, which includes addresses, Tuesday afternoon.
During the Northridge earthquake in 1994, two concrete buildings collapsed catastrophically: a Bullock's department store and a Kaiser Permanente medical office in the San Fernando Valley. Hundreds could have died had the earthquake occurred during the workday, and not at 4:31 a.m.
The dangers of concrete buildings were exposed during the 1971 Sylmar earthquake. Concrete structures crumbled at the 46-year-old Veterans Administration Hospital in San Fernando, crushing patients under the debris; 49 people died.
Seismic experts were more alarmed by Olive View Medical Center in Sylmar, which had opened just months before and was built using stricter codes. The five-story hospital lurched sideways when some of its first-floor columns broke. Three concrete stairwells toppled. A two-story psychiatric building collapsed. Three people died.
After Sylmar, L.A. officials beefed up seismic codes for new buildings, requiring more steel inside concrete columns to prevent chunks from breaking away. The extra steel acts like a cage, keeping the concrete in place, even if the column cracks.
But structures built before the mid-1970s remained at risk because many lack adequate steel rebar and can't bend. Engineers call these buildings "non-ductile."
After a Times story in October highlighted the dangers of older concrete buildings, city officials have moved to address the hazard. There are two proposals before the Los Angeles City Council that would create a list of older concrete buildings in the city.
Last week, Los Angeles Mayor Eric Garcetti partnered with U.S. Geological Survey seismologist Lucy Jones, who will act as his science advisor on earthquake issues. Garcetti has asked her to come up with recommendations by the end of the year on retrofitting issues, including how to get privately owned concrete buildings retrofitted.
ALSO:
L.A. Mayor Garcetti to push for greater earthquake safety
New state fault maps show higher earthquake risks in Hollywood
In reversal, quake researchers to turn over list of concrete buildings
Twitter: @ronlin | @rosannaxia | @LATDoug
---
Life is stressful. Our weekly mental wellness newsletter can help.
You may occasionally receive promotional content from the Los Angeles Times.