Former L.A. Councilman Greig Smith tapped to fill vacant seat until election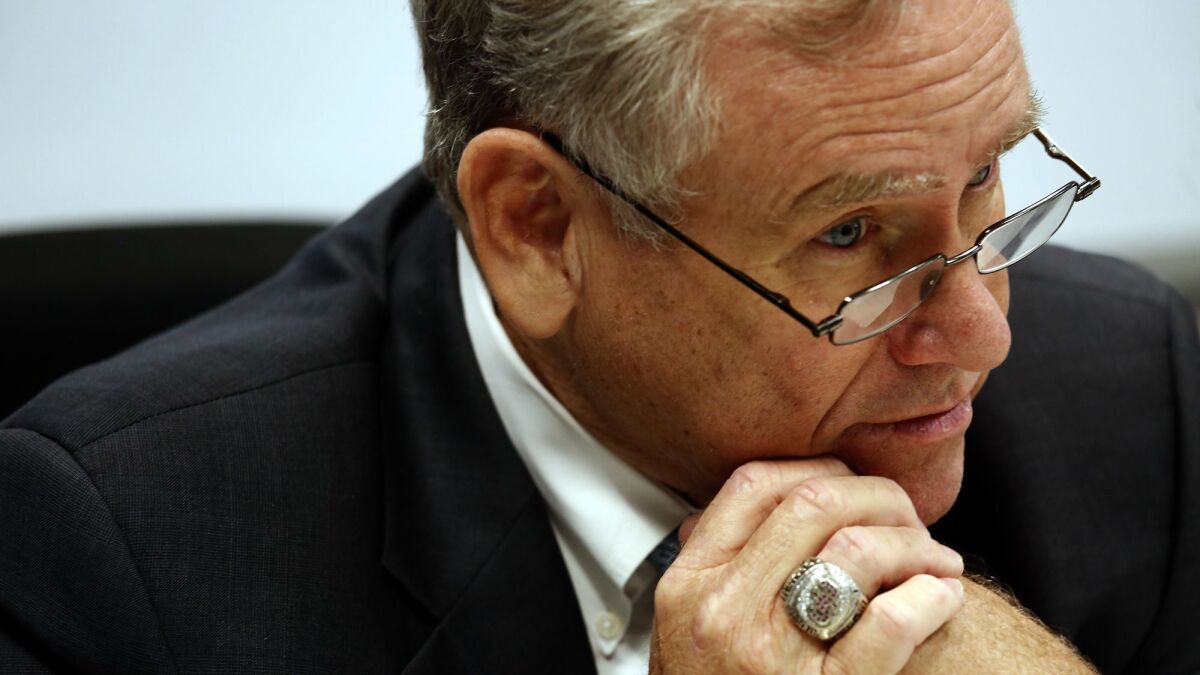 For the first time in half a century, city officials say, the Los Angeles City Council has appointed someone to serve as a voting member on the council.
Former Councilman Greig Smith was chosen Tuesday to temporarily fill a council seat that was vacated by Mitchell Englander, a spot he could hold for up to eight months.
Smith will be an interim voting member of the City Council, representing a San Fernando Valley district that includes Chatsworth, Granada Hills, Northridge and Porter Ranch, until a new representative is chosen in a special election later this year. He said he is not running in that race, which has rapidly drawn interest from more than a dozen possible candidates.
Smith, who lives in Granada Hills and serves as a reserve officer with the LAPD, left office in 2011 after deciding not to seek a third term on the council. Council President Herb Wesson first floated the idea of appointing Smith in November, before Englander had departed. Smith applauded the idea at a Tuesday meeting.
"To leave a quarter million people without a voice on the council is wrong — and for 50 years that's what we have done," Smith said.
The City Council voted unanimously to approve his appointment Tuesday, with Councilman Curren Price absent.
Choosing an appointed member is an unusual step for council members, who have typically chosen a "caretaker" without voting powers to oversee day-to-day business after a seat is unexpectedly vacated. The last time a council member left office early, when Councilman Felipe Fuentes left to become a lobbyist in 2016, Wesson himself spent nearly a year overseeing that district in addition to his own.
City officials said that the last time someone had been appointed as a voting member to fill a long-term vacancy was in 1966, when John Ferraro was selected to fill a vacancy after the death of Councilman Harold Henry.
Englander stepped down at the end of the year to take a job with a sports and entertainment firm. Holding a special election to fill his seat has been estimated to cost $2.4 million, according to the city clerk. The race will be held in June, with a runoff in August — less than a year before candidates could compete for the seat again in 2020, when Englander would have finished his term.
Wesson said Monday that he hopes Smith will do such a good job that L.A. voters will become comfortable with the practice of choosing temporary council members to fill vacant seats. That practice, he said, would allow the city to avoid holding expensive special elections when council members leave their seats early.
"It cost us $2.5 million for this special election," Wesson said Monday, rounding up from the figure provided by the city clerk. "I would much rather take that $2.5 million and spend it on homelessness."
The council president added Tuesday that he was not suggesting that the city should appoint someone in every case, but that it was an option that should be considered.
Before being appointed to the council, Smith said he had been working as a consultant for the firm Waste Management, a city contractor with the RecycLA trash hauling program. Smith also registered as a paid lobbyist for the firm in 2015 and 2016, but told council members Tuesday that he had not actually lobbied anyone at City Hall.
Smith said he would not vote on any matter that could benefit the company while serving on the council or discuss such issues with other council members or city staff.
At one point, he quipped that he had been known at City Hall as "Mr. Recycling," saying, "I guess we're kind of recycling, because you're recycling me."
Twitter: @AlpertReyes
---
The stories shaping California
Get up to speed with our Essential California newsletter, sent six days a week.
You may occasionally receive promotional content from the Los Angeles Times.