Top L.A. County prosecutors who reported sexual harassment by boss receive $700,000 settlement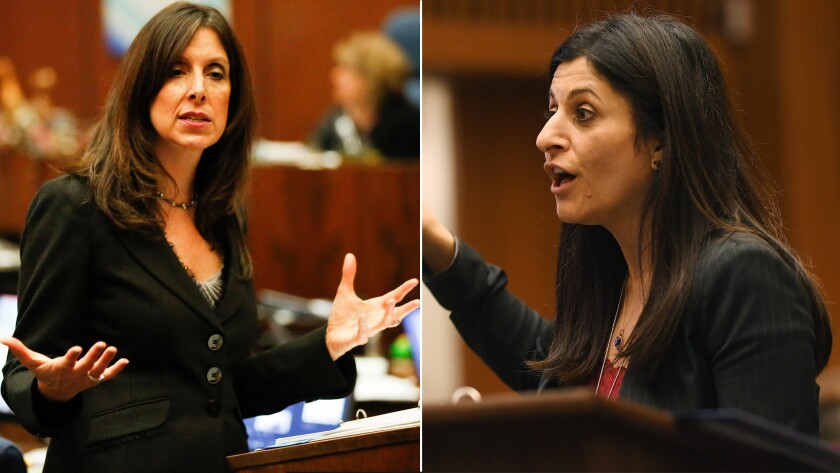 Two prosecutors in the Los Angeles County district attorney's office will receive $700,000 to settle a lawsuit accusing their supervisor of subjecting them to regular harassment and fostering an abusive, sexually charged workplace.
The Los Angeles County Board of Supervisors approved the settlement Tuesday. Details on how the money would be divided among Deputy Dist. Attys. Beth Silverman and Tannaz Mokayef and their lawyers were not released. The payout will be drawn from the district attorney's budget, according to county records.
In a civil lawsuit filed in 2015, Silverman and Mokayef, both members of the district attorney's elite major crimes division, accused their former supervisor, Gary Hearnsberger, of grabbing their buttocks, declaring his fondness for sexually pleasuring women, and making disparaging remarks about women, crime victims and a transgender attorney.
The pair said they were penalized for rebuffing Hearnsberger's advances. They alleged that other female prosecutors received high-profile cases for tolerating the harassment, engaging in sexual banter with Hearnsberger or providing sexual favors.
The lawsuit described the nation's largest local prosecutorial office as plagued by hostility and sexual favoritism, and said Hearnsberger was the culprit.
Attorneys for Mokayef said in court papers that at least four other female employees of the D.A.'s office also complained internally that they were victims of sexual harassment and other misconduct by Hearnsberger.
On Tuesday, Dist. Atty. Jackie Lacey disputed suggestions that her office had overlooked allegations of sexual misconduct.
"We have no tolerance for sexual harassment in this office," Lacey said in a statement. "My managers are trained through the county and as part of my leadership team to respect their colleagues and uphold the values of this office."
After the settlement was approved, a spokeswoman for the D.A.'s office said the case was settled to resolve outstanding disputes and avoid the expense and inconvenience of further litigation.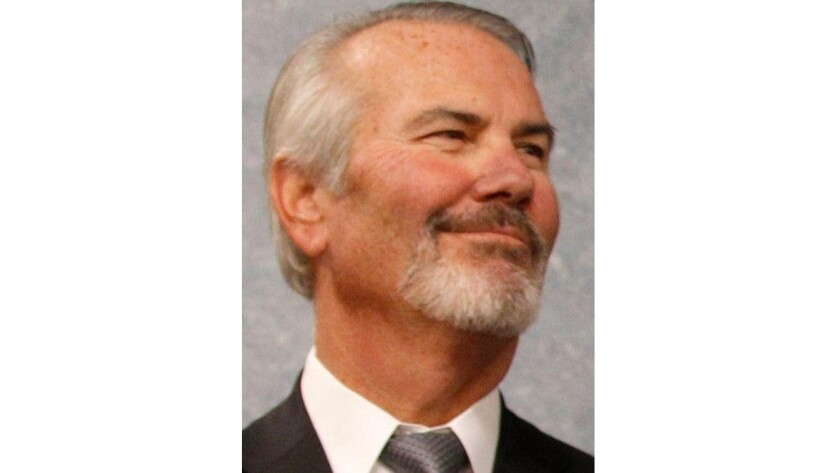 Silverman, who successfully led the prosecution of the so-called Grim Sleeper serial killer, Lonnie Franklin Jr., declined to comment on the settlement.
Mokayef, who won a murder conviction against "The Shield" actor Michael Jace, said in an email written in all-caps that she was "not interested in speaking" about the matter. Her attorney, Greg Smith, also declined to comment.
Both prosecutors remain in the major crimes unit, according to a spokeswoman for the district attorney's office.
Hearnsberger and his attorney did not respond to messages seeking comment. After more than three decades with the office, Hearnsberger retired March 31, about a week before Silverman's attorneys formally notified an Orange County judge that the case had been settled to avoid a trial. Hearnsberger had continued to receive a salary after being placed on paid administrative leave in March 2015.
The lawsuit had been transferred to Orange County after the Los Angeles County Superior Court bench was disqualified from hearing the case.
Hearnsberger remains an active member of the California state bar, which listed him at a post office box in the Yucca Valley, north of Palm Springs. In an interview with The Times shortly after the lawsuit was filed, Hearnsberger denied the women's claims.
"I'm being charged with a crime I didn't commit, and that's not something prosecutors want to see," Hearnsberger said. "Any kind of sexual allegations with me, her, them or other lawyers in major crimes or any other place where I've been head deputy is completely and totally untrue."
But court records offered detailed allegations of Hearnsberger's alleged lewd behavior in the office.
As supervisor of the unit that handles the D.A.'s highest-profile and complex homicide cases, Hearnsberger would make gestures mimicking oral sex and often laced his comments with graphic sexual remarks, Silverman alleged.
At a 2013 work-related event at the Biltmore Hotel, he put his hands on her buttocks and told her, "You know you like it," according to the lawsuit.
Mokayef, a former gang prosecutor who joined the major crimes unit in 2014, said that Hearnsberger once reached under her skirt at a restaurant and grabbed her crotch. He also compared her cellphone's vibrations to a sexual toy, according to court documents.
"He screams. He yells. He's nasty," Silverman said in a deposition excerpted in court records.
Silverman — whose performance reviews over the last decade praised her for being one of the best trial lawyers in the unit — said she alerted at least two superiors to the mistreatment. One of her superiors prevented her from disclosing all of the details to him, saying he did not want to hear about it, according to court papers.
A district attorney's spokeswoman said the office did not learn the specifics of the harassment allegations until Silverman and Mokayef filed their lawsuit.
Silverman said in court papers that since coming forward with her complaint she had been isolated, defamed, harassed, and even cut off in hallways by colleagues.
"The alleged perpetrator has left the department," Mokayef's attorney, Christopher Brizzolara, said Monday. "If nothing else, the case did accomplish that."
Twitter: @MattHjourno
ALSO
L.A. County approves $3.9-million settlement for minor assaulted in juvenile hall
When will a judge decide whether Robert Durst should stand trial in his L.A. murder case?
Ref Rodriguez, facing criminal charges, resigns as L.A. school board president
---
For reporting and exclusive analysis from bureau chief John Myers, get our California Politics newsletter.
You may occasionally receive promotional content from the Los Angeles Times.