A request for Supt. Deasy 'succession' plan attracts notice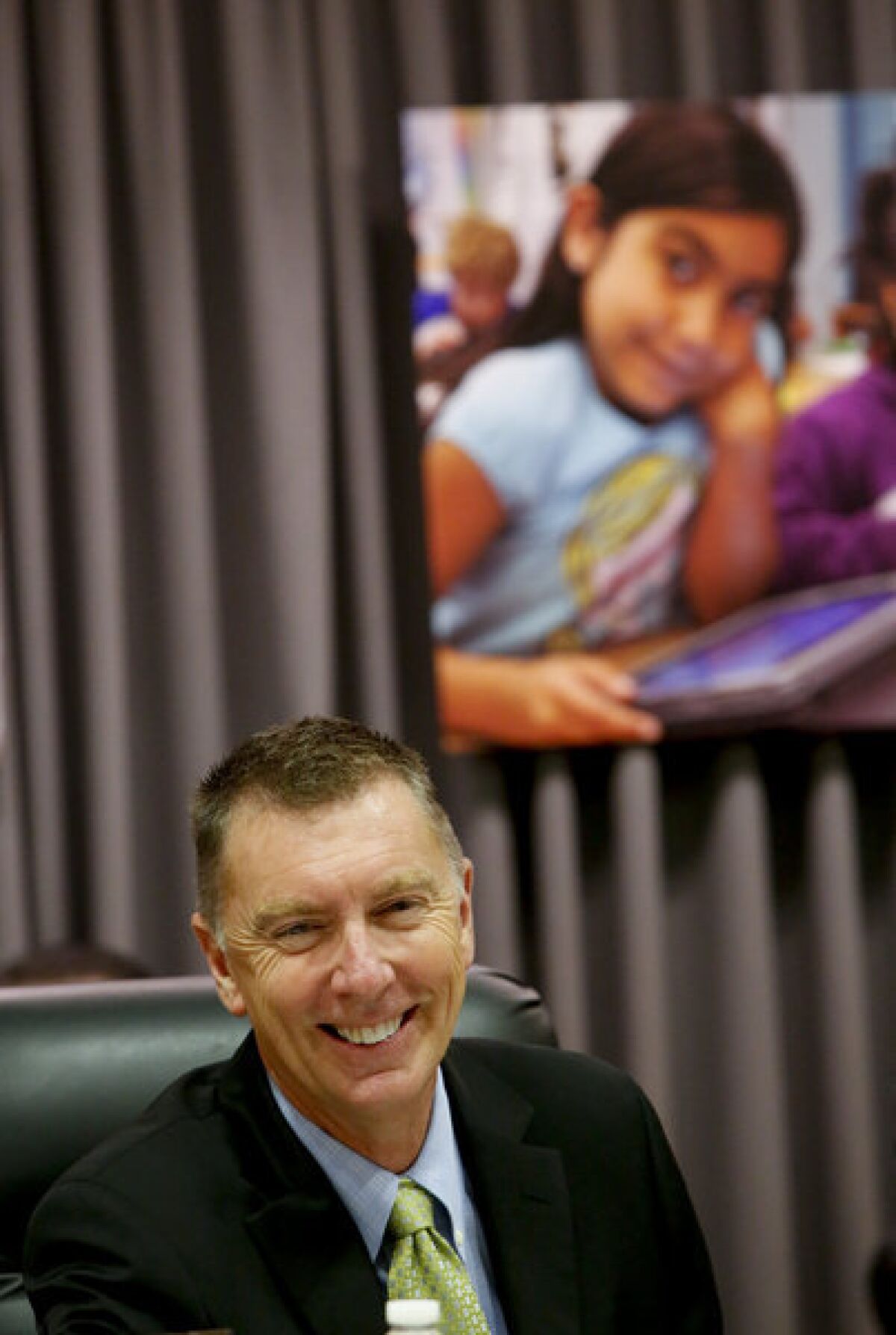 A Los Angeles Board of Education member has requested a "succession plan" for schools Supt. John Deasy, sparking speculation about moves to replace the leader of the nation's second-largest school system.
The request, made in a Friday letter from board member Bennett Kayser, asks that the plan "be drawn up by and for" the superintendent and senior staff of the L.A. Unified School District.
The timing is curious given that the seven-member board elevated Trustee Richard Vladovic to board president earlier this month. Vladovic and Deasy have a rocky relationship, and Deasy had privately threatened to resign before backing down.
Kayser's letter suggested another twist to Vladovic's selection: that it foreshadows a move to replace Deasy. But Kayser, who also has been at odds with Deasy, insisted nothing was afoot.
"This request for a succession plan is a minor governance and risk management matter," Kayser said in a statement after the letter became public. "I simply want to know who the person is that is designated to step into the superintendent's shoes when he is out of town, as he was this week, and who he has trained and expects to step in were the unexpected to happen; no more, no less."
The letter states that L.A. Unified would rank 50th "on the Fortune 500 scale," and that strategic planning is vital and takes time, "a necessary part of any organization's ability to reduce risk, create a proven leadership model, preserve organizational memories, smooth business continuity and improve staff morale."
The letter asks for a fast turnaround on a draft plan, preferably before the school year starts in August.
The letter generated confusion among the senior staff and Deasy, who said he learned of it after landing at Los Angeles International Airport on Friday morning, returning from a business trip to Washington, D.C. Although the letter is addressed to him, he said he did not receive a hard copy or an e-mail, but obtained the letter from staff.
"I haven't officially received a copy yet," Deasy said. "I'm trying to figure out what it's asking me to do and I look forward to clarity on what this means, what they're asking for and when they want me to do it."
The board previously had directed Deasy to focus full attention on details of the district budget, to see where jobs and programs could be restored or prioritized.
The letter also caught the attention of some Deasy supporters, who expressed concern and reiterated their backing for the superintendent, who took office in early 2011.
Deasy had been in Washington as part of a delegation of California superintendents seeking relief from costly and disliked strictures of the federal No Child Left Behind law.
The only relevant timing to the letter was Deasy's just-concluded trip, said Sarah Bradshaw, Kayser's chief of staff.
Deasy's frequent travels brought to mind the issue of who would take charge as needed in L.A. or if something should happen to Deasy -- if he became sick or left the district permanently, she said.
Bradshaw said that previous superintendents had designated a chief of staff, for example, to step in as necessary. The issue arose earlier when then-Supt. Roy Romer had successful but serious surgery while in office, Bradshaw said.
"We should be doing this as an organization year in and year out," she added.
ALSO:
'Bash mobs' sweep through Southern California
Katherine Jackson: Tell me 'what really happened to my son'
Asiana passenger likely killed by vehicle; fire chief 'heartbroken'
Twitter: @howardblume | howard.blume@latimes.com
---
Life is stressful. Our weekly mental wellness newsletter can help.
You may occasionally receive promotional content from the Los Angeles Times.