California Supreme Court, citing false evidence, overturns murder conviction that put Delano man on death row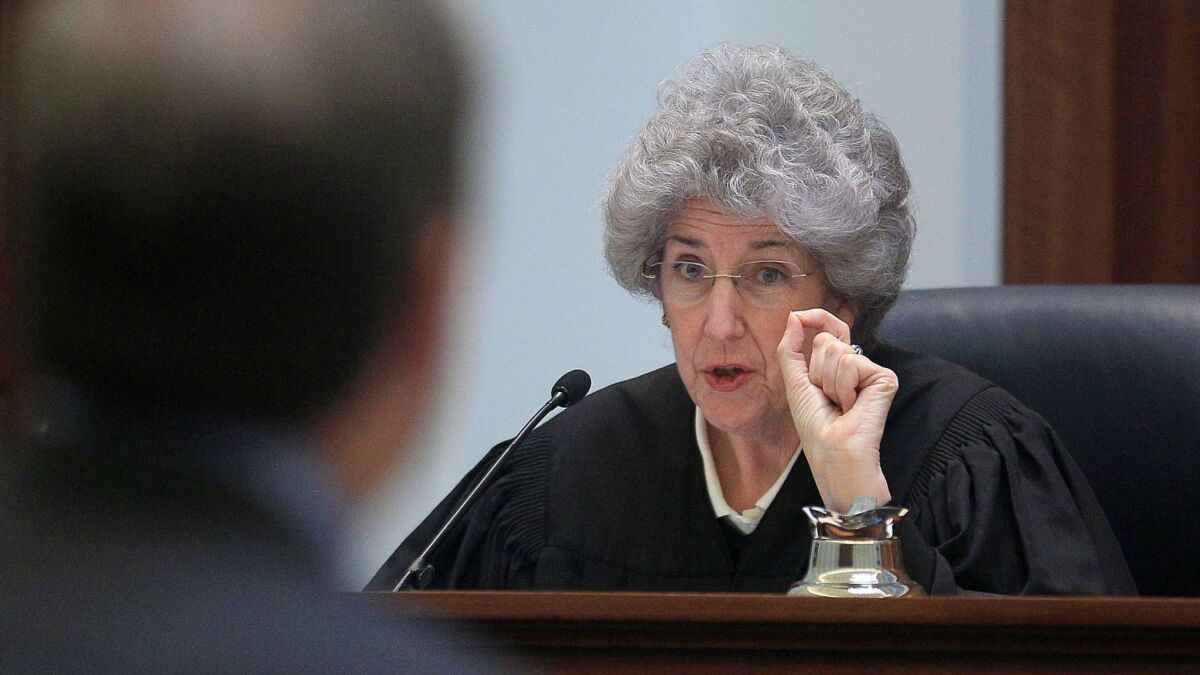 Reporting from San Francisco —
The California Supreme Court, citing false evidence, decided unanimously Monday to overturn the conviction of a Delano man sent to death row more than two decades ago for murdering and sodomizing a toddler.
The action by the state high court, which upheld the man's conviction and death sentence in 2005, was extremely rare.
Lawyers for Vicente Benavides Figuero, a former farmworker who is now 68, demonstrated that medical testimony and an autopsy result used to convict him had been inaccurate.
Most of the experts who testified against him have since recanted.
"The evidence now shown to be false was extensive, pervasive and impactful," Justice Carol A. Corrigan wrote for the court.
State prosecutors had agreed the evidence presented at trial had been wrong but urged the court to simply reduce his conviction to second degree murder. The court declined.
The case will now return to Kern County, where prosecutors will have to decide whether to retry Benavides in the death of Consuelo Verdugo, 21 months.
Benavides had been babysitting Consuelo in 1991 when he said she somehow got outside the Delano apartment. Her older sister had gone out to play with a friend. Benavides said he discovered the toddler injured near a carport.
Her mother, who had just left for work and was dating Benavides, returned home immediately, and the child was seen at three different medical centers before she succumbed to her injuries.
Benavides' defense lawyer argued that she might have been hit by a car when she was outside, but a forensic pathologist listed her cause of death as "blunt force penetrating injury of the anus."
In his habeas corpus challenge, Benavides showed that Consuelo showed no signs of sexual assault when examined at the first hospital where she received care.
Medical experts now attribute her injuries to repeated and failed efforts to insert an adult-sized catheter into her, rectal temperature taking, a paralytic medication and physical examination.
Nurse Anita Caraan Wafford, who helped treat Consuelo at the first hospital, declared that no one there noted any anal or vaginal trauma.
Dr. William A. Kennedy II, an expert in pediatric urology, said he believed "to a high degree of medical certainty" that Consuelo had not suffered anal or vaginal penetration.
"Consuelo's lack of rectal tone, initially attributed to a penetrating injury, was instead the likely result of paralytic medication she had been given, along with her extensive treatment and surgeries," Corrigan wrote.
Michael J. Hersek, interim director of the Habeas Corpus Resource Center, which represented Benavides, said he has consistently maintained his innocence.
"We are hopeful that the Kern County District Attorney will dismiss all charges against our client soon after the Supreme Court's decision becomes final," Hersek said.
Benavides served a total of 27 years behind bars, 24 of them on death row.
A spokeswoman for the Kern County District Attorney's office said Monday's ruling was being reviewed, and no decision has yet been made on whether to retry Benavides.
Twitter: @mauradolan
---
UPDATES:
1:30 p.m.: This article was updated with a statement from the Kern County District Attorney's office.
This article was originally published at 1:15 p.m.
The stories shaping California
Get up to speed with our Essential California newsletter, sent six days a week.
You may occasionally receive promotional content from the Los Angeles Times.