Breakfast is canceled at a Death Valley restaurant — and other tales from the blazing desert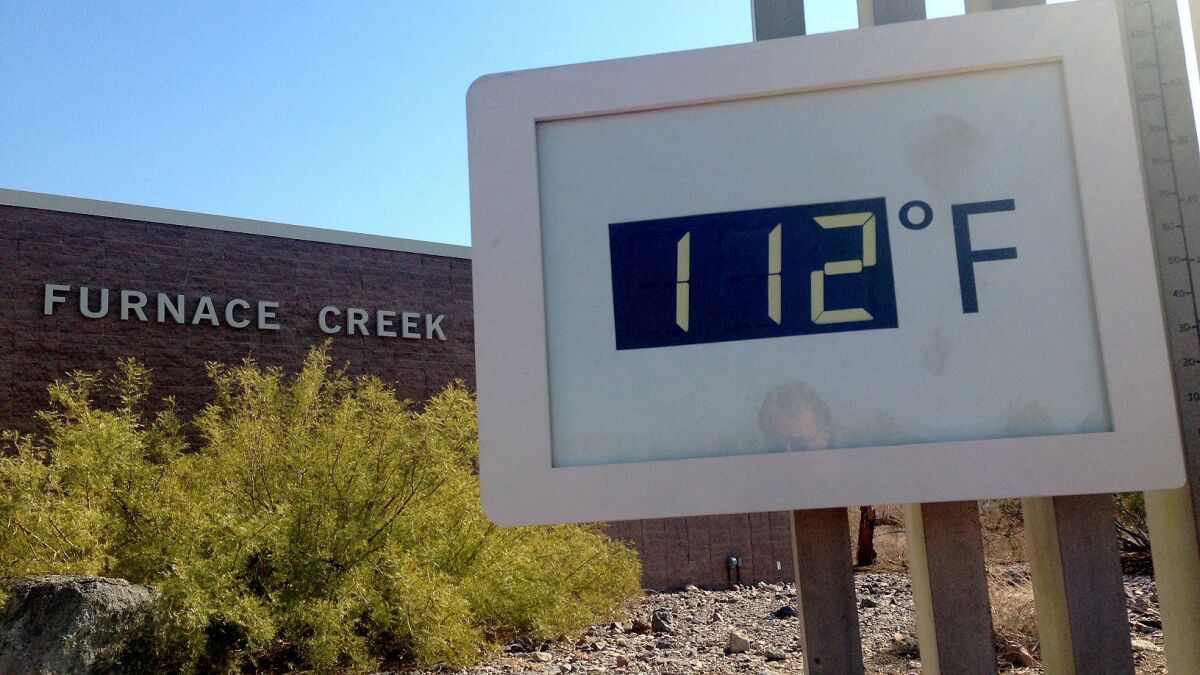 Reporting from Death Valley National Park —
The temperature in Death Valley's crumpled badlands was expected to reach 126 degrees by the afternoon, but things started to cook long before that at the Wrangler Restaurant in Furnace Creek on Tuesday.
By 7 a.m., on the first day of summer, customers, short-order cooks and waitresses were already sweating it out inside the cafe because the air conditioning system had abruptly broken down.
On most sizzling summer days, the restaurant had for decades served as a sort of oasis, serving up cold drinks and chilled fruit salads. Tuesday morning, however, staffers were trying to cool down by wrapping wet towels around their necks and guzzling ice water.
Yielding to the intense heat, restaurant managers stopped serving at 8 a.m.
"We can't put customers through this -- it's just too hot," said John Kukreja, director of operations at the Oasis at Death Valley, formerly known as the Furnace Creek resort. "We've decided to start preparing sandwiches for our guests instead."
The highest temperature ever recorded on the planet was in Death Valley on July 10, 1913 – 134 degrees.
Facing a full week of oppressive heat over 120 degrees, officials at the park's headquarters, which sits 190 feet below sea level, are bracing for heat-related illnesses, mishaps and injuries.
Earlier this month, a woman was transported to the hospital with 3rd-degree burns on her feet.
"She'd lost her sandals in Mesquite Flat Sand Dunes and walked about a half-mile on the hot sand," Abby Wines, a spokeswoman for the park, said in a statement.
Ground temperatures over 200 degrees have been measured in Death Valley.
"To put that it in perspective," Wines said, "160 degrees is sufficient to cook meat."
Park rangers warned of potentially serious consequences for adventurous visitors who venture out into the sun. Visitors were urged to avoid straying from their air-conditioned vehicles for longer than 15 minutes and to wear a hat and sunscreen.
The heat wave arrived about one week after a cool front brought a near-record low temperature for this time of year of 91 degrees.
"Hitting 124 degrees today," Wines said, "would set a record high for the date."
In the Owens Valley and along the Eastern Sierra Nevada range, about 100 miles to the west, the heat wave filled streams and creeks with snowmelt, forcing the U.S. Forest Service to close some campgrounds due to flooding.
"Here's the remarkable scene unfolding along the Eastern Sierra amid this heat wave," Deb Schweizer, a spokeswoman for the Inyo National Forest, said. "Snow is still heavy in higher elevations; there's some flooding at mid-level elevations, and we've had a few brush fires down-valley."
ALSO
Skiers hit the slopes in bikini tops as California's endless winter endures a heat wave
Californians urged to reduce power as heat wave triggers statewide alert
The stories shaping California
Get up to speed with our Essential California newsletter, sent six days a week.
You may occasionally receive promotional content from the Los Angeles Times.