2 L.A. deputies shot in confrontation at East L.A. park; 1 suspect dead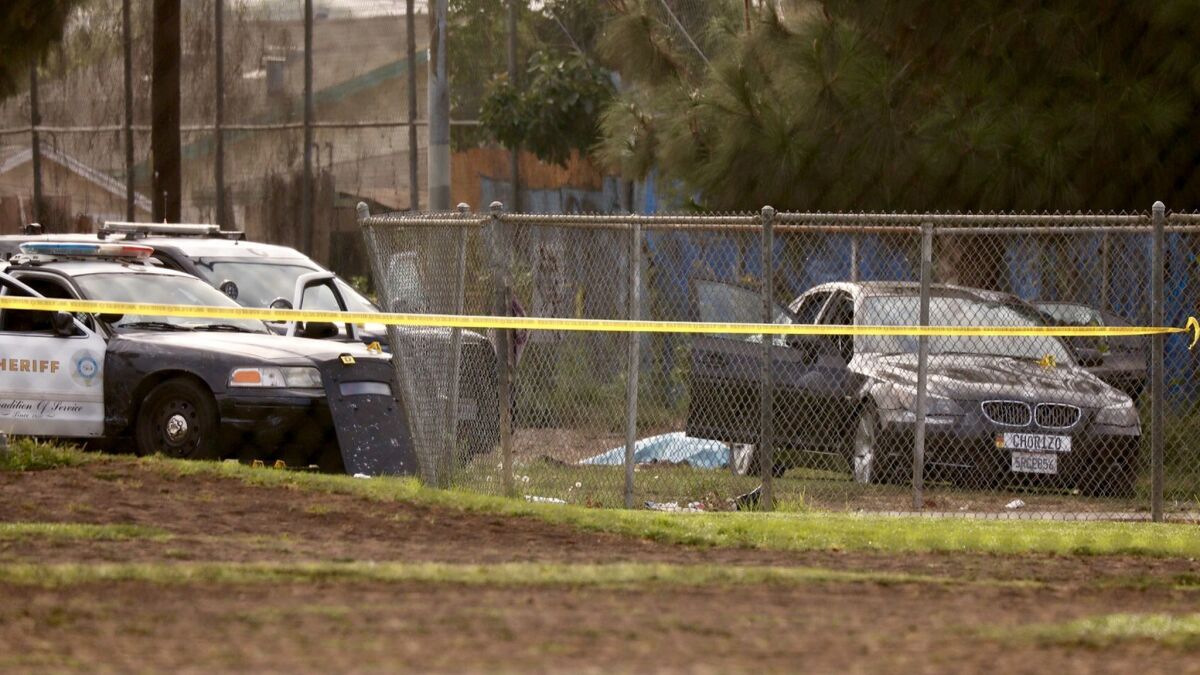 Two Los Angeles County sheriff's deputies responding to an assault call Wednesday evening at an East L.A. park came upon several suspects, sparking a firefight at the grassy edge of a baseball field.
The exchange of gunfire at Ruben F. Salazar Park left the two deputies with gunshot wounds in the upper body, said Sheriff Jim McDonnell. One of the suspects lay dead next to a sedan with shattered windows, and a second suspect was hospitalized.
"This was a gunfight. These deputies did, from what I understand, an amazing job in taking care of what they were confronted with," McDonnell said at a news conference late Wednesday outside L.A. County-USC Medical Center.
"We are very fortunate that they are in serious but stable condition. This could have ended up very differently."
McDonnell said that three or four suspects in a car had pointed a gun at a victim in the park, and the victim called 911. The two deputies, each with more than 10 years of experience, responded to Salazar Park and confronted the suspects' vehicle.
"As they approach the vehicle, suspects open fire on them," McDonnell said.
More units responded to the scene. The firefight continued, leaving one suspect dead and a second one injured. The backup deputies opted not to wait for ambulances and instead took the two wounded deputies to the hospital in their cruisers, McDonnell said.
He said a third suspect was arrested at the scene, and deputies had set up a perimeter around the park to search for a possible fourth suspect. Detectives were also interviewing several people who witnessed the firefight.
Both injured deputies were at County-USC hospital attended by family members, according to the sheriff, who said he visited and spoke with them. The names of the deputies were not released, but McDonnell said both were assigned to the East L.A. station.
The names of the suspects were also not released. The sheriff said the investigation by homicide detectives was ongoing and was expected to last several days.
Twitter: @MattHjourno
---
UPDATES:
9:45 p.m.: This story was updated throughout with new details and comments from Sheriff Jim McDonnell.
8:45 p.m.: This story was updated with additional details on the circumstances of the shooting.
7:40 p.m.: This story was updated with confirmation that both deputies were injured in the shooting and that one suspect was dead.
This story was originally published at 7:25 p.m.
---
Life is stressful. Our weekly mental wellness newsletter can help.
You may occasionally receive promotional content from the Los Angeles Times.