L.A. deputy mayor raised money from developers with major projects in downtown, records show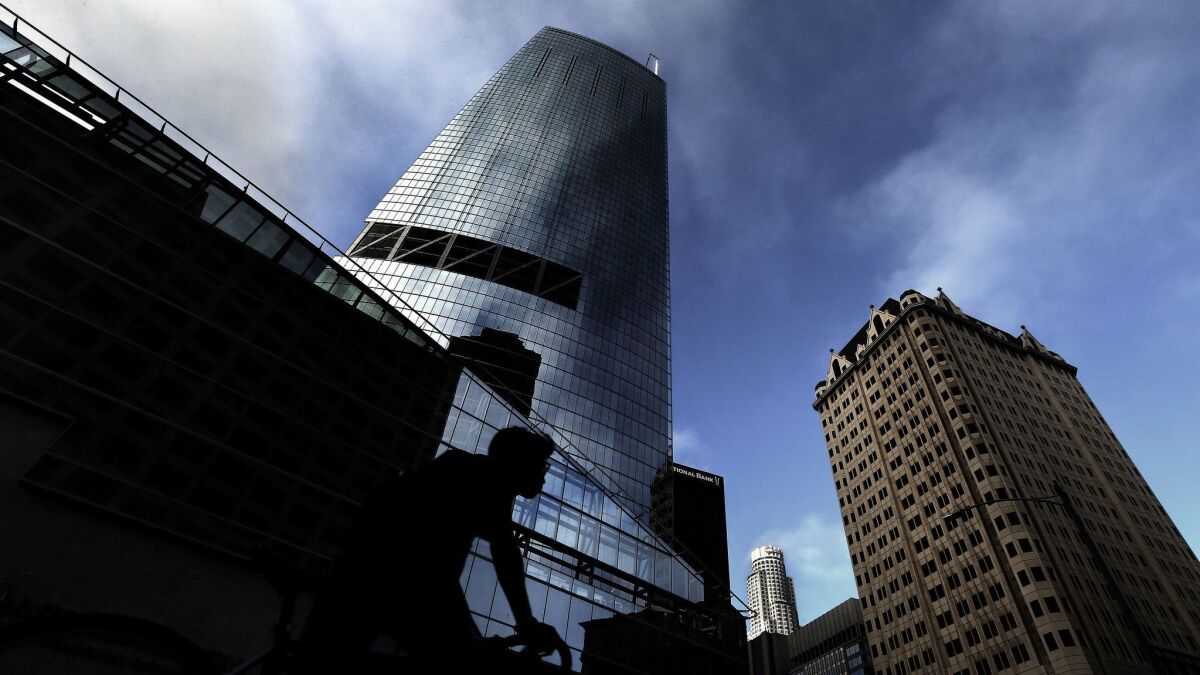 During his time at City Hall, Deputy Mayor Raymond Chan forged a reputation as someone who cut red tape and cleared away obstacles for real estate developers behind some of the city's biggest projects.
While working for Mayor Eric Garcetti, Chan was also contacting some of those same developers for donations to a charitable cause: the 2017 celebration of Asian Pacific American Heritage Month.
Chan raised tens of thousands of dollars for the celebration from developers seeking approvals or awaiting building inspections, according to correspondence obtained by The Times. In a series of emails to a city council aide, Chan said he had reached out to at least seven firms and businessmen, including four working to bring new skyscrapers to downtown Los Angeles.
"Hopefully, we will wrap up the $80,000 in a week or two," he wrote in an April 2017 email, a copy of which was obtained by The Times through the California Public Records Act.
Chan, 62, declined to comment when reached at his home in Monterey Park. The former deputy mayor, who focused on economic development, helped bridge the worlds of City Hall and Chinese real estate investment in Los Angeles. And in recent weeks, he has been identified as a potentially important figure in an FBI probe that touches on both.
Federal agents have gone to court to obtain records from his email account, ordering Google to turn over any evidence of possible crimes including bribery, extortion, money laundering and kickbacks, according to a search warrant filed last year. The warrant sought evidence involving more than a dozen people, including Chan, Councilmen Jose Huizar and Curren Price, and the chief of staff to Council President Herb Wesson.
The document gave no indication that investigators are examining fundraising for the Asian American heritage celebration, an event held each May that features performances, art exhibits and other cultural activities. Three companies mentioned in the warrant — Greenland USA, Oceanwide and Hazens — were among the firms Chan said he was contacting for donations, according to emails that he sent to an aide to City Councilman David Ryu, an event co-chairman in 2017.
Experts say such fundraising activities are legal but could raise ethical concerns, depending on how much influence Chan had over those same companies and their projects.
Real estate developers who need approval of their projects, or are in the middle of building inspections, may not feel like they can turn down a fundraising request from a city official, said Ann Ravel, former chair of the California Fair Political Practices Commission.
"If they have business where he could make a difference, it's not appropriate," she said.
Chan was one of two deputy mayors charged with overseeing Garcetti's economic agenda, serving as a liaison to key agencies involved in development, including the city's planning and building departments.
Garcetti said he was not aware that Chan had been asking developers for charitable contributions — but that his office is trying to "get to the bottom of it." Although the event brochure identified Garcetti as co-chair of the Asian American celebration, the mayor said Chan's fundraising requests were not made on his behalf.
"It may not be unusual to raise money for community events," Garcetti said in a statement. "But it does bother me if those activities aren't properly disclosed to my office."
Neither the FBI nor the U.S. Attorney's Office would say whether fundraising for the 2017 Asian American cultural celebration is part of their City Hall probe. No one has been arrested or charged in the investigation, and the warrant did not say that agents had gathered evidence of criminal activity by the individuals and companies mentioned.
The ongoing investigation has drawn new scrutiny to the ties between City Hall officials and downtown developers.
Federal investigators have shown interest in CCC Investment Group, the company where Chan has worked after leaving his job as deputy mayor in 2017. In the warrant, agents asked for information about a document headed "CCC" that listed tasks planned on behalf of several real estate developers.
CCC and one of its executives have worked with at least two downtown developers — Oceanwide and Hazens, according to city planning and state business documents and an interview with a former independent contractor for the company. Both companies declined to comment on their relationships with Chan and CCC.
Chan worked for the city for more than three decades, serving from 2013 to 2016 as the top official at the Department of Building and Safety. In that post, he worked to help developers navigate the city's permitting process more quickly and efficiently, setting up a new process for them to learn about what permits are needed and when.
Garcetti hired Chan as a deputy mayor for economic development in May 2016, bringing him on under a contract after his official retirement from city employment. In April 2017, near the end of his tenure with Garcetti, Chan was asking real estate companies for donations for Asian Pacific American Heritage Month.
In emails to Yena Ji, a scheduler for Ryu, Chan said he planned to seek sponsorships of $10,000 and up from a number of downtown developers, including Dr. David Lee, part owner of Circa, a development project with two 35-story towers that were under construction that year.
"Next week, I will be contacting Hazens, Oceanwide, Greenland, Dr. Lee and at least 1 more other potential supporter," Chan wrote. "Wish me luck!"
Lee did not respond to messages seeking comment. In a subsequent email, Chan said he had turned to another Garcetti appointee, public works commissioner Joel Jacinto, to help with the pitch.
"Dr. David Lee may have a change of heart regarding his support ... after PW Commission [Joel] Jacinto talked to him," he wrote.
Jacinto said through his attorney, Thomas M. Brown, that Chan had asked him to contact Lee about a donation to the annual celebration and that he had done so. Jacinto said he did not know whether Lee contributed that year.
Jacinto and his wife were also named in the federal warrant. He stepped down from the Board of Public Works on Jan. 18, saying he did not want to be a distraction for the agency.
Chan also told Ji, the Ryu aide, that he had secured $10,000 from Hazens, which sought approval from the planning commission that year to build two towers at Figueroa Street and Olympic Boulevard. An attorney for Hazens told The Times he is "unable to share any information" about the company's donations.
While serving as deputy mayor, Chan scheduled at least one meeting at the Department of Building and Safety regarding the developer Hazens, according to his appointment calendar. He also assisted construction managers for the Wilshire Grand Center, where workers were racing to complete the 73-story hotel complex on Figueroa Street.
Chan's appointment calendar lists a February 2017 meeting at the Wilshire Grand construction office with architect Christopher C. Martin, whose construction management firm was overseeing the project. Martin said the meeting involved several people and was held to discuss coordination of dozens of building inspectors who were reviewing the final months of work at the tower.
Two months later, Chan sent an email to Ji saying he had secured a commitment from Martin for a $10,000 sponsorship, one that would be divided between the members of the Wilshire Grand team.
Martin told The Times that it made sense for the Wilshire Grand, which was developed by a Korean firm, to contribute to an Asian American heritage celebration. He said he saw nothing inappropriate about the donation, since the hotel complex was "essentially finished" at that point.
"Anything that Ray could have done for us," he said, "was done before he ever asked us."
Martin said he would not have contributed if Chan had asked years earlier, when the project was awaiting council approval. "That could be considered a quid pro quo," he said.
Oceanwide also did not address questions about whether it donated, saying that it had no comment while "the government's investigation related to Councilman Jose Huizar is still ongoing."
A spokesman for Greenland USA, developer of the Metropolis project along the 110 Freeway, confirmed the company was a 2017 event sponsor but would not say how much was donated. That year, city inspectors signed off on a series of construction permits for Metropolis, which is made up of four multi-story towers.
Ryu said through an aide that Chan's activities — raising money from developers with business at City Hall — have the potential to undermine the public's trust in city decision-making. "We don't believe anything illegal happened here," said Ryu spokesman Estevan Montemayor. "But that's not the primary cause for concern. It's the perception."
In recent weeks, Ryu has proposed new restrictions on developers making "behested payments" — donations sought by politicians for their chosen charities. Montemayor said it's not clear whether that proposal will apply to political aides and appointees.
Times staff writer Dakota Smith contributed to this report.
Twitter: @AlpertReyes
---
The stories shaping California
Get up to speed with our Essential California newsletter, sent six days a week.
You may occasionally receive promotional content from the Los Angeles Times.