Son is arrested in deaths of Diamond Bar couple whose bodies were found in their burned home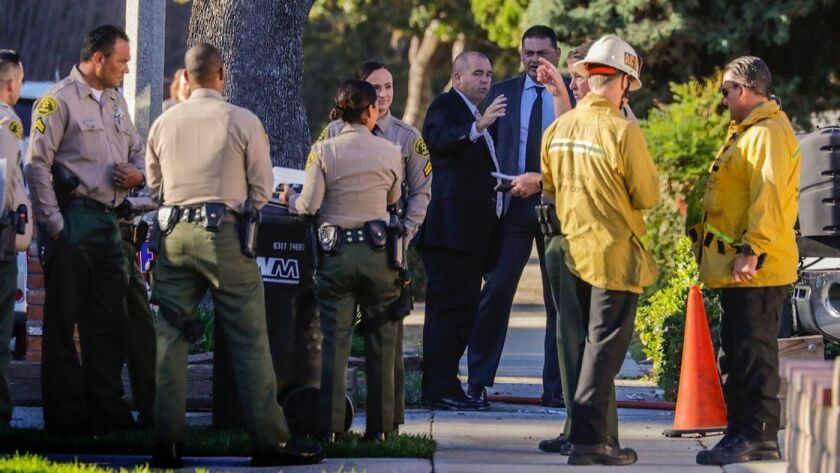 The 33-year-old son of a Diamond Bar couple who were found dead in their home after it went up in flames last week was arrested Monday on suspicion of murder.
The badly burned bodies of John Venti, 75, and his wife Linda, 66, were discovered in a downstairs bedroom of their two-story house in the 3600 block of Crooked Creek Drive once firefighters extinguished the blaze shortly after 5 a.m. Friday, officials said. The Ventis' dog also died in the fire.
Los Angeles County Sheriff's Department officials allege that Ryan Michael Venti set the fire intentionally. It is not yet clear whether the couple died in the blaze or before the fire. Authorities have not said how they believe the fire was set.
Venti was not home at the time of the fire, and authorities quickly identified him as a person of interest in the investigation.
Neighbors told investigators that Ryan Venti's behavior had become more erratic in recent months,
but there had not been any reports of the man trying to harm his family, said Lt. John Corina of the Sheriff's Department's Homicide Bureau, who added that deputies had not received any 911 calls from the home in years.
"We're told the son suffers from mental issues," he said.
Neighbors on Crooked Creek Drive called police about 8 p.m. Monday to report seeing the younger Venti near the burned home. Authorities said it appeared he had been hiding in the hills and brush near the home to avoid capture.
He was arrested and booked at the Walnut sheriff's station and is being held on $2-million bail.
Twitter: @Hannahnfry
---
The perils of parenting through a pandemic
What's going on with school? What do kids need? Get 8 to 3, a newsletter dedicated to the questions that keep California families up at night.
You may occasionally receive promotional content from the Los Angeles Times.