Couple accused of starving children, but their dogs seemed well-fed, Perris officials say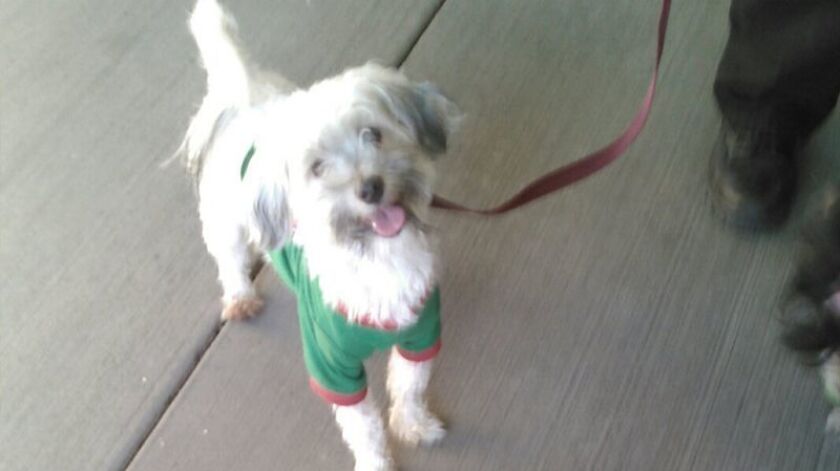 The dogs that belonged to a Perris couple accused of child abuse appear to be well-fed and well-treated, but they'll need a new home.
The announcement about the dogs that belong to David and Louise Turpin is the latest twist to a bizarre and terrible tale.
Twelve of the Turpins' 13 children, authorities said, were captives in the couple's tract house on Muir Woods Road and appeared to have undergone years of abuse and starvation. Some were shackled to their beds.
The Turpins each face charges including 12 counts of torture and 12 counts of false imprisonment, seven counts of abuse of a dependent adult and six counts of child abuse. David Turpin also was charged with one count of a lewd act on a child under the age of 14.
The parents were not charged with 13 counts of torture because their 2-year-old was getting enough to eat, prosecutors said.
Also at the home were two female Maltese-mix dogs, each about a year old.
The animals, one white and one black, appear healthy and friendly and are leash-trained, Senior Animal Control Officer Christina Avila said in a statement from the city of Perris.
Officials plan to conduct a raffle to find a home for the dogs and want them to be adopted together. The city did not release a name for the white dog. The black dog is named Fluffy.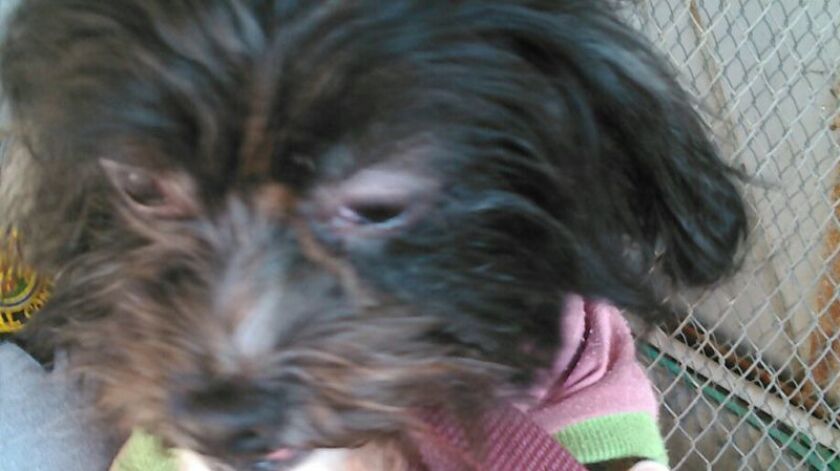 The period to enter the raffle began Friday. The city is asking for people to submit their name, address, phone number and email by Jan. 26 to cavila@cityofperris.org.
The dogs will be spayed and immunized before being placed in a new home.
Animal control officers will inspect residences to determine whether the home is suitable for the dogs. Because this work will be carried out by local animal control officers, only Perris residents may apply.
Neighbors and officials are still troubled that no one took steps to uncover what was going on at the Turpin household.
A 17-year-old girl called 911 on Sunday, saying that she had escaped through a window from her parents' house and that she and her siblings were trapped there.
Sheriff's deputies were shocked by the girl's small size and emaciated appearance, thinking she was only 10.
Deputies found a dirty, foul-smelling house and three young people in chains.
If convicted, David Turpin, 56, and Louise Turpin, 49, face up to 94 years in prison.
On Thursday, the couple appeared briefly in Riverside County Superior Court and pleaded not guilty to all charges.
On Friday night, about 50 Perris residents gathered for a candlelight vigil to mark the events in the community.
---
UPDATES:
Jan. 20, 8:05 a.m.: This article was updated with information about a candlelight vigil.
This article was originally published at 8:25 p.m. Jan. 19.
---
The stories shaping California
Get up to speed with our Essential California newsletter, sent six days a week.
You may occasionally receive promotional content from the Los Angeles Times.