NAACP planned to honor Donald Sterling, who's now beset by racism flap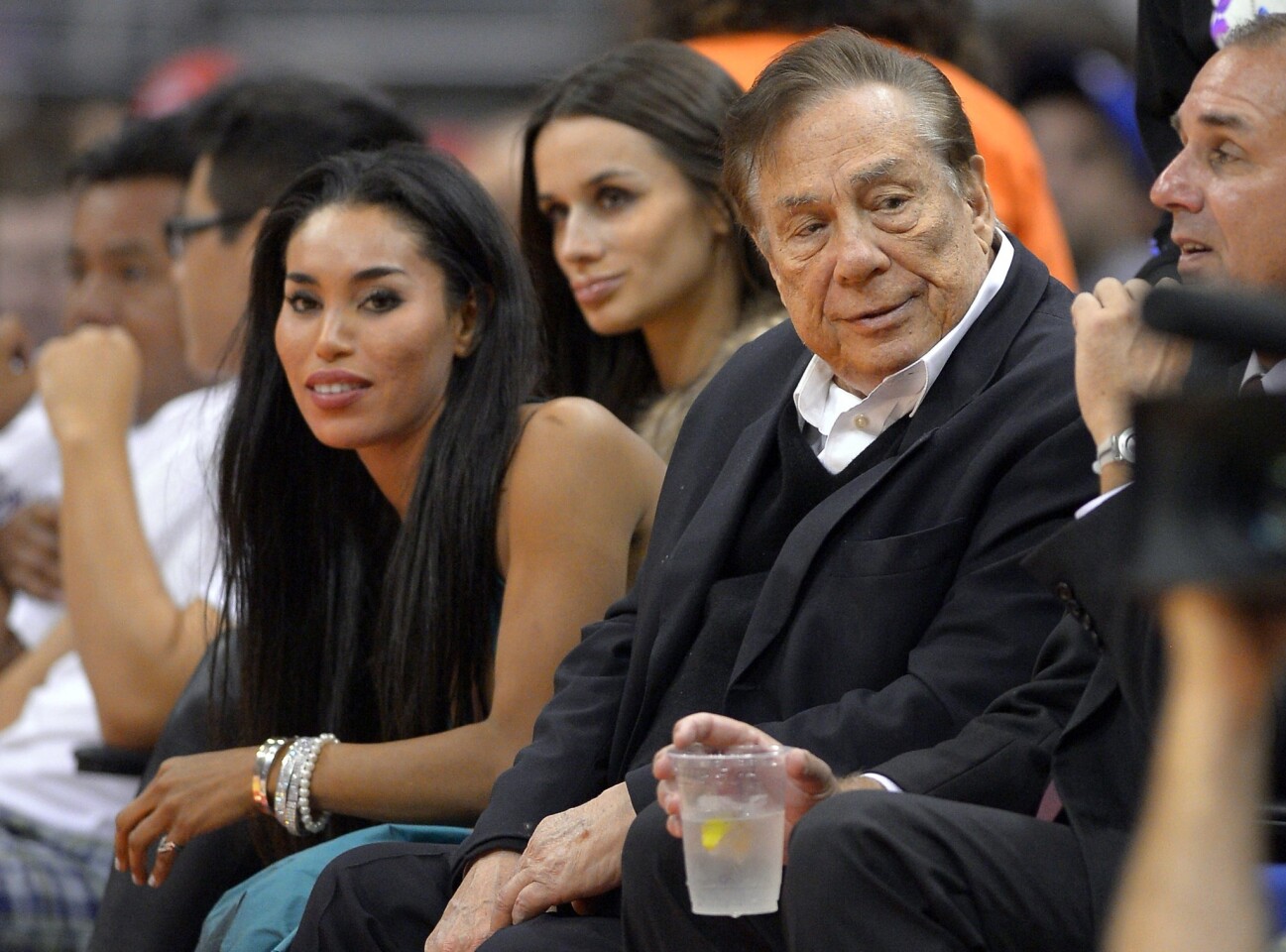 Los Angeles Clippers owner Donald Sterling, right, and V. Stiviano, left, watch the Clippers play the Sacramento Kings during an exhibition game earlier this season at Staples Center.
(Mark J. Terrill / Associated Press)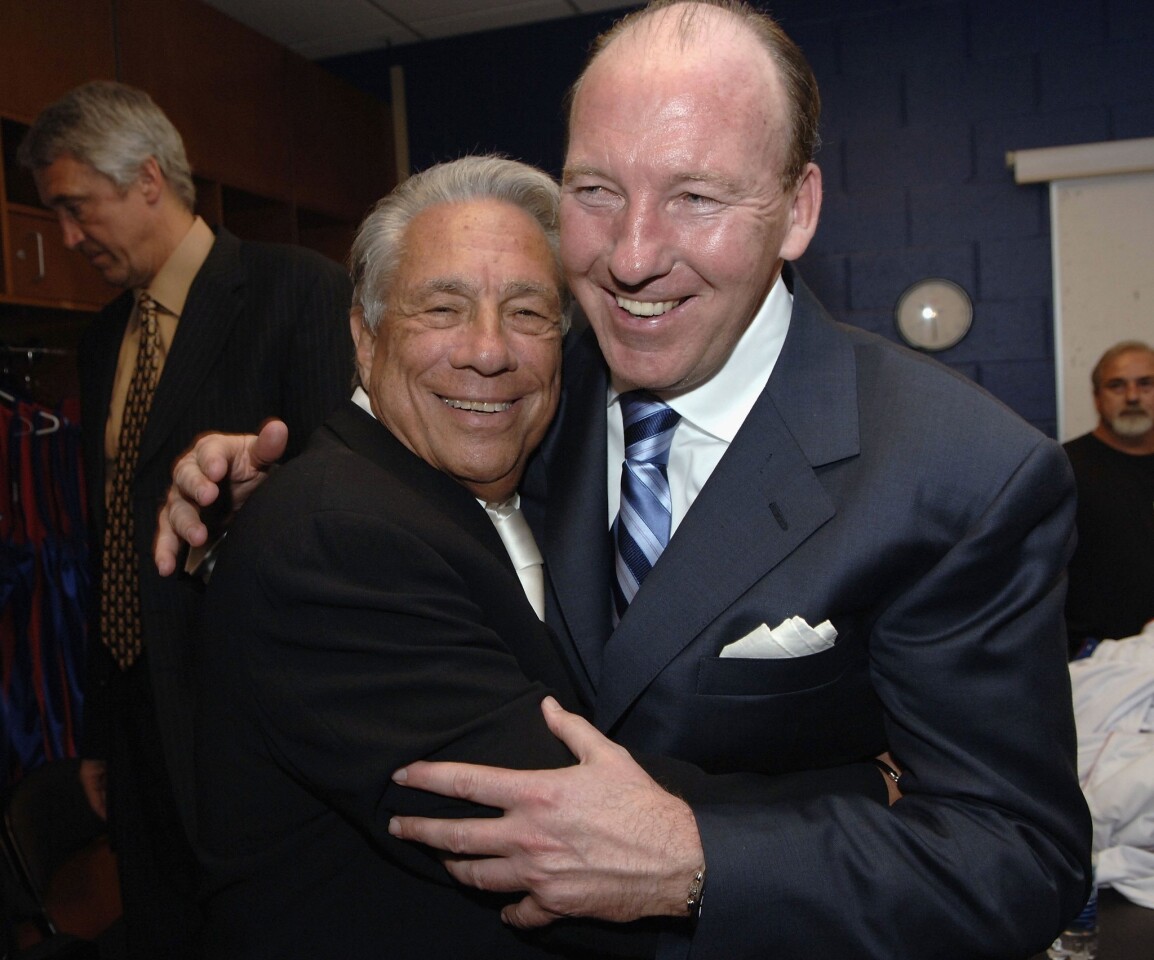 Clippers owner Donald Sterling, left, embraces then-Coach Mike Dunleavy after a 2006 playoff victory over the Denver Nuggets.
(Andrew D. Bernstein / Getty Images)
Clippers forward Ricky Davis and owner Donald Sterling pose for a picture on media day at the team's training facility in Playa Vista.
(Ricardo DeAratanha / Los Angeles Times)
Clippers owner Donald Sterling was the honorary event chairman for the second California Gold Star Awards dinner gala and auction at the Disneyland Hotel in 2003.
(Robert Mora / Getty Images)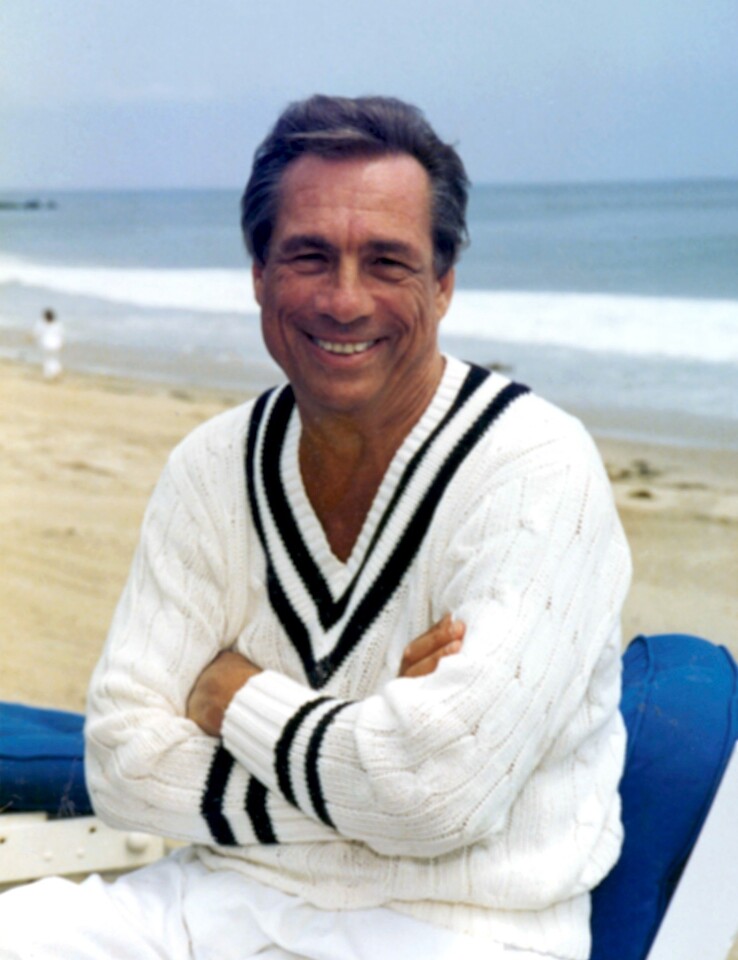 Donald Sterling, shown in Malibu in 1989, has owned the Clippers since 1981, when the franchise was based in San Diego. He moved the team to Los Angeles in 1984.
()
Clippers owner Donald Sterling, left, Steve Soboroff, who sold the land for the team's Playa Vista training facility, center, and Clippers President Andy Roeser, right, pose for a photo on media day.
(Ricardo DeAratanha / Los Angeles Times)
The Clippers stand for the National Anthem with their warmups inside-out in silent protest of comments attributed to team owner Donald Sterling.
(Wally Skalij / Los Angeles Times)
A recording said to be of Clippers team owner Donald J. Sterling making racist remarks emerged weeks before he was to be honored by the NAACP in Los Angeles.
The Los Angeles chapter of the National Assn. for the Advancement of Colored People had been scheduled to give Sterling the group's lifetime achievement award at its May 15 banquet. At that event, the NAACP chapter also planned to give its first "person of the year" awards to L.A. Mayor Eric Garcetti and the Rev. Al Sharpton, according to the organization's website.
"In light of recent events, we will be discussing this event with the Los Angeles NAACP," said Garcetti spokesman Yusef Robb.
Officials at the L.A. chapter did not immediately return calls seeking comment.
But the comments TMZ attributed to Sterling prompted ire among other civil rights activists.
Earl Ofari Hutchinson, president of the Los Angeles Urban Policy Roundtable, and a coalition of civil rights leaders demanded that Sterling apologize for "blatantly racist remarks he reportedly made about African Americans. "Sterling's racist digs at African Americans is no surprise."
Hutchinson added: "Black players have made his fortune with the Clippers and for him to disparage African-Americans is beyond reprehensible. It demands a public apology, a Clipper fan protest and NBA official censure."
The Clippers have released a statement saying that the team does not know if the man recorded is Sterling but that the comments do not reflect Sterling's "views, beliefs or feelings."
Garcetti said through a spokesman Saturday that he condemns the "statements and sentiments" attributed to Sterling. Councilman Bernard C. Parks, who represents a portion of South Los Angeles, went further, saying the council should take a formal position denouncing the remarks and demanding action from the NBA.
The NBA said it is conducting an investigation.
This will be an interesting banquet... pic.twitter.com/FZdcjI7mAJ— Shelby Grad (@shelbygrad) April 26, 2014
---
Get breaking news, investigations, analysis and more signature journalism from the Los Angeles Times in your inbox.
You may occasionally receive promotional content from the Los Angeles Times.