Downey attorney sold oxycodone, other drugs on Craigslist, prosecutors say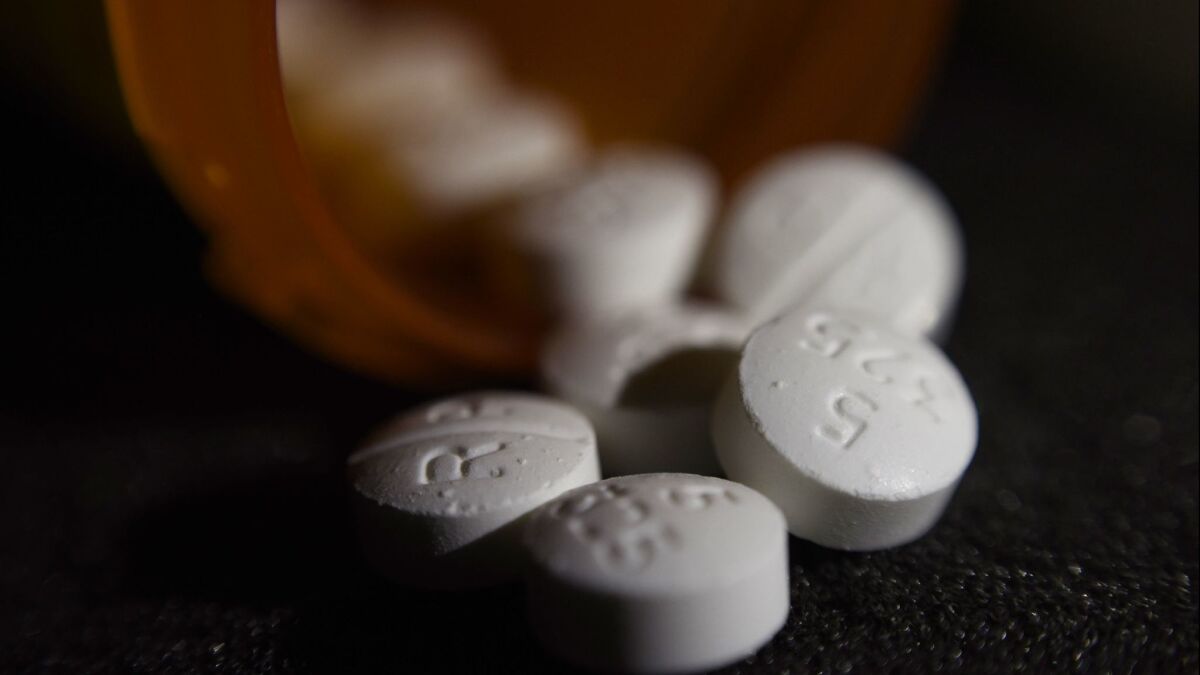 An attorney from Downey was charged this week after federal prosecutors said she was selling oxycodone, heroin and other drugs online.
Jackie Ferrari, a 36-year-old attorney, was arrested Friday at her home after detectives spent months following the woman and monitoring her drug sales on Craigslist, according to a federal criminal complaint.
Ferrari waived the option of a preliminary hearing and was released on $25,000 bond, said Thom Mrozek, a spokesman for the U.S. attorney's office. She is charged with distributing a controlled substance.
In the criminal complaint, Ferrari is accused of selling 50 oxycodone pills to a customer who was working with investigators.
Authorities began investigating Ferrari in August after the death of a 22-year-old woman who overdosed on fentanyl, a drug 50 times more powerful than heroin, according to the complaint. The young woman's family members gave her cellphone to law enforcement officials, who used it to link her drug purchase to Ferrari.
Investigators later determined the woman did not die from drugs allegedly purchased from Ferrari, but detectives with the Los Angeles County Sheriff's Department continued investigating the attorney.
Between August and January, investigators found posts on Craigslist, where they said Ferrari advertised — in code — the sale of oxycodone, heroin, Adderall and other drugs, along with personal advertisements not related to drug sales.
One post offered "antique foxy roxy dolls" with "blue shorts and other blue outfits" that were a "size 30," meaning 30 mg of oxycodone pills for $30 each, according to investigators.
Another post advertised "Chinese **White** Rice imported from CHINA!" and "100% Authentic White Rice imported directly from China ona weekly basis to ensure freshness and quality of taste!"
Authorities said in the criminal complaint the post was advertising the sale of powdered heroin, cut with fentanyl and imported from China.
In her advertisements, Ferrari noted that customers would be required to "take one" in front of her before the sale, prosecutors said.
"Any method is acceptable," one post noted, according to the complaint. "If you won't do this, I cannot selling to you. No exceptions. This allows you to find out they're real from pharm and hopefully I can feel rest assured you're not 5-0. Sound good??"
Ferrari was on law enforcement's radar as far back as December 2017, the complaint said. At that time, undercover detectives with the Cypress Police Department responded to an ad but didn't complete the sale because of Ferrari's requirement to take the drugs up front, prosecutors said.
Sheriff's detectives visited Ferrari's home several times and observed what appeared to be drug sales, according to the criminal complaint. During the exchanges, she offered items in dark bags, sometimes wearing latex gloves, to customers. She also met customers at a nearby Ralphs supermarket.
Before Ferrari's arrest, investigators enlisted the help of a confidential informant who had been arrested by the Costa Mesa Police Department in connection with drug trafficking offenses. Prosecutors said Ferrari sold the informant 50 oxycodone pills, receiving $1,200 for the drugs near her Beverly Hills office.
Ferrari is scheduled for arraignment on Feb. 27.
alejandra.reyesvelarde@latimes.com
Twitter: @r_valejandra
---
The stories shaping California
Get up to speed with our Essential California newsletter, sent six days a week.
You may occasionally receive promotional content from the Los Angeles Times.