Robert Durst's case is delayed after he was hospitalized for an unknown problem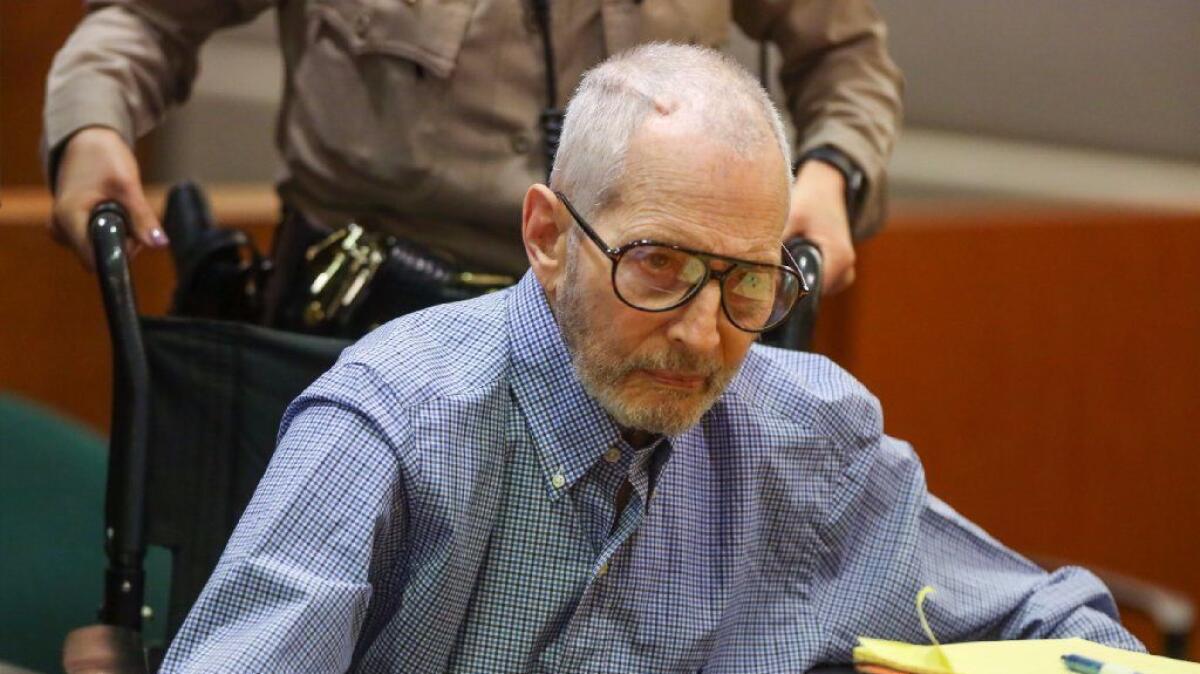 A hearing in the murder case of New York real estate scion Robert Durst was postponed Thursday after the multimillionaire was hospitalized in the middle of the night, officials said.
Durst, who is accused of shooting his best friend, Susan Berman, was scheduled to appear in a Los Angeles courtroom for a third day of testimony from a retired NYPD detective, but the defendant never showed up.
Inside the courtroom Thursday afternoon, a bailiff approached Durst's defense team, telling them their client had been hospitalized at 1:30 a.m. The bailiff added that Durst had since been released back to the Los Angeles County jail but would not be transported to the courthouse.
Durst's attorneys said they didn't yet have any information on why their client was hospitalized. He has been jailed without bail since he was brought to Los Angeles to face the murder charge in November 2016.
During a court appearance earlier in the year, the skinny 74-year-old used a wheelchair. But at recent hearings — including on Wednesday — he walked slowly into the courtroom without help.
His close-cropped jail haircut shows a bulging line running down his head — a scar from when doctors installed a shunt to drain fluid from his brain. In a letter written to a Times reporter in 2015, Durst spoke of how a minor balance problem had developed into "full blown hydrocephalus" — fluid buildup on the brain.
In recent years, his lawyers have said, he also underwent surgery for esophageal cancer and had his cervical spine fused. He complained about his medical problems during a lengthy interview with a Los Angeles County prosecutor when he was arrested on suspicion of Berman's murder in 2015.
Retired New York police Det. Michael Struk, who led an investigation into the 1982 disappearance of Durst's wife, Kathleen, was expected to continue his testimony Thursday. Instead, he will take the stand Nov. 28.
The detective testified Wednesday that he began to suspect Durst a few weeks into the investigation, noting that people in Kathleen's orbit told him that Durst was physically violent and exhibited "mental cruelty." Although Durst never faced criminal charges in connection with the disappearance, Struk said that he became convinced that Durst had killed his wife.
Prosecutors in Los Angeles allege that Durst killed his wife and then murdered Berman at her Benedict Canyon home in 2000 because she knew information that could incriminate him.
Durst has denied involvement in Kathleen's disappearance or Berman's death.
For more news from the Los Angeles County courts, follow me on Twitter: @marisagerber
Sign up for Essential California for news, features and recommendations from the L.A. Times and beyond in your inbox six days a week.
You may occasionally receive promotional content from the Los Angeles Times.