Prediction: Jeers, not cheers on DWP contract, street repairs bond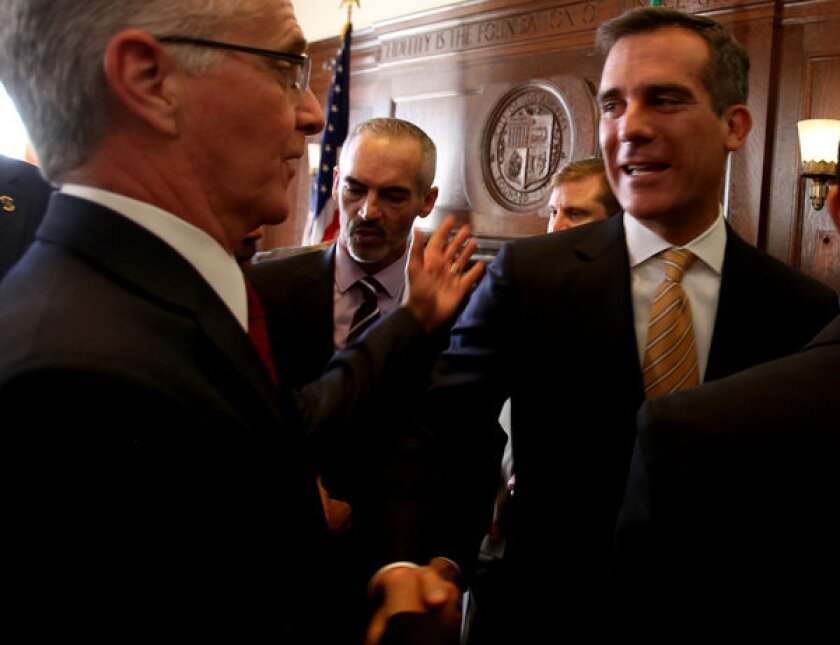 Later this year and in years to follow, your Los Angeles Department of Water and Power rates will go up, not down, despite the new employee contract for which city officials are uniformly patting each other on the back.
The deal with Local 18 of the International Brotherhood of Electrical Workers involves real savings for years to come, no question about it. But as DWP boss Ron Nichols said at a recent City Council hearing, the contract will not result in lower rates but rather in reduced increases.
Sorry to be a party pooper, but that's the way it is.
That's partly because only 25% of the agency's budget goes to labor costs, and the rest to an increasingly expensive mandate on securing renewable energy.
But still, your rates wouldn't be going up as much if DWP employees joined the rest of the world and contributed, out of pocket, toward their healthcare premiums. The new deal does not require that for current or future employees. They'll pay more toward their retiree healthcare costs, and 2% of the savings generated from a delay in pay hikes will go toward healthcare.
But there will be no reduction in an employee's paycheck.
"It's a real disappointment because it comes at a time when they had a real opportunity to make a difference moving forward," said Jay Handal of the West Los Angeles Neighborhood Council.
With healthcare costs rising, he said, and private sector employees bearing more of the burden, it was all the more reason to bring public employees on board. And what better time to extract such a concession than the year in which IBEW spent a fortune backing Wendy Greuel for mayor, only to see her crushed by Eric Garcetti.
With other city employees set to negotiate new contracts soon, what incentive is there for them to pay for healthcare now that DWP employees have been spared?
None, and you can look for the mayor and council members to go hat in hand to the public next November with a bond measure to pay for street repairs, if not sidewalk repairs. This despite Garcetti saying during his campaign that he didn't think we needed a sales tax increase.
But we need a $3 billion bond, or bigger?
The "back to basics" mayor, as Garcetti calls himself, apparently has no other way to pay for streets and sidewalks without that bond measure.
Will you be inclined to vote yes while your water and power rates are going up in a city that doesn't require DWP employees to contribute to healthcare premiums? A city in which 70% of all employees pay nothing for healthcare premiums?
Jay Handal, among others, has his doubts.
"People," he said, "are tired of getting hoodwinked."
ALSO:
Interactive: Rim fire near Yosemite
Portion of 60 Freeway to be closed this weekend for repairs

Rim fire near Yosemite National Park grows to more than 105,000 acres
---
Get breaking news, investigations, analysis and more signature journalism from the Los Angeles Times in your inbox.
You may occasionally receive promotional content from the Los Angeles Times.