DWP chief David Wright to step down as scrutiny grows over ratepayer settlement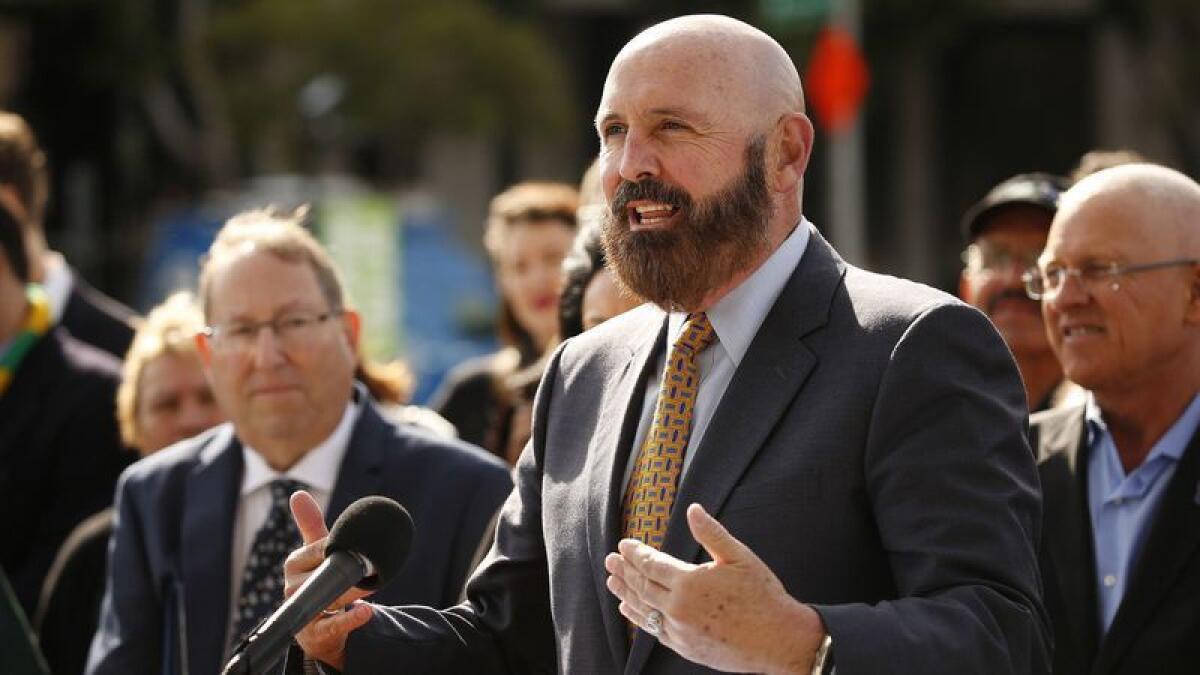 David Wright, general manager of the Los Angeles Department of Water and Power since 2016, will step down Oct. 1, Mayor Eric Garcetti's office said Friday.
His planned departure follows new controversy over the $67-million settlement in 2017 of a class-action lawsuit brought by DWP customers who were overcharged when the utility rolled out a new billing system.
A Los Angeles Superior Court judge earlier this month appointed an investigator to scrutinize issues surrounding the settlement, including multimillion-dollar DWP contracts given to an attorney involved in the legal agreement.
Reached Thursday night, Wright declined to comment when asked if he was stepping down.
Wright replaced general manager Marcie Edwards and previously served as the utility's chief operating officer.
During his time at the utility, Wright focused on fixing the billing system and improving customer service after hundreds of thousands of customers were overcharged following the implementation of a new billing system in 2013.
He also worked to reduce reliance on imported water, promoted clean energy and took "important steps towards building the DWP of the future," Garcetti said in a statement.
The DWP also recently announced plans to abandon rebuilding three gas-fired power plants, delighting environmentalists supportive of Garcetti's move to get off fossil fuels.
However, the International Brotherhood of Electrical Workers Local 18, the largest union representing DWP employees, opposed the decision and recently launched a television and radio campaign attacking the mayor's green proposals. The union fears job losses under Garcetti's recently released "Green New Deal."
Garcetti said in the statement he has nominated DWP chief operating officer Marty Adams, a 35-year-veteran of the utility, to be the next general manager. Adams' appointment requires City Council approval.
Wright is the third general manager to depart the utility under Garcetti.
Garcetti was elected mayor after running a campaign focused on reforming the DWP, but controversies persist at the utility, including recent allegations stemming from the overbilling fiasco.
The allegations were first made in court documents by PricewaterhouseCoopers, the consulting firm behind the billing system. The city sued the firm, also known as PwC, accusing it of misrepresenting its ability to implement the system.
The city faces accusations from PwC that attorneys working for City Atty. Mike Feuer took part in a scheme to quickly settle the class-action lawsuit brought by DWP ratepayers by hand-picking the plaintiff and the opposing attorneys who filed the claim, according to court testimony.
At issue is whether attorneys worked both sides of the deal and benefited financially from the settlement.
Wright has not been accused of wrongdoing.
Feuer's office has also denied wrongdoing and issued a statement seeking to cast blame on two outside lawyers hired by the city attorney's office to work on issues related to the billing debacle.
However, one of those attorneys, Beverly Hills lawyer Paul Kiesel, told The Times that his work was done at the "express direction" of Feuer's office.
Judge Elihu M. Berle earlier this month appointed Edward M. Robbins, a former federal prosecutor, to investigate issues surrounding the settlement and payments to attorneys.
At Wright's recommendation, the DWP in 2017 approved a $30-million contract for a company owned by Paul Paradis, one of the attorneys hired by Feuer's office who allegedly played a central role in the settlement deal, according to court testimony.
Paradis was previously awarded a separate contract from the DWP worth $6 million. His attorney didn't return a phone call Thursday and Paradis has repeatedly declined to comment about his role.
The DWP also hired Paradis' son at an annual salary of $72,000 in 2016, a spokesman for the utility confirmed. The utility also paid for a $4,000 graduate school course for the son, as part of the DWP's program to pay for advanced degrees. The son no longer works for the utility.
As allegations against Paradis and others surfaced earlier this year, the DWP board voted to cancel the $30-million contract, though more than $20 million had been paid out.
Los Angeles City Council members also called Wright and city attorneys to City Hall last month for a closed-door hearing about the contracts with Paradis and issues surrounding the settlement.
Separately, Feuer's office is defending Wright and the DWP against a legal claim stemming from a 2017 car accident in downtown Los Angeles involving Wright. Plaintiffs Luis Sanchez and Luz Alvarez filed the claim last year, court documents show.
Consumer Watchdog president Jamie Court called Wright's departure "good news for consumers" in light of the allegations surrounding the settlement, but criticized Garcetti's choice of a longtime DWP executive as a replacement.
"Until the city council and the mayor realize that they need a fresh start with an outsider in charge, DWP customers and taxpayers are going to be disappointed with the failure to have a responsive department," Court said.
Jasmin Vargas, a senior organizer with Food & Water Watch, said Wright came on the job with big ambitions of moving the DWP toward 100% clean energy, but faced bureaucratic and political stumbling blocks. "It's a shame that we weren't able to see more from him during his tenure," Vargas said.
Twitter: @dakotacdsmith
Sign up for Essential California for news, features and recommendations from the L.A. Times and beyond in your inbox six days a week.
You may occasionally receive promotional content from the Los Angeles Times.