Family-run Eastside newspaper chain closing down after nearly 40 years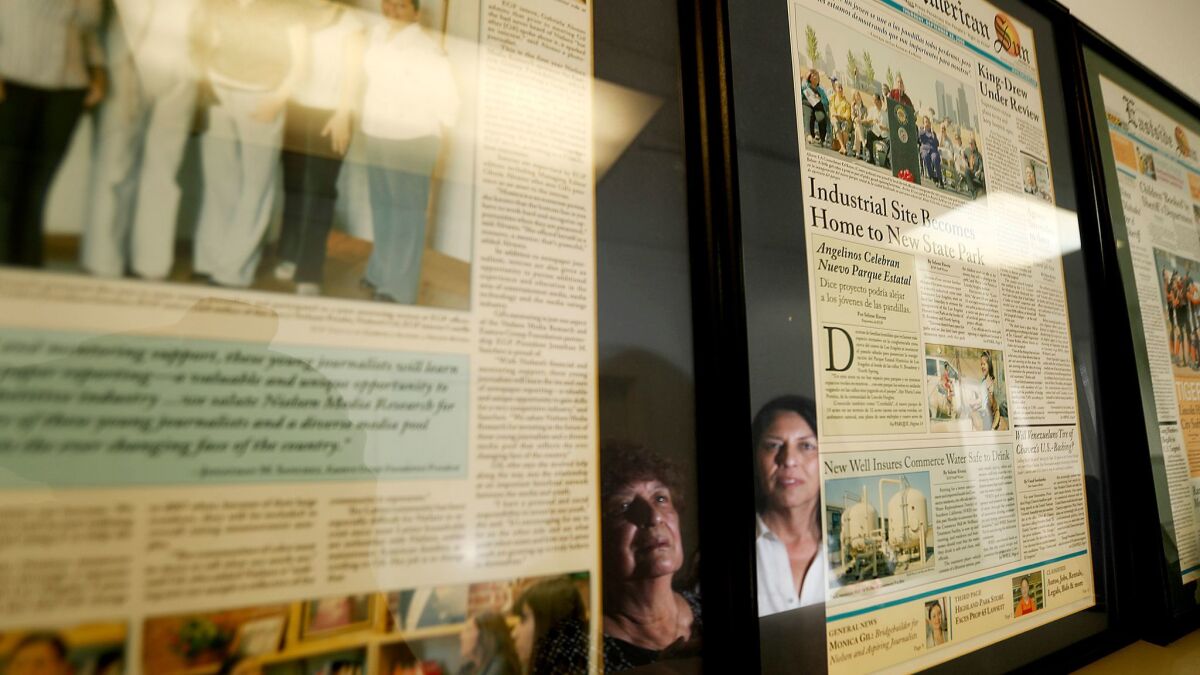 Dolores Sanchez, the 81-year-old publisher of a chain of Eastside community newspapers, stood in the doorway of her husband's office this week and peered at what was left inside: Framed family photos. Stacks of commendations. Bulldog figurines.
It's been about 13 months since Jonathan Sanchez died of cancer at age 64. The door to his office has been kept closed ever since.
For decades, Dolores and Jonathan ran Eastern Group Publications, a Lincoln Heights-based chain of six bilingual newspapers, including the Eastside Sun, Montebello Comet and Vernon Sun. She ran editorial. He handled the business side as associate publisher and chief operating officer.
His death in December 2016 came as a shock. Then, less than three months later, Dolores' son, Joseph Sanchez III, died of a heart attack. He had been Eastern Group's chief financial officer.
The grieving family decided last August to sell the newspapers. But a buyer never came. They published their final editions Thursday and closed the doors for good.
"When Jonathan died and then when Joey died, I think something just went out," said Gloria Alvarez, the managing editor and Dolores' daughter.
The sun has been setting on newspapers big and small for decades, a decline accelerated by the internet and social media. But the death of the Eastside papers has been particularly painful because they cover a largely Latino area that residents say other media organizations typically ignore. Eastern Group was a longtime, vital cultural institution on the Eastside, covering the little stories that built the fabric of a bustling immigrant community.
Although the chain's influence has waned in recent years, many Eastsiders wonder whether anyone else will step in to provide the news. It's a question being asked in an increasingly number of quarters. The billionaire owner of local news website LAist and its sister sites in the Gothamist network abruptly shut them down in November. Then, the secretive new owners of LA Weekly gutted the alternative newspaper's staff. This year, significant layoffs have hit Southern California News Group, which includes the Orange County Register, Los Angeles Daily News and San Gabriel Valley Tribune.
Eastern Group Publications — whose other newspapers were the Northeast Sun, Bell Gardens Sun and Commerce Comet — had only five employees in its final days, Alvarez said. Each filled multiple roles — reporter, photographer, page designer, translator — to put out the weekly Spanish and English newspapers, which were delivered to tens of thousands of Eastside homes for free.
Running the business was always a family affair, with three generations of the Sanchez family working there over the years.
Although Eastern Group always had a small staff and shoestring budget, it has long been an important voice in the Eastside, said Michelle Levander, director of the USC Center for Health Journalism and the editor and publisher of Boyle Heights Beat, a youth-run newspaper.
"There's not really much left of outlets that are serving communities in that kind of intimate way," Levander said. "It leaves people living in those communities feeling a little bit alone, like their events are not marked. If journalism is supposed to be the first draft of history, that history is being lost, too."
Los Angeles Councilman Jose Huizar, who grew up in Boyle Heights reading the Eastern Group newspapers, said their absence would be felt.
"On the Eastside, there are a lot of people who don't have access to the internet," he said. "It's another great loss for low-income communities, for older Latino families who read the newspaper and don't necessarily go online to get their news."
In 1979, Dolores Sanchez was among a group of 12 Mexican American investors to purchase the newspaper chain, which was on the brink of financial collapse after the death of its founder and publisher, Joseph Kovner, who launched the Eastside Sun in 1945. His newspapers covered the area as it transitioned from a Jewish to a Latino enclave.
When Sanchez and her fellow investors bought the publications, the Eastside received little outside attention unless something tragic happened, she said.
"There was very little mass media available to this community," Sanchez said. "One could almost say it was nonexistent. We felt this was a perfect time to experiment, to say that if they won't talk about us, we'll talk about ourselves."
For Sanchez, it was a priority to answer residents' questions about changes to their neighborhoods, such as whether streets would be torn up, buildings knocked down, bus routes changed, parks built.
"No one else ran anything," she said "The bulldozers would just show up one day. We made a big effort to secure public notice."
The newspapers covered high school graduations and football rivalries. They wrote about grandmas turning 100 and children getting awards at school. And they ran more than 100 stories about toxic emisions and lead contamination from the now-shuttered battery recycler Exide Technologies in Vernon.
For years, Eastern Group published children's letters to Santa Claus. There were the typical requests for Nintendos and Barbies.
But there were others, Alvarez said, choking up, that reflected the high rate of poverty of the area: I need a walker for my grandmother. My little sister needs diapers. Can you get my dad a job? We're living in a garage, and it has no water.
Whenever they could, the Sanchez family and a group of volunteers tried to help. Every child who wrote got something back.
One year, a couple wrote about their young son, who wanted a big, stuffed panda. Dolores and Jonathan went to their 6th Street apartment with the bear. Someone came to the door and said, "They're at the hospital. His leukemia got worse."
The Sanchezes, who hadn't known the boy was sick, found his hospital room, and his surprised parents put the bear on his bed. The boy leaned against it. He died shortly thereafter.
The Sanchez family loved helping writers learn their craft.
A few years ago, they ran an ad saying, "Aspiring Journalists Wanted." A 78-year-old man from Pico Rivera came in, saying he'd always written for himself and wanted to give reporting a shot. They taught him how to use a camera, and he wrote for the newspapers for about a year and a half before he became ill.
"He kept saying, 'Send me to a murder scene!'" Alvarez said.
"And we said, 'But we don't have them anymore!'" Sanchez said.
Among Eastern Group's alums is Luis J. Rodríguez, the author and former Los Angeles poet laureate. The Sanchez family gave him his first newspaper job in 1980, and he worked as a writer while attending East Los Angeles College at night.
One of his first stories was about the head of a decapitated Mexican immigrant found in an alley near Eastern Group's old Boyle Heights office. Someone drew a shirt collar on the photo of the head so it was more palatable for print, he said.
Rodríguez wrote a boxing column and covered mudslides in impoverished, hilly neighborhoods. He was one of two or three reporters, and he also took photos and answered the phones.
"It's a thankless job," he said. "There's not really any money in it. The community just needed to hear its own stories. … I don't want it to be forgotten that they took a chance on a young man like me."
In her final column this week, Sanchez wrote that when family members announced their intentions to sell in late August, they "truly believed there was someone waiting in the wings" to buy the newspapers.
They spent months unsuccessfully fielding offers and negotiating before deciding to call it quits.
They still hope someone new will run the newspapers one day.
Twitter: @haileybranson
---
The stories shaping California
Get up to speed with our Essential California newsletter, sent six days a week.
You may occasionally receive promotional content from the Los Angeles Times.