Enrique Marquez bought guns used in the San Bernardino terror attack. Now a judge will decide his sentence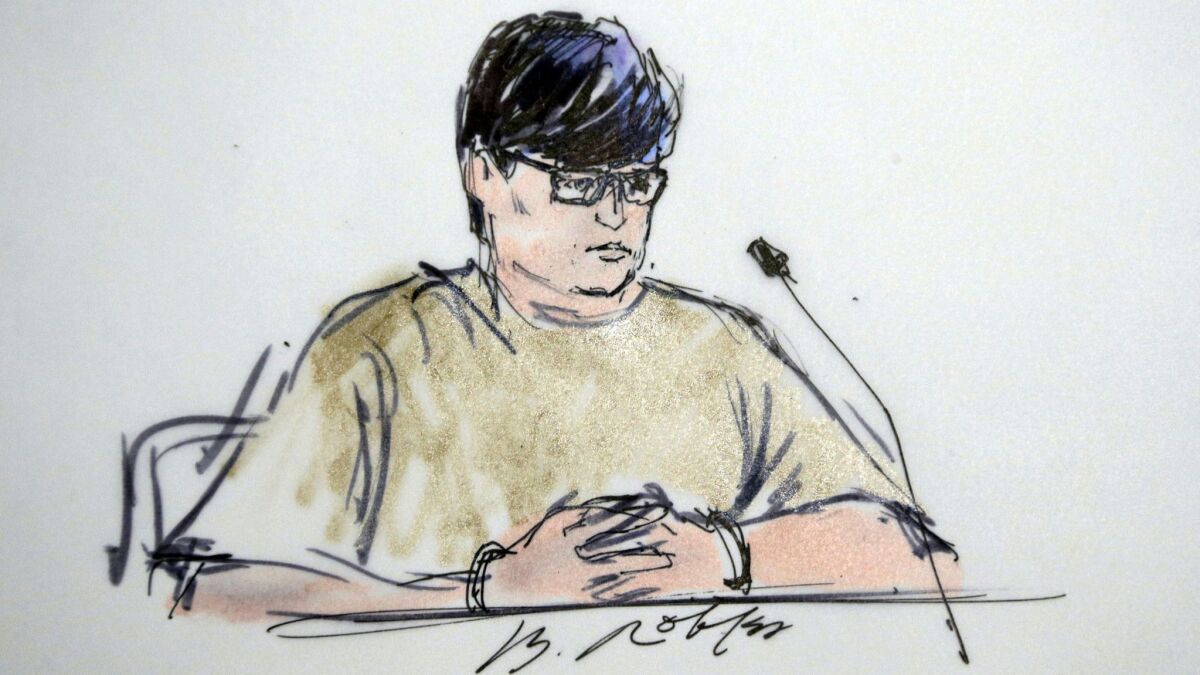 Enrique Marquez Jr. knew he had a problem.
Lonely and in search of belonging, Marquez had been guided as a teenager by his friend and Riverside neighbor Syed Rizwan Farook to embrace a radical extremist version of Islam. Together they plotted terror attacks targeting students at a community college and drivers on the 91 Freeway.
Marquez eventually abandoned those plans and distanced himself from Farook. But Farook kept the two rifles Marquez had bought for him while they conspired. In the summer of 2015, as Marquez chatted online with friends, he seemed to feel an urgency to get them back, writing, "Hope to god I can still retrieve those items."
Four months later Farook and his wife, Tashfeen Malik, entered a holiday gathering for county employees at the Inland Regional Center in San Bernardino and, using the rifles Marquez had bought and never retrieved, opened fire. Fourteen people were killed and 22 injured.
Marquez was at work when the attack happened, and prosecutors say he was not part of it. But last year, Marquez pleaded guilty in federal court to conspiracy to provide material support to terrorists in relation to the unfulfilled plots, and to acting as a straw buyer for Farook when he bought the two rifles.
He is scheduled to be sentenced April 30, though Marquez's attorneys have asked the court to postpone that date.
In transcripts of some of Marquez's online chats before his arrest, Marquez, now 26, describes some of the details of his radicalization, his apparent desire to retrieve the guns he purchased for Farook and his continued fascination with bomb-making, even after he abandoned plotting with Farook.
The transcripts were made public this week by prosecutors as part of a 177-page sentencing memorandum.
Prosecutors said Marquez has expressed "genuine remorse" for his crimes and helped authorities during a crucial time in the investigation into the attack. Still, they say that he should be sentenced in a way that sends a message to others that "if they choose to arm a terrorist, they will be held accountable."
They argue Marquez should be given 25 years in prison with a lifetime of supervised release and pay restitution to the victims, though they acknowledge he has few resources.
"Although defendant may have decided that he personally no longer wanted to commit terrorist acts, he did nothing to alert law enforcement of Rizwan's violent jihad mindset," prosecutors wrote in the memo. "It was with cold indifference that he left the weapons and explosives with his co-conspirator and mass murderer."
Marquez's defense attorneys did not respond to a request for comment.
Marquez was about 14 when his family moved to Riverside. Farook lived next door and the two quickly grew close — Farook, who was about 18, introduced Marquez "to Islam and began educating defendant about religion," prosecutors said.
"I was lonely back in 2005," Marquez wrote in an online chat with friends years later. "They made me feel as if I belonged."
In 2007, Marquez converted to Islam and Farook began introducing him to radical ideologies, prosecutors said.
"Initially, it was pretty peaceful … over time I was exposed to the more extreme material," Marquez wrote in the summer of 2015.
By 2011, Marquez was spending most of his time with Farook, listening to extremist lectures and watching extremist content online, prosecutors said.
That year, the two of them began plotting terror attacks on Southern California.
In one plot, they would throw pipe bombs and gun down students in the cafeteria at Riverside City College, where both had been students. In another, they would use pipe bombs to stop traffic during rush hour on the 91 Freeway and then shoot at drivers and first responders.
In 2011 and 2012, Marquez bought two rifles for Farook, who reimbursed him. He also bought a container of smokeless powder that could be used to make a bomb, and gave it to Farook.
Marquez abandoned the plots in 2012, after four Inland Empire men were arrested on suspicion of plotting to travel to Afghanistan, join Al Qaeda and kill Americans.
In the online chats cited by the government, Marquez repeatedly shared the story of the four men and said that he knew two of them — though when asked by the FBI about that claim, Marquez denied actually knowing them.
In August 2015, he talked about retrieving the weapons. "I might get imprisoned as a terrorist," Marquez wrote. The next month, prosecutors say he searched online for information on bomb-making and wrote in a chat, "When I create my bomb, it will be undefusable."
When prosecutors searched Marquez's electronic devices after the attack, they found materials purportedly describing how to kill or make bombs.
As part of their sentencing memo, prosecutors included letters written by seven family members and friends of the attack victims. Many described living with unrelenting grief in the two years since the mass shooting.
"I question the value and meaning of life if it can be so easily ended by someone with [a] sick, personal agenda and access to automatic weapons," wrote James Bowman, whose brother Harry Bowman was killed.
Marion Bowman, Bowman's mother, wrote that she felt that 25 years was not long enough for Marquez to serve: "The defendant knew getting guns & passing them on to someone who planned destruction is against the law. … He chose not to report the possibility of terrorist actions to the authorities."
Mandy Pifer, whose boyfriend Shannon Johnson died shielding a co-worker, wrote "because of your weaponry, happily ever after only lasted a very short time. …You stole one of the kindest men, on earth, away from us."
Twitter: @palomaesquivel
---
The stories shaping California
Get up to speed with our Essential California newsletter, sent six days a week.
You may occasionally receive promotional content from the Los Angeles Times.