L.A. Ethics Commission tables proposed ban on developer donations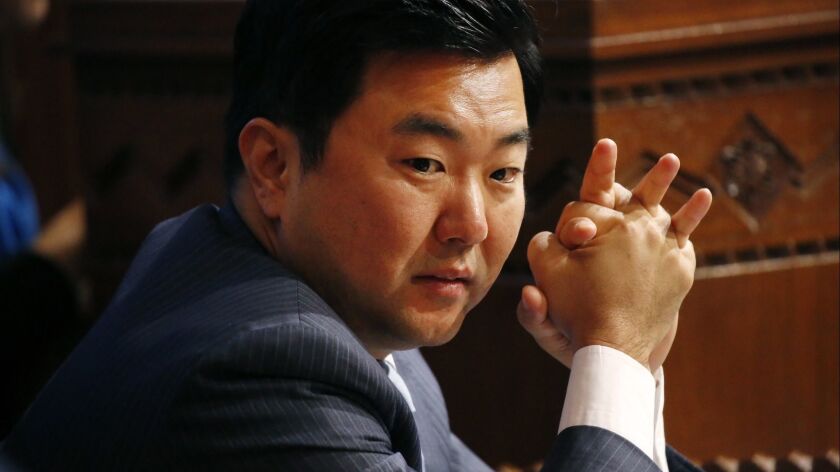 The Los Angeles City Ethics Commission tabled a proposal to ban political donations from real estate developers on Tuesday, citing legal and practical concerns with the idea.
Commissioners did not vote down the proposal but deferred a decision on it, saying they wanted to look more closely at who would be covered by such restrictions. For example, commission staff cautioned that a person who seeks council approval for a new development may not be the one whose financial interests are at stake.
The move means that a ban will not be in place when fundraising starts next month for the 2020 municipal election, which will involve seven open City Council seats — two of them vacant due to term limits. City rules allow candidates in those races to raise money for a year and a half leading up to a primary election.
Commissioners said they were willing to explore an alternative proposal: requiring elected officials to recuse themselves from decisions on a development proposal if they had received a donation from the developer who involved in the project.
That idea was raised by Los Angeles City Councilman David Ryu, who has spent the past three years pushing for new restrictions on donations at City Hall.
Ryu and four of his colleagues proposed a ban on campaign contributions from developers whose building projects were up for city approval, saying it would counter the perception that money drives city decisions about what gets built.
Their proposal was rolled out in January 2017, just as city leaders were gearing up to fight Measure S, which would have imposed new restrictions on real estate projects that cannot be approved without changing city planning rules. After the ballot measure was handily defeated, the proposed ban failed to move forward at City Hall.
At Tuesday's meeting, Commission President Serena Oberstein said she feared that banning developers from giving such donations would only encourage them to pour money into independent expenditure committees, which face no limits on the size of donations.
Oberstein also questioned whether there was "concrete proof" that campaign money from developers leads to corruption at City Hall. And she cited concerns from Ethics Commission staffers, who had warned that figuring out who should be targeted by such a ban would be complicated.
Ryu had sought to answer that question: In a memo prepared for the councilman and his staffers, attorney Stephen Kaufman suggested that such restrictions could specifically target individuals or companies and their principals applying for city approval for large development projects.
However, commission staffers pointed out in a report that the person who seeks city approval for a project may be the property owner, architect, lobbyist or someone else.
Commissioner Andrea Sheridan Ordin said that with an election coming up quickly, "this is not the answer," but "there ought to be an answer."
Coalition to Preserve L.A. spokeswoman Ileana Wachtel, whose group backed Measure S and has repeatedly raised concerns about the influence of real estate interests, said the recusal idea was worthwhile. Still, she called it a "cop out" to say it is too hard to figure out who should fall under a developer donation ban.
"It certainly seems like this body of educated, smart people could figure out some kind of definition," Wachtel said.
At Tuesday's meeting, the Ethics Commission backed several recommendations to boost taxpayer funding for candidates who meet certain city requirements. Those recommendations now head to the council for its approval.
Twitter: @AlpertReyes
---
Life is stressful. Our weekly mental wellness newsletter can help.
You may occasionally receive promotional content from the Los Angeles Times.