Riordan, former L.A. City Council candidate fined by Ethics Commission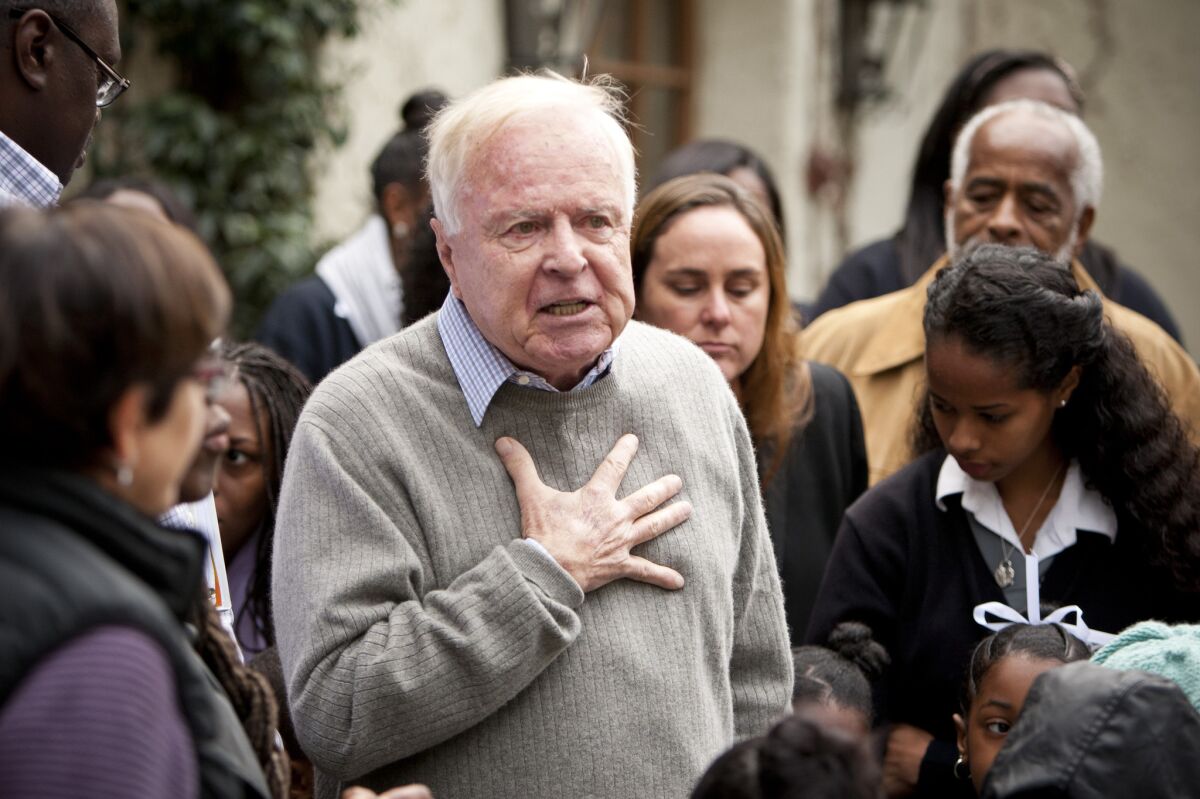 The Los Angeles City Ethics Commission fined a former City Council candidate nearly $16,000 Tuesday for failing to pay for campaign services that exceeded city limits on donations, as well as other violations.
At the same meeting, commissioners also fined former Mayor Richard J. Riordan for neglecting to include key wording on election emails backing candidates for the Los Angeles Unified school board.
City investigators accused Kelly M. Lord, who ran unsuccessfully five years ago for the San Fernando Valley council seat that ultimately went to Mitch Englander, of failing to pay $4,700 to a man who built his campaign website.
The man, Wesley Kramer, initially charged a neighborhood council purchase card for the expenses, according to a city investigation. Those funds were later returned to the city, but Lord never paid for the website, it found.
By not paying him, Lord ended up getting a kind of campaign contribution from the man – and its value far exceeded the city limit of $500 at the time, the Ethics Commission concluded.
At a hearing earlier this year, an Ethics Commission panel found that Lord knew – or should have known – that Kramer expected to be paid. The panel also concluded that Lord, who was serving on the neighborhood council, had allowed Kramer to charge the card for campaign expenses.
Lord disputed those conclusions, claiming that Kramer had volunteered to provide the website services, which he said he had been told were worth less than the $500 limit. The former candidate said that Kramer then charged the neighborhood council purchase card without getting his approval to do so.
"When I found out about it, I yelled at him, I told him to return the money," Lord said.
I was in way over my head. But I didn't steal this money.
— Kelly M. Lord, former City Council candidate
"I'm a terrible treasurer," added Lord, who raised the lowest amount of the six candidates on the ballot in the race. "I was in way over my head. But I didn't steal this money."
At the Tuesday meeting, Commissioner Ana Dahan said the matter before them was not what had initially happened with the neighborhood council card, but whether Lord had accepted campaign services that exceeded the limit. City investigators also found that Lord failed to file required paperwork before the election and did not keep detailed campaign records.
"During the hearing, we listened to all the evidence," Dahan said.
The Ethics Commission decided Lord would pay $15,900 in penalties -- less than the $22,600 maximum he could have faced -- because he had cooperated with the investigation. Lord said after the meeting that the amount seemed excessive for a candidate who had raised so little money.
"It shocks me that this happened," Lord said.
The commission also fined Riordan $11,250 for failing to include required disclaimers on emails backing candidates for the Los Angeles Unified school board three years ago.
Riordan paid $30,000 for the email blasts as an independent expenditure -- one that was separate from the campaigns run by the candidates themselves – but failed to include legally required language saying that each of the three messages "was not authorized by a candidate or a committee controlled by a candidate," Ethics Commission staffers found.
Riordan admitted that he violated the law and cooperated with the investigation, but city investigators pointed out that Riordan had been fined for the same kind of violations before, when he failed to include the required wording on election messages that he funded more than a decade ago. His $11,250 fine represents 75% of the possible maximum penalty.
Riordan said someone else had sent out the messages for him, so he hadn't paid close attention to the wording. His attorney, Ashlee Titus, said it was an unintentional "technical mistake" and stressed that Riordan had followed other rules about reporting his spending .
"The rules get really, really complicated," Titus said. "The Ethics Commission seems to be taking a stricter approach to these kinds of things."
Follow me on Twitter at @LATimesEmily
ALSO
L.A. Ethics Commission OKs more than $47,000 in fines for lobbying violations
Superintendent's 'listen and learn' tour leaves LAUSD parents with questions unanswered
Ex-Mayor Richard Riordan endorses ballot measure against mega-developments
---
The stories shaping California
Get up to speed with our Essential California newsletter, sent six days a week.
You may occasionally receive promotional content from the Los Angeles Times.