Ex-Mayor Richard Riordan endorses ballot measure against mega-developments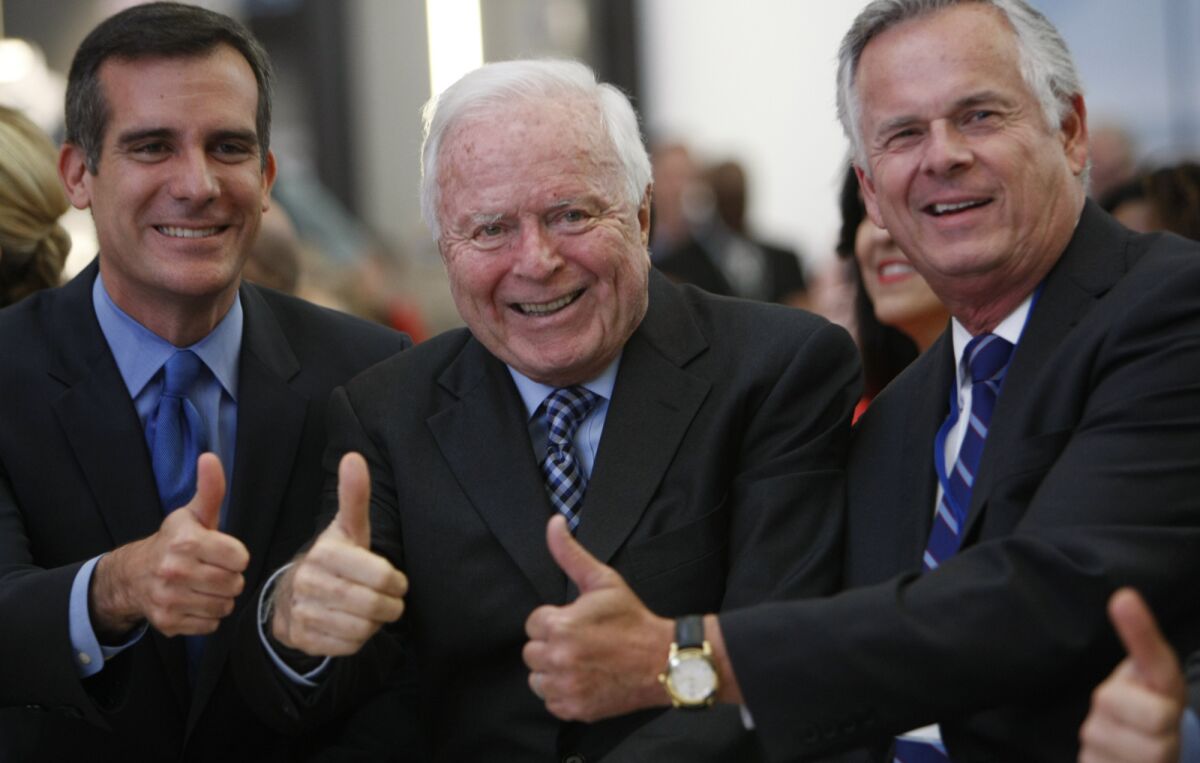 A proposed ballot measure that would place a two-year moratorium on developments that don't comply with existing planning and zoning rules was endorsed Thursday by former Los Angeles Mayor Richard Riordan.
The Neighborhood Integrity Initiative, which could appear on the November ballot, is backed by the Coalition to Preserve L.A. Supporters want to end "spot zoning," which occurs when City Council members approve mega-developments on parcels that are zoned for smaller buildings.
"If a person moved to the city now and heard Mayor Eric Garcetti talk, they'd assume he's a member of the Tea Party," Riordan said in a statement. "He isn't doing anything for the poor but helping the rich get richer -- through these zoning deals on land development."
Riordan, a Republican, served two terms as mayor from 1993 to 2001. Garcetti is a Democrat, though the mayor's office and City Council are nonpartisan.
A spokeswoman for the mayor defended his record on supporting policies that affect low-income residents.
"His administration is well on its way to meeting the goal of building 100,000 new housing units by 2021 and doubling the production of affordable housing for low-income Angelenos," said Connie Llanos with the mayor's office. "The mayor is also launching the study and implementation of a new development linkage fee for affordable housing that could raise up to $100 million for the Affordable Housing Trust Fund."
The mayor has previously said he was concerned that the measure would prevent needed development in the city. If that happens, it could increase rents for middle-class families, he said.
Riordan said his endorsement was motivated in part by what he sees as the construction of oversized buildings in West L.A. and Hollywood. Those developments often come at the expense of housing that is truly affordable to the city's working poor, he said.
Coalition supporters are gathering signatures to qualify the measure for the November election. They need 61,486 valid signatures for it to get on the ballot. If that happens, the Los Angeles City Council would also have the option to adopt the proposal as an ordinance without putting the issue before voters.
A major supporter of the Coalition to Preserve L.A. is the AIDS Healthcare Foundation, which opposes Palladium Residences, two 30-story residential towers that a developer wants to bring to Hollywood. In order to build the project, city leaders would have to change the parcel's zoning and make an amendment to the general plan.
The foundation's headquarters are next to the proposed site.
Twitter: @TheCityMaven
The stories shaping California
Get up to speed with our Essential California newsletter, sent six days a week.
You may occasionally receive promotional content from the Los Angeles Times.