First in series of storms forecast for Southland expected to hit overnight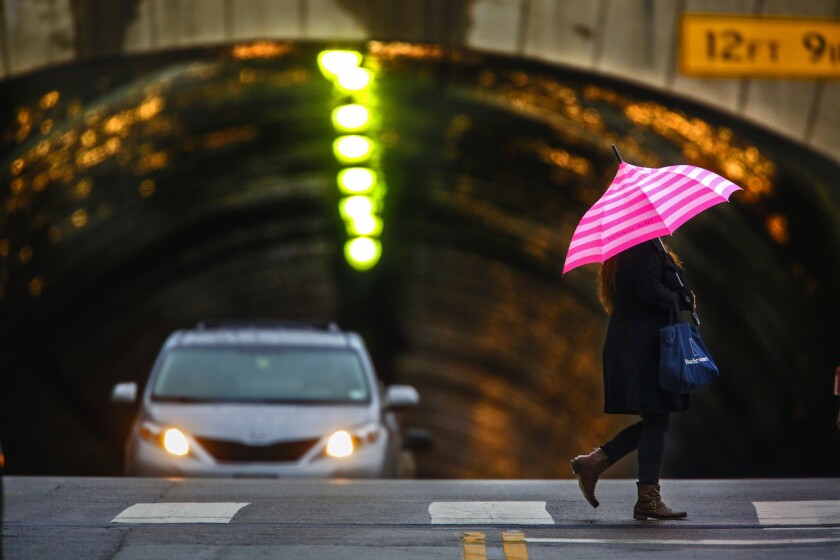 A series of El Niño-related rain and snow storms were expected to begin late Sunday night and could last all the way into next weekend.
There's a 30% chance of rain between 10 p.m. Sunday and 4 a.m. Monday, and a 70% chance Monday morning, said Robbie Munroe, a meteorologist with the National Weather Service in Oxnard, with the possibility of up to a half-inch of rain.
See more of our top stories on Facebook >>
The strongest storm of the week is likely to hit Tuesday, Munroe said, bringing 1 to 2 inches of rain in foothill areas and up to 4 inches at higher elevations. Mountain areas above 6,000 feet could see up to 2 feet of snow.
On Wednesday, another low-pressure system could bring rain that lasts into Friday morning, and next weekend another system is expected to bring rain and snow at higher elevations.
With prolonged rainy conditions ahead, flash floods and debris flows — especially in wildfire burn areas — could endanger communities in the Los Angeles Basin, Munroe said. Heavy snow in mountain areas will make driving dangerous.
The Snow Summit and Bear Mountain ski resorts are operating at capacity, said Clayton Schumacher, marketing director for Big Bear Mountain Resorts. The resorts had a record 17,000 visitors last week, and dark storm clouds were looming over both resorts Sunday. Snow is forecast for every day next week, Schumacher said.
The Seal Beach Municipal Pier was destroyed during the winter of 1982-1983.
(Don Kelsen / Los Angeles Times)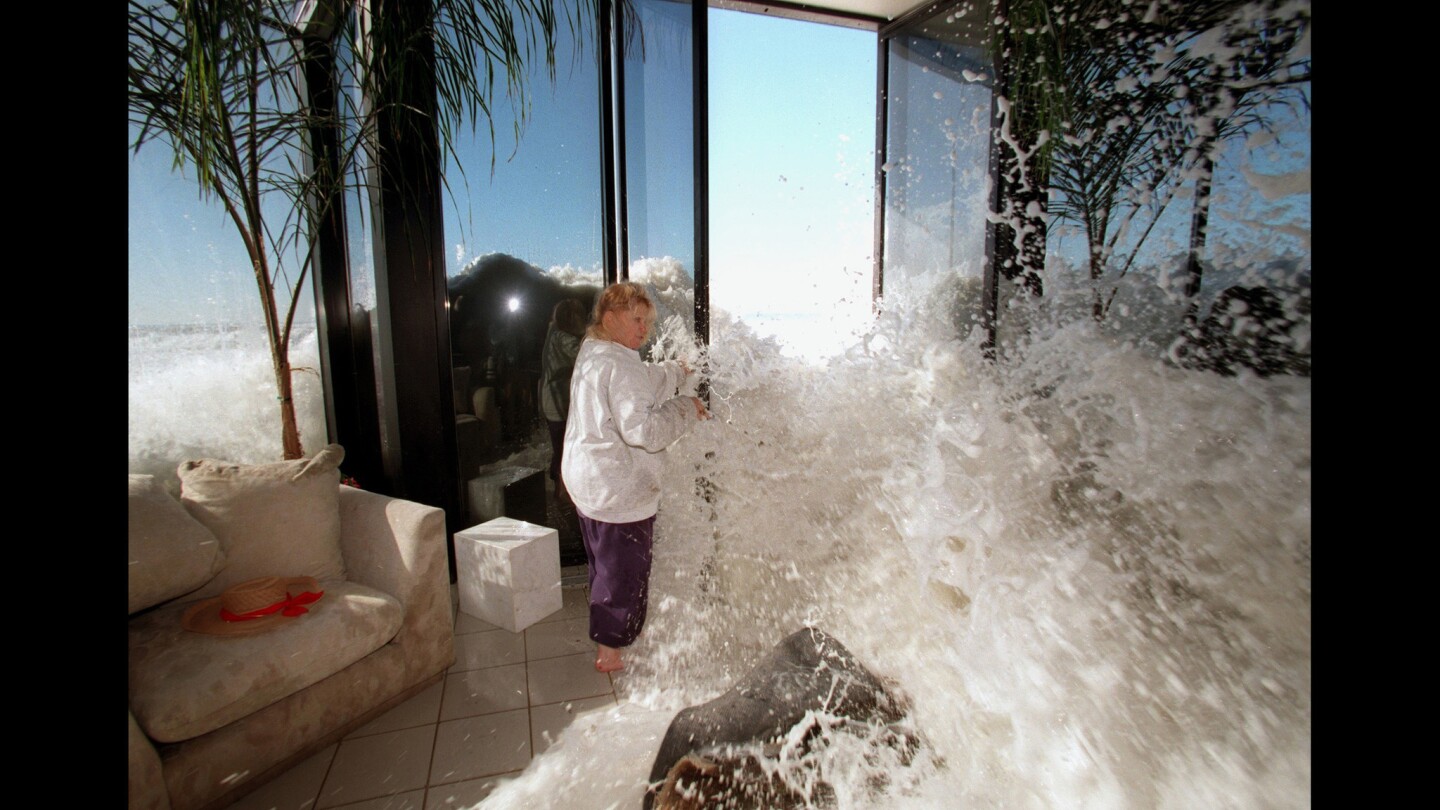 Marilyn Lane tries to shut a door as a wave rushes into her Solimar Beach home during a January 1998 storm.
(Alan Hagman / Los Angeles Times)
A surfer shoots the missing section of Seal Beach Municipal Pier, washed out by a 1983 storm.
(Cliff Otto / Los Angeles Times)
Mudslides after heavy rain destroyed property in Laguna Canyon in 1998.
(Alexander Gallardo / Los Angeles Times)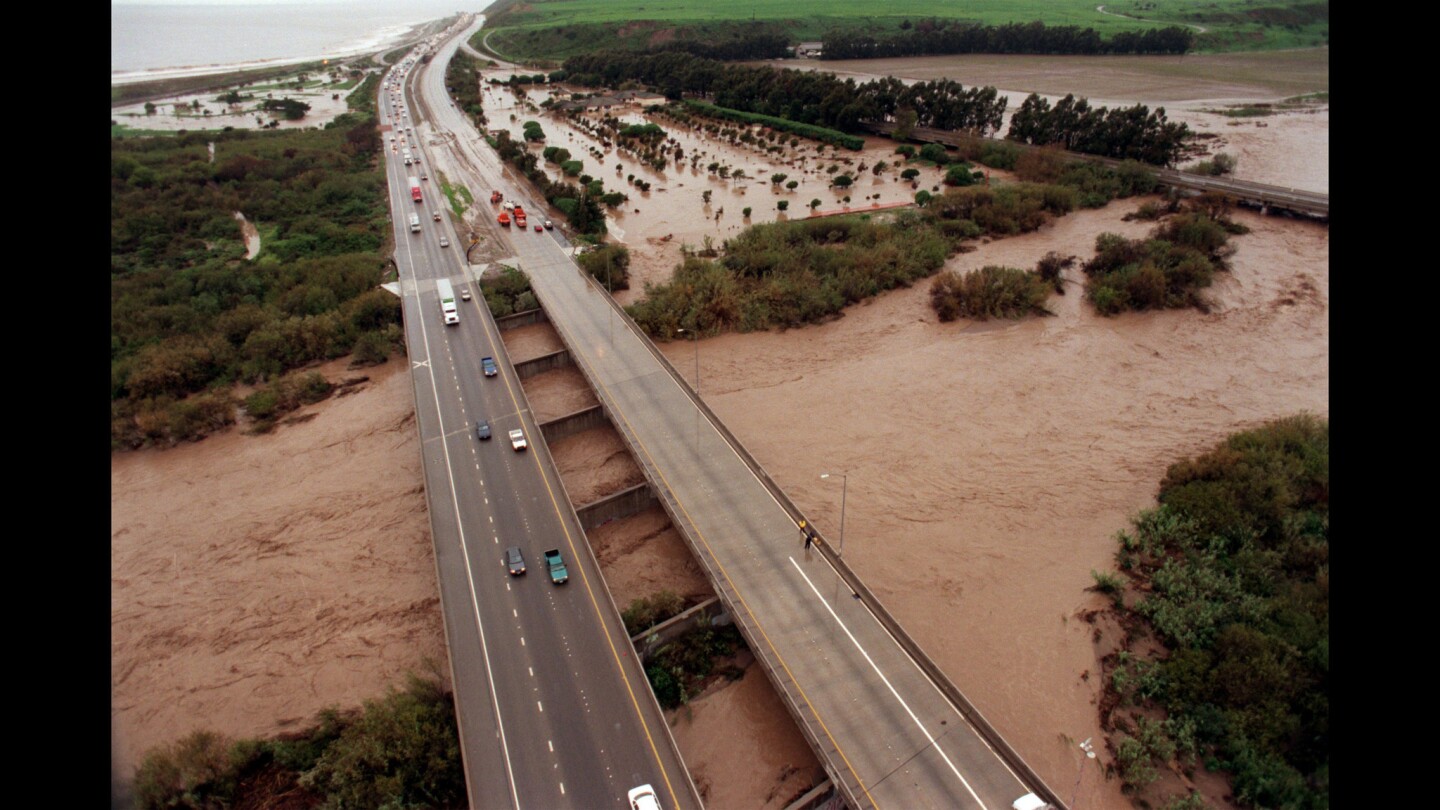 The Ventura River overflowed after heavy rains in 1998, closing the 101 Freeway for several hours.
(Mel Melcon / Los Angeles Times)
The Santa Monica Pier was wrecked during the winter of 1982-1983.
(Rick Meyer / Los Angeles Times)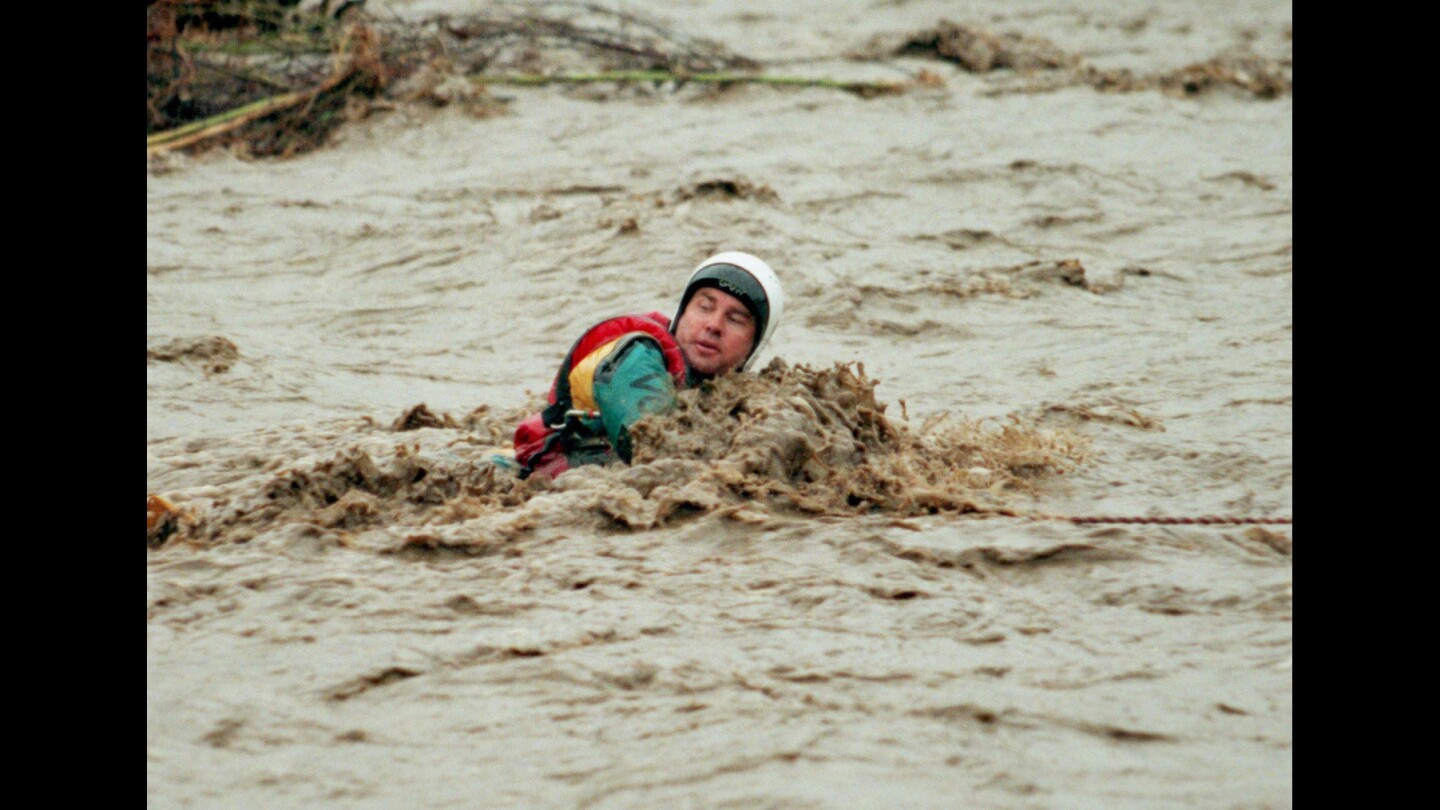 Andy Harvey, a Ventura County sheriff's search and rescue team member, swims to a partially submerged vehicle that washed down the Ventura River during in 1998. The vehicle turned out to be unoccupied.
(Steve Osman / Los Angeles Times)
An apartment building in Ventura collapsed after heavy rains in 1998.
(Spencer Weiner / Los Angeles Times)
The storms are among some of the first effects of El Niño, a series of weather conditions caused by warming of the equatorial waters of the Pacific, weakening rains in South Asia and bringing heavier rains to California. The storms peak in January, February and March.
This year's El Niño is expected to be one of the most powerful ever recorded.
None of this week's storms is expected to unleash the sort of intense, short-term precipitation that creates a particularly high risk of mudslides and flash floods. Nevertheless, after lower-than-average rainfall in November and December, the steady torrent should be "a pretty dramatic whiplash," said Bill Patzert, a climatologist with NASA's Jet Propulsion Laboratory in La Cañada Flintridge.
Patzert said the wet weather will also be a sobering taste of what is probably in store for the rest of the winter, as weather patterns generated by the El Niño phenomenon aim a stream of heavy storms directly at Southern California through March. "I think this is the beginning of the beginning," he said.
Times staff writer Peter Jamison contributed to this report.
ALSO
Venice tenants complained to the city, then wished they hadn't
Santa Clara firefighter on leave after admitting he killed his puppy
Lyft driver killed in Hawthorne, struck by a suspected drunken driver, police say
---
The stories shaping California
Get up to speed with our Essential California newsletter, sent six days a week.
You may occasionally receive promotional content from the Los Angeles Times.