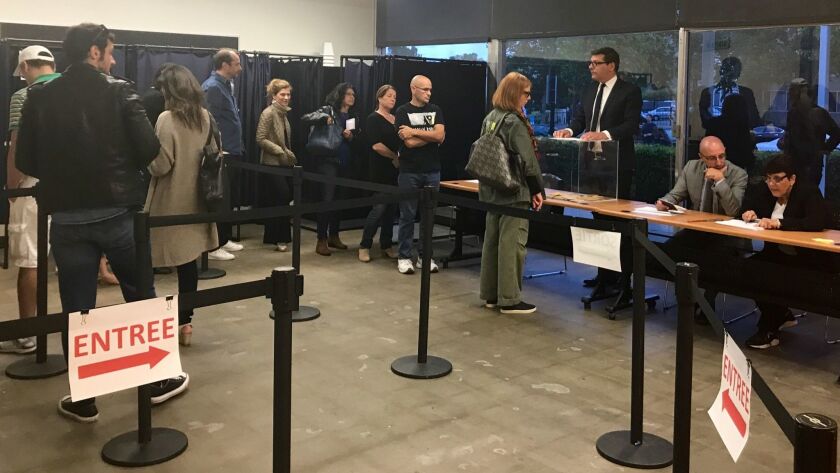 French citizen Alice Tabuchi, 28, sees many parallels between President Trump and the French presidential candidate and far-right National Front leader Marine Le Pen.
Tabuchi, who has lived in Los Angeles since November, cast her ballot against Le Pen Saturday afternoon at a polling station set up for French citizens in Burbank. She voted for front-runner Emmanuel Macron, a former investment banker who is economically liberal, socially progressive, pro-Europe and internationally minded.
He wasn't Tabuchi's first choice, but she and her husband, Douglas Lassance, 34, saw him as the safe choice.
Lassance, who moved to Los Angeles six years ago to work in animation and digital effects, said that if as many people in France abstained from voting as in the U.S. (turnout in the first round of the 2012 election was more than 80% in France), Le Pen would have a chance at winning. But he thinks that's unlikely.
The couple also see similarities between Macron and Hillary Clinton, whom they found unexciting as a candidate.
"It's kind of like we either keep eating the same pasta or we — "
Tabuchi interjected: "get a pile of mush."
Polls closed in Burbank at 7 p.m. Saturday and opened in France at 8 a.m. Sunday. French Consul Christophe Lemoine said about 14,000 French citizens are registered to vote in the greater Los Angeles area. The Burbank station, held at the International School of Los Angeles, was one of 49 across the U.S. Lemoine said about 6,000 people voted in the first round of the election two weeks ago.
Just before a deadline Friday night that required candidates to stop campaigning, Macron was hit with a leak of thousands of campaign documents — some reportedly fake — in what his team called a "massive and coordinated" attempt to upset the election.
France's government cybersecurity agency said Saturday that it will investigate the attack, according to a government official, who said it appeared to be a "very serious" breach.
Some voters Saturday hadn't heard about the leak. Tabuchi said the timing reminded her of the FBI's announcement that it had reopened its investigation into Clinton, 11 days before the election. But unlike with that investigation, she said, there wasn't enough time for the leak to affect French voters.
Dominique Keeler, 57, also voted for Macron. Keeler, a dual citizen, has lived in the U.S. for 33 years and voted for Clinton. She wore a red, white and blue outfit and a scarf with illustrations of the French and American flags.
She sees a parallel between Trump's election and Brexit — because both came as a surprise — but not between the U.S. and French presidential elections.
"You can't compare Trump to anyone we know," she said, adding that Le Pen is known as a politician, not a business person.
Keeler is certain Macron will win.
"This election is foreseen," she said. "I'll eat my hat if it's not."
ALSO
What to know about France's presidential hopefuls, Emmanuel Macron and Marine Le Pen
Obama endorses Macron in French presidential race: 'He appeals to people's hopes and not their fears'
Authorities vow to investigate hacking attack in French presidential campaign as voting begins Sunday
---