Thousands freed from L.A. gang injunctions that controlled their movements, friendships, even dress choices
Under the terms of a gang injunction, Peter Arellano would have risked arrest for wearing blue or even holding up Dodgers paraphenalia in Echo Park. Now he no longer has that fear. (Video by Genaro Molina / Los Angeles Times)
Thousands of Angelenos whose movements, clothing and even relationships were tightly restricted under gang injunctions were released from those court orders this year, marking a dramatic reduction in the use of a crime fighting tool once hailed as an innovative answer to the city's violent street gangs.
The purge of names comes amid growing debate about whether the injunctions still make sense in an era of declining crime and gang activity.
Officials took the actions after a joint audit of the gang injunction rolls was conducted by the Los Angeles city attorney's office and Los Angeles police in 2016.
"These individuals, while once active gang members, no longer pose a threat to the community. Many have steered away from gang life, having grown older and more responsible … while others have left the neighborhood and no longer frequent the limited geographical area that the relevant injunction covers," city attorney spokesman Rob Wilcox said. "Still others are in prison, while some have passed away."
The city attorney sent 7,300 letters in 2017 informing people they were no longer subject to gang injunctions, which are civil court orders that can restrict someone from associating with friends, or even family members, in neighborhoods considered to be havens for certain street gangs. Violating the orders can result in arrest.
Since 2000, the city has enforced injunctions against 79 separate gang sets, encompassing roughly 8,900 people, Wilcox said. Now, 82% of those people have been freed from the orders.
The massive cut to the injunction rolls came as civil rights groups and gang reform activists were pushing back against the court orders as unfair and outdated.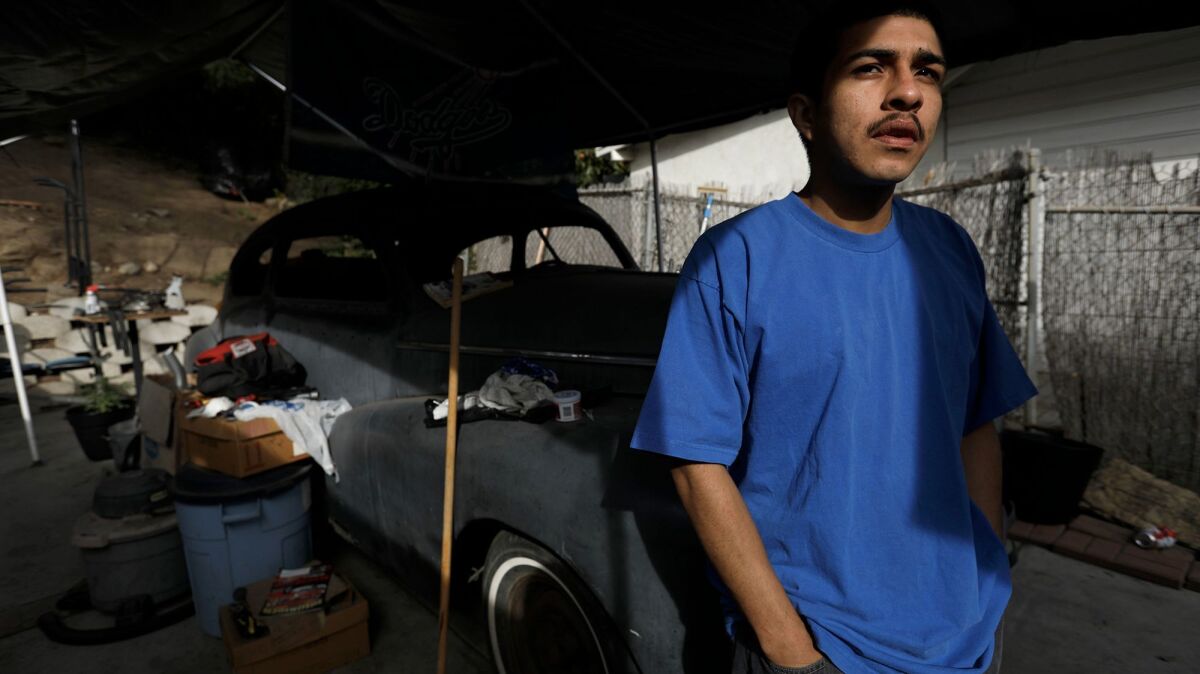 In a lawsuit filed last year, the American Civil Liberties Union argued that the city's enforcement of injunctions is unconstitutional. Authorities normally seek an injunction against a gang, rather than an individual, meaning someone can become subject to one of the court orders without being given a chance to disprove his or her alleged gang affiliation in court. Decisions about whom to serve with an injunction are made independently by LAPD investigators and prosecutors.
Critics have long complained that the injunctions are overly broad, claiming that thousands of people were unfairly swept up simply because they knew, or were related to, a gang member. Some also contend the injunctions disproportionately target African Americans and Latinos. Many of those included in the orders have never been convicted of a crime.
Echo Park resident Peter Arellano was named in an injunction in 2015 and had to carefully plan his social life, or risk arrest.
Arellano, 22, denies he has ever been affiliated with a gang. Prior to being served with the injunction, he was arrested twice in incidents that didn't result in charges and pleaded no contest to a vandalism charge. Arellano says he has long been a target of the LAPD because his father was once a member of a neighborhood gang faction.
He was prohibited from associating in public with his father and two of his childhood friends. He couldn't wear a Los Angeles Dodgers jersey, despite living less than a mile from Dodger Stadium, because the team's gear was considered gang paraphernalia under the injunction.
"I didn't feel that they could do that to me, or that they could do that to anybody," Arellano said.
The injunctions were born of a time when Bloods, Crips and other nationally known gang factions held sway in Los Angeles and other major cities in the late 1980s and '90s. Law enforcement experts believe the injunctions are integral to neutering a gang's ability to control a neighborhood through intimidation by limiting members from congregating in public and deterring teenagers who might be targeted for recruitment.
The court orders have helped reduce crime in the city, said Steve Gordon, a director of the Los Angeles Police Protective League, the union that represents rank-and-file LAPD officers.
"We just don't want them to forget how gang injunctions have been a proven law enforcement tool to help break up gang activity in our neighborhood," said Gordon, a former gang investigator in South L.A. "It's something that we need. It's something that has helped us tremendously."
Gordon said he also believes a more focused list of gang members could help the LAPD fight crime more efficiently.
A 2016 audit of the CalGang database found the LAPD to be one of several agencies that had inaccurately placed non-gang members in the catalog.
"We can more effectively fight gangs when the list is accurate," Gordon said.
Peter Bibring, a senior staff attorney for the ACLU, said the unprecedented number of removals indicates how little thought the city and LAPD put into deciding who should be subject to an injunction.
"It shows how bad the process has been in deciding who to put on the injunctions and how many people were swept up who never should have been on injunctions," he said. "These are 7,300 people who have been subjected to indefinite, parole-like restrictions based on the untested decisions of police officers and city attorneys."
Arellano, one of the plaintiffs in the suit, was granted temporary relief from his injunction this year when a judge ruled that the city likely violated his due process rights by obtaining an injunction against him without proving in court that he was a gang member.
Bibring previously said the court's decision likely meant thousands of other people in Arellano's position could successfully have their injunctions overturned.
Wilcox declined to comment on the pending litigation, but said the city and the LAPD began their audit prior to the ACLU filing suit. City officials said the review came about because few people were requesting to be lifted from the injunctions. But critics said that the process is stacked against those who have been labeled gang members.
Authorities rely on several criteria, including employment status, that have nothing to do with gang membership in order to determine whether a person should be removed from an injunction, the ACLU has said.
Still, in court filings, the city attorney's office and the LAPD said they will modify the program to conform to some of the ACLU's criticisms.
Those targeted for an injunction will now have 30 days to challenge the city's determination of their gang status in court before the order becomes enforceable, Wilcox said. Individuals served with injunctions will also be removed from the court orders after five years, unless evidence surfaces that the person is actively engaged in gang or criminal activity, according to Wilcox.
The injunctions can also make life difficult for former gang members trying to turn their lives around, said Kim McGill, executive director of the Youth Justice Coalition, which is a plaintiff in the ACLU's lawsuit.
She recounted the story of a former gang member who was subject to an injunction aimed at gangs operating in the Jordan Downs housing projects in Watts. The man, McGill said, had abandoned gang life and was working at a Toyota dealership in the area. He was not accused of any new criminal activity, but wound up in handcuffs twice due to the injunction.
"When you tell an employer more than once that you're being arrested, especially for people who don't know what injunctions are, they are suspicious," she said. "He eventually lost what was a living-wage job."
Follow @JamesQueallyLAT for crime and police news in California.
ALSO
Inside a secret 2014 list of hundreds of L.A. deputies with histories of misconduct
LAPD cadet scandal: Joyrides in cruisers went on for weeks before anyone caught on
Woman arrested after yelling she'd kill everyone on Southwest flight
Steve Lopez: Finding the L.A. real estate gold rush — in Compton, Watts and South L.A.
---
The stories shaping California
Get up to speed with our Essential California newsletter, sent six days a week.
You may occasionally receive promotional content from the Los Angeles Times.