Garcetti takes oath for second term as L.A. mayor
Mayor Eric Garcetti inauguration 2017 (Video by Gary Coronado / Los Angeles Times)
Mayor Eric Garcetti was sworn in for his second and final term Saturday night, in a ceremony that cast Los Angeles as a resurgent metropolis building new museums, bridges and rail lines — but also confronting a crisis of affordability in housing.
Standing outside City Hall, Garcetti highlighted the city's economic recovery since he first took office in 2013, urging Angelenos to "set our eyes on a farther horizon."
Saying a strong city "will bring to fruition a great many of our dreams," he drew a link between the ambitions of L.A.'s earliest settlers and port dredgers and today's plans for a new downtown bridge and a revamped L.A. River.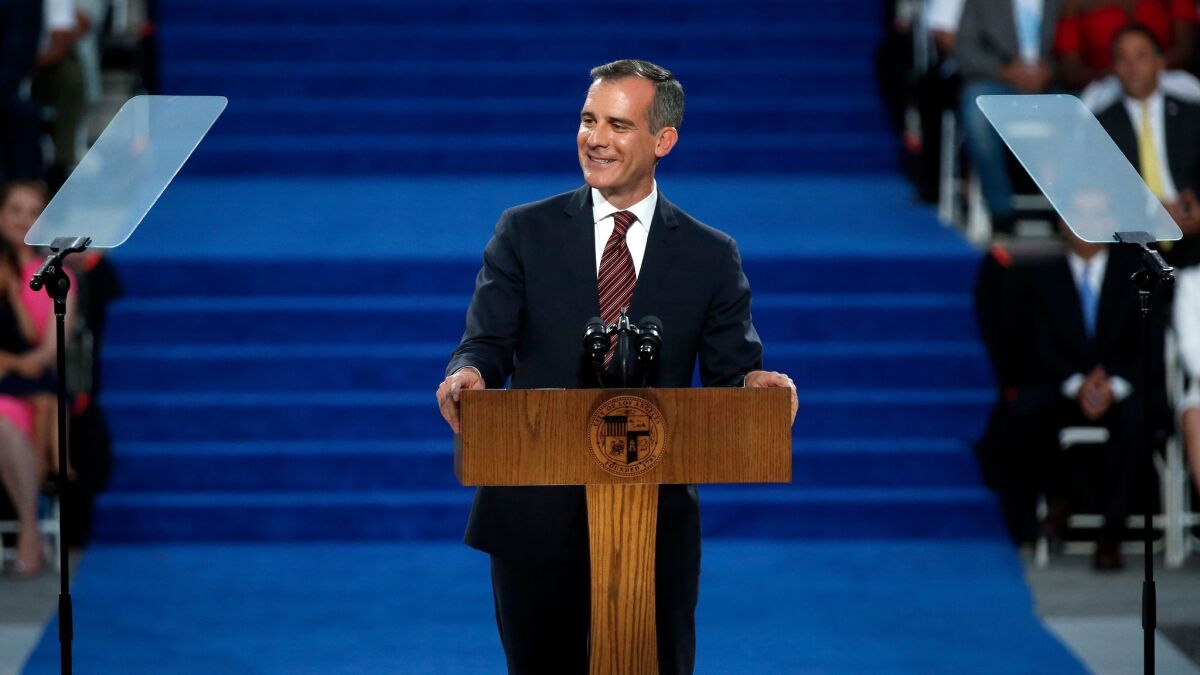 Garcetti pointed to two problems that have grown steadily during his first four years in office: homelessness and rising housing costs. The mayor acknowledged the city has struggled to keep up as more people find themselves on the streets.
Climbing rents, he added, threaten to make Los Angeles "a city without a middle — the rich and the poor drifting apart as if split by an earthquake."
"We want every unhoused Angeleno to have a home where they are healthy and safe and where they can pursue their dreams," he said. "Because every person living on our streets — they have dreams, too. And if that means new laws or reforming the laws that we have so that we can build the homes this city needs, let us start that work today."
After his address, Garcetti said lawmakers should approve a city linkage fee, which would raise money from development to pay for affordable housing, and look at revising such state laws as the Costa-Hawkins Act, which prohibits rental caps on single family homes and some apartments. "This is a crisis," he said. "Everything should be on the table."
Shortly after Garcetti began taking the oath, protesters from Black Lives Matter stood up and started shouting before they were escorted out, police said. Police estimated that fewer than a dozen people were removed and said none were arrested.
Before the ceremony began, a who's who of Los Angeles politics — including activists, political consultants, business executives and labor leaders — rubbed elbows before settling in to listen to a UCLA jazz band.
In a tribute to the city's Olympic bid, table tennis players faced off behind an "LA 2024" banner the color of a California sunset on the steps of City Hall. Fencers parried blows in front of the crowd to soaring music.
Garcetti, City Atty. Mike Feuer, City Controller Ron Galperin and the freshly re-elected members of the City Council — along with newly elected member Monica Rodriguez — strode down a blue carpet with their spouses and family members before hearing the national anthem belted by opera singer Angel Joy Blue.
Garcetti's swearing-in took place on the same spot where, as the newly elected mayor, he vowed to grow L.A.'s economy after Great Recession-era budget cuts reduced city services.
The mayor evoked those darker days in his speech Saturday night, saying, "We were crawling out of an economic downturn that left our basic city services gutted, our morale sapped."
Garcetti was re-elected as the city's 42nd mayor with a historic 81% of the vote in March, aided by his success in helping pass two ballot measures to provide transit and homelessness relief. His second term is set to run 5½ years because of a change in the election schedule.
Building housing and hastening construction of rail lines are top priorities for his second term, Garcetti told The Times' editorial board Thursday.
Raphael J. Sonenshein, executive director of the Pat Brown Institute for Public Affairs at Cal State Los Angeles, said voters may grow impatient waiting for results.
"People voted for those measures and they might think those problems are solved. Government can't wait too long to meet those expectations," Sonenshein said.
Garcetti, a one-time City Council president, won the city's top office by offering a no-frills approach to governing, promising to slash business taxes, bring back Hollywood jobs and make general managers re-apply for their jobs.
Before Saturday's ceremony, the City Council convened a special meeting to re-elect Herb Wesson as its president for another two years.
Rodriguez, representing the east San Fernando Valley, joins councilwoman Nury Martinez as the only women on the 15-member City Council.
Rodriguez said she is honored to be an elected official — and noted that she got her start 23 years ago as an intern for then-Councilman Mike Hernandez.
"I know what a powerful position this is," Rodriguez said.
Saturday's ceremony was being paid for with at least $250,000 from donors, including $50,000 each from engineering firm AECOM and Westfield Property Management.
Twitter: @dakotacdsmith
Twitter: @DavidZahniser
Twitter: @LATimesEmily
ALSO
Bathroom access on skid row is worse than in a Syrian refugee camp, report says
L.A. City Council approves raises of up to 22% for about 9,000 DWP workers
Southwest L.A. loves 'Obama Boulevard' proposal but wonders: 'Why not a major street?'
---
UPDATES:
9:05 p.m.: This article was updated to include a comment from Raphael Sonenshein.
8:30 p.m.: Updated with Garcetti speech.
8 p.m.: This article was updated with Garcetti taking the oath of office.
5:35 p.m.: This article was updated with the City Council re-electing Herb Wesson as its president.
This article was originally published at 3:45 p.m.
The stories shaping California
Get up to speed with our Essential California newsletter, sent six days a week.
You may occasionally receive promotional content from the Los Angeles Times.