Gardena police officer describes moments leading up to deadly shooting of unarmed men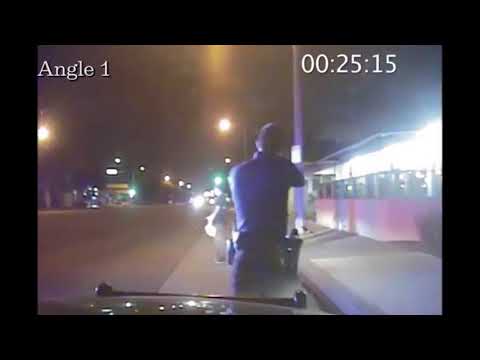 A federal court ordered the release of police videos that show Gardena officers fatally shooting one unarmed man and wounding another in 2013.
Right before Ricardo Diaz Zeferino tumbled to the ground in a hail of gunfire from Gardena police officers, he was just beginning to lift his palms out and up, without holding a gun.
Such was the testimony in depositions of the senior officer at the shooting, which was documented in videos released Tuesday on a federal judge's orders.
During litigation that ended with the city of Gardena paying a $4.7-million settlement, Gardena Police Sgt. Christopher Cuff offered a wider narration of the sequence of events that led to the death of Diaz Zeferino.
Get our free Essential California newsletter delivered daily >>
And Cuff, who did not fire his weapon, gave a window into his state of mind as he navigated the encounter with two men and Diaz Zeferino, first as the sole officer at the scene and later with subordinate officers present.
As Cuff tells it, about 2:30 a.m. on June 2, 2013, he radioed that he would respond to the robbery of a bicycle. Two men suspected of the robbery were last seen on Redondo Beach Boulevard, according to court documents.
Seconds later, Cuff spotted two men -- Eutiquio Mendez and Jose Garcia -- riding bikes on that same road.
Cuff said he had "enough reasonable suspicion" to think the two men were "possibly" involved in the crime.
"My mindset is that they were the individuals involved in that crime until proven otherwise," Cuff said.
Only later would he learn that Diaz Zeferino's brother owned the stolen bicycle, the two men initially stopped were not involved in the robbery and that it wasn't a robbery at all. A dispatcher mistakenly told officers the theft was a robbery, which typically involves weapons or force.
When the men saw Cuff, who was driving a marked Chevy Tahoe with police lights, they slowed their bicycles to a crawl -- which was "cause for concern," Cuff said.
Cuff exited his car without his gun drawn. After ordering the men to stop, he returned to switch on his amber lights and then withdrew his weapon, he said.
Moments later, Diaz Zeferino arrived, jogging toward the two men and Cuff, he said.
"I yelled for him to stop where he was at several times," said Cuff, adding that he offered commands in English and Spanish. "I really elevated my voice the closer that he got."
Cuff suspected the third man was involved in the robbery, but when questioned by attorneys, conceded that he had never seen a robbery suspect jog toward a police officer.
Diaz Zeferino did not say anything and, as he approached, he held his hands out in front of him, Cuff said.
But the two men who survived the stop said Diaz Zeferino told police they were not the suspects tied to the bicycle theft.
Cuff acknowledged that he wore his audio recorder but did not have it turned on, he said, because activating its "very small button" would distract him.
Later, three other officers arrived, all pointing their guns toward the three men, according to court documents.
Cuff, a sergeant, would "in theory" have superiority over the other officers. But he "didn't have the opportunity" to give directions.
In the deposition, Cuff also assessed each man's relative threat level at the time of the shooting. Both men with Diaz Zeferino, he said, were "cooperative" with officers. Diaz Zeferino, he said, "vacillated between resistive and life-threatening."
At no time did Cuff see a weapon or anything resembling a weapon on Diaz Zeferino, he said.
For breaking news in California, follow @MattHjourno.
ALSO
Police killings in L.A. County since 2000
Gardena police shooting video: Justified or 'cold-blooded' killing?
Gardena police shooting video: City Council silent but gets an earful
Sign up for Essential California for news, features and recommendations from the L.A. Times and beyond in your inbox six days a week.
You may occasionally receive promotional content from the Los Angeles Times.