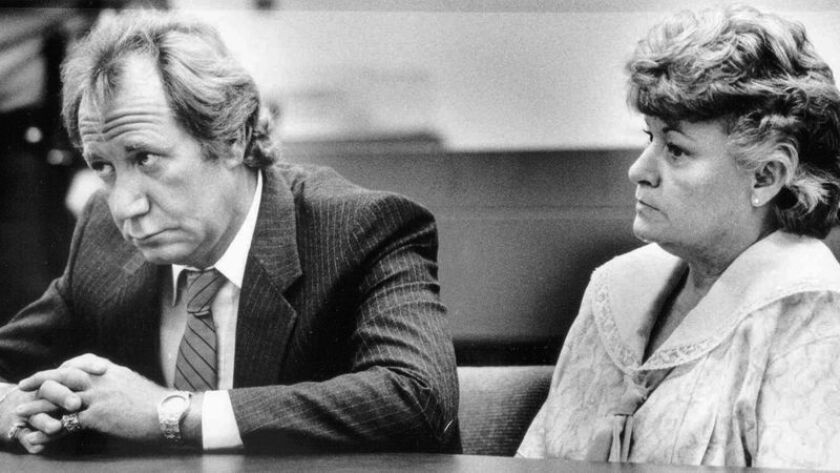 Reporting from Bakersfield —
A criminal defense attorney who once had sexual relationships with two daughters of a client was removed Thursday from a death penalty case in Bakersfield after civil rights attorneys intervened, arguing that he was unqualified.
Gary Turnbull was relieved at the request of the defendant, Juan Pablo Vega, in a closed-door proceeding. Vega is accused in the fatal shootings of two men at a bar south of Bakersfield.
"It's too bad," Turnbull said outside the courtroom after the hearing. "I hope he gets good representation."
An American Civil Liberties Union attorney said Turnbull's removal was a "positive development" in the 4-year-old case.
"This continues to show the need for a closer look at the way the death penalty system is broken in California," said Cassandra Stubbs, director of the ACLU's Capital Punishment Project. "There are so few mechanisms for oversight over, really, this abysmal quality of lawyering."
The wrangling over who would represent Vega began soon after Turnbull reactivated his law license in October following a nearly two-decade hiatus.
About a month later, he was appointed to defend Vega, who is charged with first-degree murder in the shooting deaths of Jorge Zavala and Federico Zuniga Moreno.
Kern County prosecutors allege that Vega walked into a nightclub in Arvin in June 2015 and shot three people, killing two and wounding the other. His girlfriend, they said, had called him and said the people were bothering her and to come take care of it. Vega has pleaded not guilty.
Soon after Turnbull's appointment, the ACLU stepped in to try to remove him from the case, arguing that his ethical transgressions and years out of practice made him unfit to take it on.
Decades ago, while representing a woman accused of killing her husband, Turnbull, now 74, had secret sexual relationships with two of her three daughters, eventually having a child with one.
Twice he was suspended from practicing law — in 1995 for not paying child support and again in 2004 for not paying bar dues.
In an interview with The Times last month, Turnbull dismissed the arguments as "sour grapes."
"They're saying from a relationship I had 35 years ago that I'm unfit. Yeah, well, that's history and the bar didn't find it was unethical, immoral, illegal or any conflict," Turnbull said. "According to court rules, I'm totally qualified."
Turnbull said he inactivated his license because he fell ill with cancer, moved to Canada and didn't think he'd practice again. He reactivated his license, he said, because he was bored.
In a November declaration requesting to represent the man in the current capital case, Turnbull indicated he had handled more than 100 criminal jury trials and completed 300 hours of death penalty seminars throughout his career.
When Turnbull was relieved Thursday, he said Vega had stopped speaking with him.
"He refuses to communicate with me because he wants [Keith] Rutman," Turnbull said, referring to the attorney who was handling the case previously. "His family wants Rutman, but Rutman is unqualified."
A handful of attorneys were in and out of Vega's case before a judge appointed Rutman, a San Diego lawyer, to represent Vega in October 2017 because the Indigent Defense Program was unable to find a qualified attorney within the county.
The Indigent Defense Program, run by the Kern County Bar Assn., contracts with Kern County to represent defendants when the public defender's office has a conflict or otherwise cannot.
In this case, the public defender's office represented Vega's girlfriend, Lourdes Olvera, who was accused of instigating the shooting. After her murder trial resulted in a hung jury, she pleaded guilty to attempting to dissuade a witness and two counts of soliciting a murder in a deal brokered with prosecutors.
Stubbs said the ACLU was undecided about whether it would intervene in Turnbull's other cases, saying she hoped the Indigent Defense Program, "on its own initiative, will decide to do something about that."
Turnbull told The Times last month that he was handling two other capital cases.
The Indigent Defense Program's director, Henry Marquez, said Thursday he didn't know whether Turnbull would remain on the program's list of attorneys and declined to comment further.
alene.tchekmedyian@latimes.com
Twitter: @AleneTchek
---