The government shutdown is over, but uncertainty remains for tenants in public housing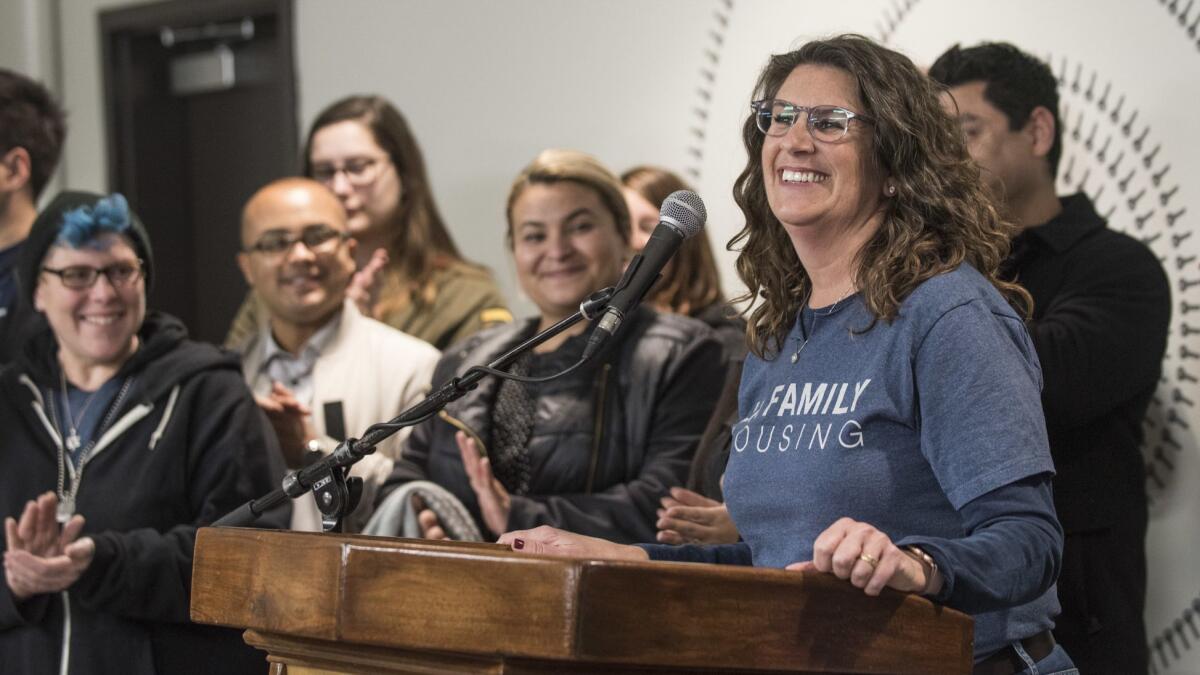 These are anxious times for Stephanie Klasky-Gamer and the people her organization, LA Family Housing, helps lift out of poverty and homelessness.
Throughout the 35-day government shutdown, the chief executive worried that some 400 families — or about 1,600 people — wouldn't be able to stay in their federally subsidized houses and apartments, and that LA Family Housing wouldn't recoup the $250,000 it had spent to prevent mass evictions from the federal government.
And now that the government has reopened, she is worried that another shutdown will put those same tenants at risk again and that landlords will be less willing to work with the poor and homeless people her organization serves.
The partial government shutdown ended in time to prevent a feared housing catastrophe. On Friday, President Trump and Congress agreed to fund government agencies through Feb. 15 — or for three weeks — as negotiations continue over how to secure the nation's southern border.
If they are unable to come to a deal, Trump has threatened another shutdown, again potentially jeopardizing millions of dollars in contracts through the U.S. Department of Housing and Urban Development.
More than 130,000 households in Los Angeles County receive some form of federal rental assistance and were at risk of not being able to pay their rent if the shutdown had lasted through the end of February.
But the mere threat of thousands of poor people returning to homelessness in L.A. — and the possibility of that threat happening again — has rattled government officials and affordable housing advocates.
In a letter to members of the California congressional delegation, Douglas Guthrie, president of the Los Angeles Housing Authority, explained that landlords who accept vouchers depend on the government to come through with funding and that losing their trust could be a problem going forward.
"We have 14,000 landlords participating in the program, most of which are small family-run businesses," Guthrie wrote. "Because of the extremely tight rental market in Los Angeles and the escalating rents there are already fewer landlords willing to participate in this program."
Read the full letter Los Angeles Housing Authority President Douglas Guthrie sent to Washington »
HUD spokesman Brian Sullivan declined to say how the government reopening for three weeks will affect the funding of rental subsidy programs going forward.
"We're so busy we can't look that far downstream," he said.
The question now is whether landlords will still trust the federal government to pay its bills on time — especially with the threat of another shutdown looming.
The stigma of leasing to tenants who may have been homeless was a tough sell already. But the chaos in Washington appears to have made it worse. For so long, tenants receiving federal subsides offered a level of dependability and certainty for landlords because, at the end of the day, Uncle Sam was footing the bill.
"It really sows this distrust and skepticism of whether these landlords can rely on the government like they have in the past because of this dysfunction," said Elayne Weiss, senior policy analyst at the National Low Income Housing Coalition.
Keisha Hosea, housing liaison for Union Station Homeless Services, recruits landlords to accept federally subsidized vouchers across a wide swath of L.A. County, from Pasadena to Claremont. In the last couple of weeks, she said, some have expressed concerns about whether their tenants would be able to make rent.
"There's a fear from landlords doing programs like this that the funding will stop and they have all these people in housing who they can't get to pay," she said.
Before the shutdown ended, the Los Angeles Homeless Services Authority wrote to the Trump administration that it was "concerned that the shutdown could drive more families into homelessness, which will greatly increase public sector costs while subjecting already vulnerable people to trauma."
The county's homeless population was 52,765 in 2018, a 4% decline from the year before. City and county officials believe these lapses in funding will fuel a problem that they're only beginning to get their arms around.
Joel John Roberts, CEO of People Assisting the Homeless, feels this fear acutely. His multi-service organization is one of the largest providers of affordable housing in California. It also does extensive outreach to help bring homeless people off the streets. Many of those clients were at risk of losing their apartments during the government shutdown.
Roberts said he was committed to not evicting anyone, but at the same time, he didn't want to be disingenuous about how much help he could offer if the federal government had stayed shuttered.
"We have been selling this program by saying, 'It's government funded. You don't have to worry about the government not paying rent,'" Roberts said. "They're asking, 'How do I know the government will pay?' That's a big problem."
This is a huge question in the hot Southern California real estate market.
At LA Family Housing, Klasky-Gamer said her organization owns and operates 24 buildings and acts as a landlord for about 150 families that use about $167,000 a month in federal subsidies to pay their rent. Klasky-Gamer said she never thought she would have to evict people during the shutdown, but if it had lasted until March, she wasn't sure.
Separately, the government shutdown also affected the organization's broader mission of getting people off the streets and into affordable housing, leaving LA Family Housing without federal funding to subsidize the rents of an additional 250 families.
Normally, $250,000 a month was delivered from an annual HUD contract, which LA Family Housing has had for years but which expired at the end of 2018. Because of the government shutdown, the contract wasn't renewed for 2019, so Klasky-Gamer's organization paid its clients' January rent out of its own limited coffers, hoping to be paid back.
"We don't have the wherewithal to withstand $250,000 a month and not be reimbursed," she said.
Now that the government is back open, Klasky-Gamer learned Tuesday that HUD has renewed LA Family Housing's contract and made it retroactive to Jan. 1, 2019 — meaning the organization won't be out of hundreds of thousands of dollars after all.
"I'll be relieved once we have the funds," she said.
Sign up for Essential California for news, features and recommendations from the L.A. Times and beyond in your inbox six days a week.
You may occasionally receive promotional content from the Los Angeles Times.