Grim Sleeper: Defense backtracks on expert witness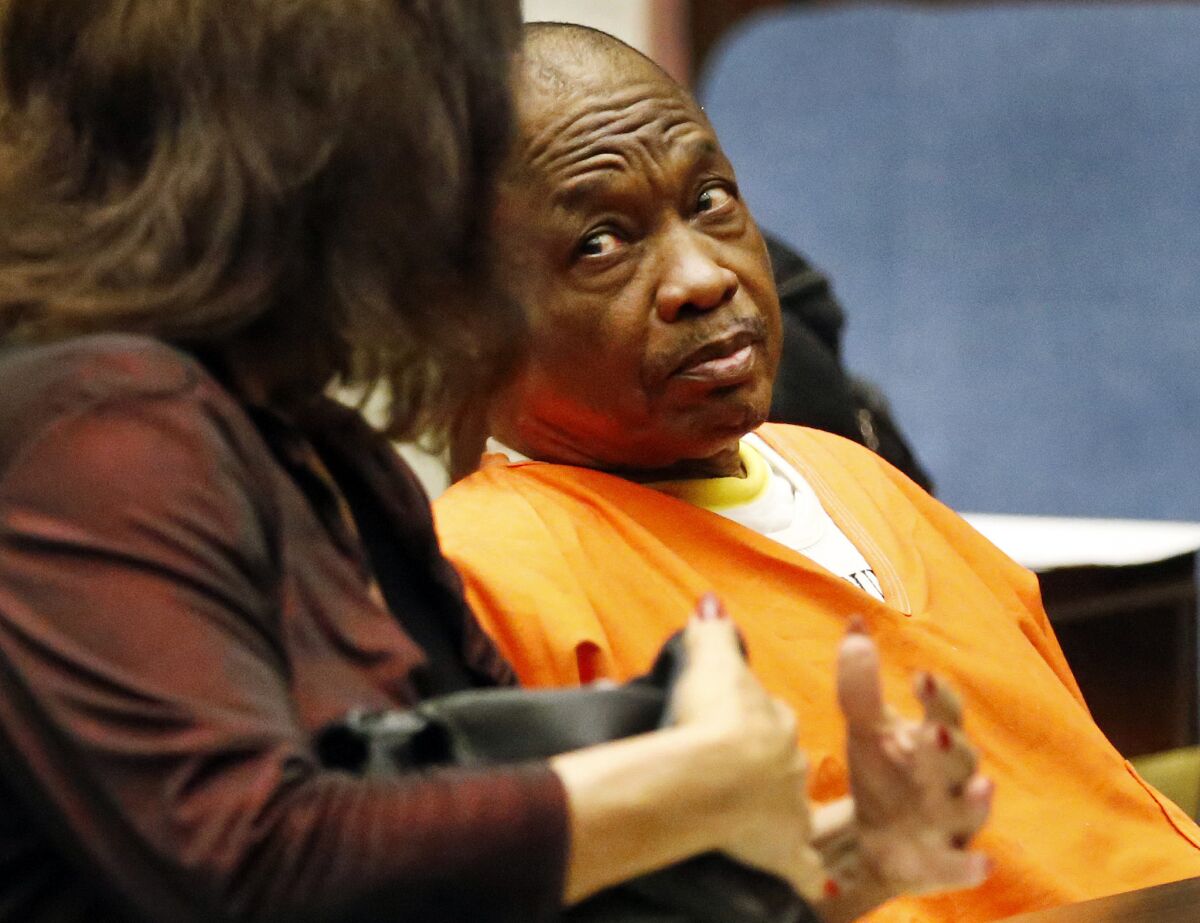 The judge in the case of the so-called Grim Sleeper blocked a defense attorney Monday from using evidence he previously said linked a serial killer already on California's Death Row to two of Lonnie Franklin Jr.'s alleged victims.
Earlier this year, defense attorney Seymour Amster said an expert hired by the team defending Franklin had determined that DNA connected to two of the attacks -- one of which was fatal -- were a match to prolific murderer Chester Turner.
L.A. County Deputy Dist. Atty. Beth Silverman said at the time that an expert's interpretation was "outlandish."
At the end of a week-long evidentiary hearing, Superior Court Judge Kathleen Kennedy ruled that the defense's DNA expert, who had made the finding about Turner, wasn't qualified to testify at trial.
The judge said that the expert, Lawrence Sowers, had "woefully failed to meet the generally accepted methods of the scientific community in the area of forensic DNA analysis."
"There are lies, there are damn lies and there are statistics," Kennedy said.
The trial, which has been delayed several times, is slated to begin with jury selection Dec. 15. Franklin, 62, faces 10 counts of murder and one of attempted murder. He has pleaded not guilty.
During the hearing, Deputy Dist. Atty. Marguerite Rizzo grilled Sowers on his educational background, how he made the calculations and potential errors he made in his findings.
Sowers said that he had decided to do last-minute re-calculations after listening to another DNA expert's testimony.
I've never seen an expert do that in all the years.
— Kathleen Kennedy, Superior Court judge
"I've never seen an expert do that in all the years," Kennedy said.
Sowers had said he determined that DNA from other men, including Turner – one of at least five serial killers who prowled South L.A. in the 1980s and '90s – was found at several of the crime scenes linked to Franklin.
But during the hearing, Sowers seemed to backtrack.
After hearing Sowers' testimony, Amster expressed doubts about his witness.
"I do not feel comfortable," Amster said, "representing Mr. Franklin at this moment with Dr. Sowers on this case."
He then asked the judge to postpone the hearing.
"I'm not suspending this proceeding," Kennedy said. "We have been in progress on it for days and days and days and days and days and we're going to finish it."
Like many hearings in the case, it was fraught with arguing between the prosecution and defense – and even the judge.
At one point, Amster complained to the judge, saying he'd heard Silverman make snide comments to him during the hearing.
"I don't care what you guys do when I'm not around," Kennedy said. "You're not supposed to be talking to each other when we're doing things on the record. In terms of being snotty to each other off the record ... have at it. I don't care."
"I believe she is not qualified, in her emotional state, to be on the case at this point," Amster said of Silverman.
"Mr. Amster, that is not up to you," Kennedy said, "and if anybody has shown lack of control of emotion at times, strictly on the record by shouting at me repeatedly during the last several years, it's been from you."
Follow me on Twitter @brittny_mejia
ALSO
Man fatally shot by LAPD in Lake Balboa
San Diego officer won't be charged in shooting death of Afghan man
Police release sketch of possible gunman in 1975 killing of Long Beach officer
---
The stories shaping California
Get up to speed with our Essential California newsletter, sent six days a week.
You may occasionally receive promotional content from the Los Angeles Times.