Defense attempts to discredit DNA evidence in Grim Sleeper trial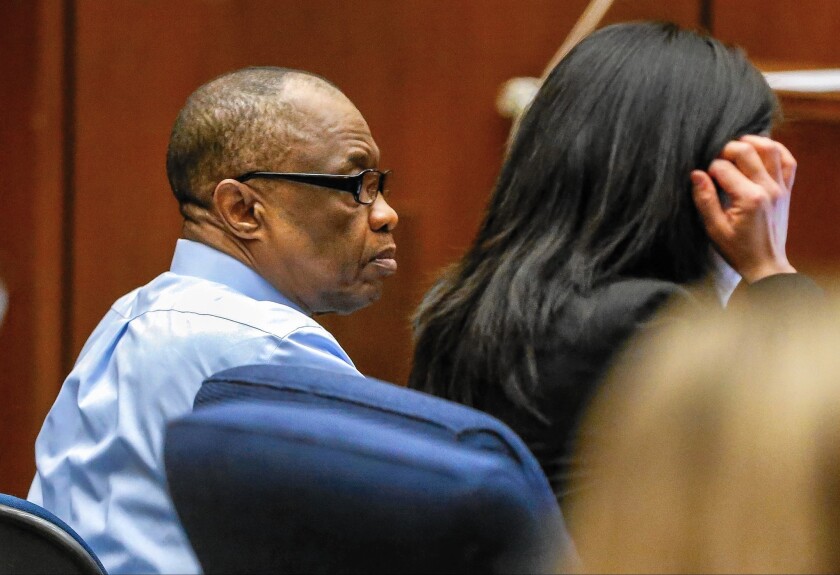 Prosecutors continued to press their case Wednesday that DNA evidence linking the deaths of several women to the man accused of being the "Grim Sleeper" killer was overwhelming.
That DNA evidence has been the focus of testimony this week in the trial of Lonnie Franklin Jr., who prosecutors say is responsible for a series of slayings in South Los Angeles spanning more than 20 years.
Franklin faces 10 counts of murder in the deaths of nine women and a 15-year-old girl and one count of attempted murder.
Franklin, 63, has pleaded not guilty.
On Wednesday, jurors in the downtown Los Angeles courtroom once again heard from Cristina Gonzalez, a criminalist with the Los Angeles County Sheriff's Department, who testified that DNA evidence found on the body of Lachrica Jefferson, who was found dead of two gunshot wounds in L.A.'s Westmont neighborhood in 1988, matched Franklin's DNA profile.
Gonzalez had testified Tuesday that DNA evidence retrieved from the body of 15-year-old Princess Berthomieux also matched Franklin's profile. Berthomieux was found strangled and beaten to death in an Inglewood alley in 2002.
Jurors on Tuesday also heard from Supria Rosner, a criminalist with the Los Angeles Police Department, who testified that Franklin's DNA profile matched DNA evidence found on the bodies of Barbara Ware and Bernita Sparks.
Franklin's defense attorney, Seymour Amster, has sought to discredit the DNA evidence, which looms as crucial to the prosecution's case.
He resumed that tack while questioning Gonzalez, presenting a series of hypothetical situations suggesting that the procedures and policies used to conduct the DNA analyses could have been faulty.
As Rosner did a day earlier, Gonzalez insisted that her analyses and those of her colleagues were sound and adhered to proper protocols.
Prosecutors have said that all the victims were connected to Franklin either by DNA, firearm evidence or both.
LAPD Det. Donald Hrycyk took the stand Wednesday to recount arriving at a Hyde Park alleyway in August 1986 to investigate the death of a woman found under a mattress with two gunshot wounds.
The body was later identified as Henrietta Wright, 35, considered the Grim Sleeper's second victim. The woman appeared to have been killed elsewhere and dumped in the alley because there was no physical evidence of the killing at the scene, Hrycyk said.
About a year later, he began investigating the death of Bernita Sparks, whose body was found in a trash bin in the 9400 block of South Western Avenue.
He noticed similarities between the two victims, he told the court. Both were young African American women who were shot in the chest and apparently dumped in or near South Los Angeles alleys, he said. Neither was found with identification, and both seemed to be intentionally hidden.
Investigators would eventually link the deaths of those victims and others to the Grim Sleeper, who authorities said continued to kill for decades while targeting vulnerable young women in South Los Angeles.
See more of our top stories on Facebook >>
For more Los Angeles court news, follow @sjceasar
ALSO
Ex-state Sen. Leland Yee gets 5 years in prison in corruption case
A grisly discovery: Boy walking home from school finds dead baby in Long Beach alley
CarMax salesman killed when Corvette crashes in test drive; friends hold prayer circle
---
The stories shaping California
Get up to speed with our Essential California newsletter, sent six days a week.
You may occasionally receive promotional content from the Los Angeles Times.