Grim Sleeper serial killer trial begins, years after slayings terrorized South L.A.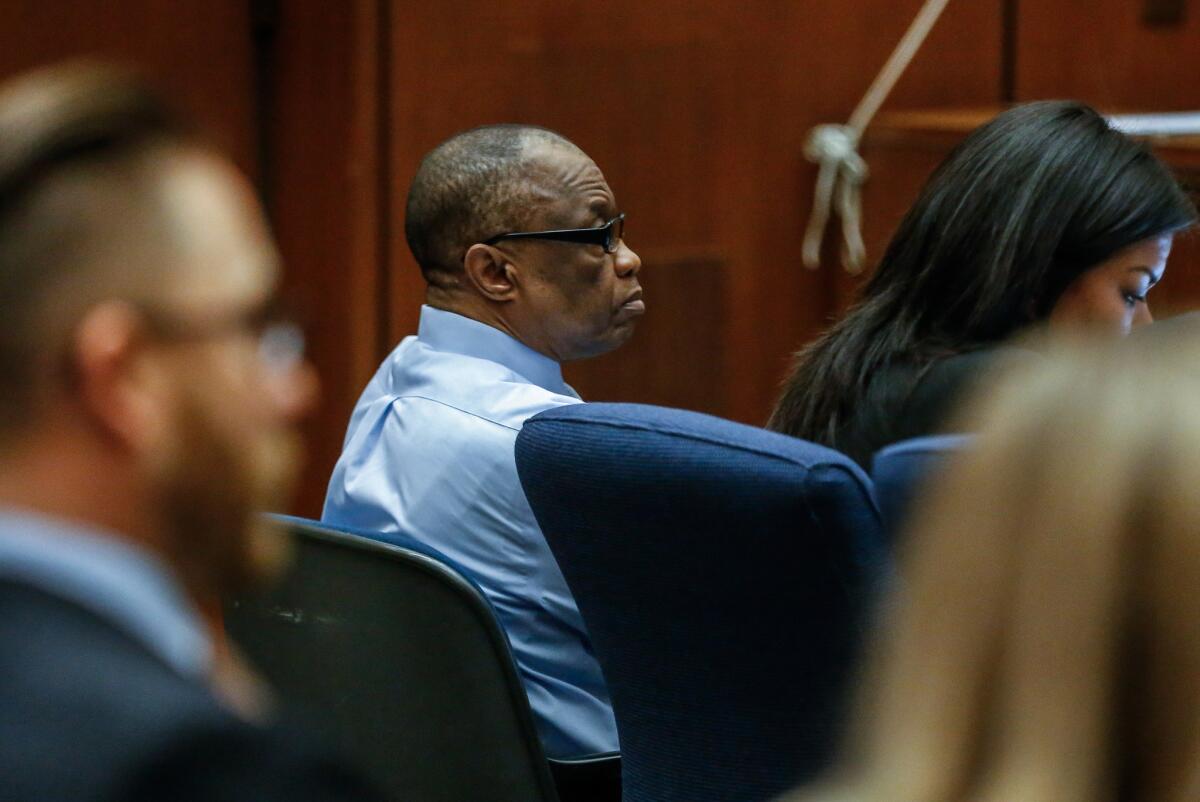 Debra Jackson, a 29-year-old waitress, was discovered shot in the chest three decades ago in an alley. The body of Janecia Peters, 25, was found in a dumpster in 2007. There were at least eight other women. And one who got away.
They were young and black and leading troubled lives. Most were killed along a corridor in the Manchester Square neighborhood of South Los Angeles. Each was initially labeled Jane Doe.
Police kept the cases quiet — a decision that later led to outrage over what seemed a disregard for the victims as well as the community's safety. The slayings were eventually linked to a serial killer, dubbed the Grim Sleeper.
When affable Lonnie Franklin Jr., a former Los Angeles police garage attendant and city garbage collector, was arrested in the case in 2010, it shocked residents but signaled a key moment in the search for justice for a region that has often felt marginalized when it comes to solving homicides.
On Tuesday, as Franklin's capital murder trial began in a downtown Los Angeles courtroom, Deputy Dist. Atty. Beth Silverman told jurors the victims were especially vulnerable to someone who knew the South Los Angeles streets and alleys by heart. At a time when crack cocaine was devastating the community, Franklin had preyed on susceptible women, some of whom worked as prostitutes, luring them into the isolation of his car with the promise of drugs, she said. All but one tested positive for narcotics. Their bodies were later "dumped like trash."
As she spoke, gruesome photos were projected onto a screen: Valerie McCorvey's half-naked body left in the street, ligature marks etched into the 35-year-old's neck; Peters folded into a fetal position, her head and hands seen through a hole in a black garbage bag; Alicia Alexander, 18, found nude and underneath a mattress in an alley.
The images elicited gasps and whimpers from courtroom spectators. A woman covered her eyes and collapsed into the man beside her, who buried his head in his hands and wept.
Franklin, 63, wearing a blue button-down shirt and tie, stared ahead, never turning to look at the photos.
Silverman said jurors at one point will view video of Franklin's interrogation by police. "Pay close attention to his body language and his conduct during that interview process as he laughs and makes light of the photos of the dead women lying on the table in front of him," she said.
A search of Franklin's home resulted in 800 items of evidence, including 10 guns, one of which matched the bullet that struck Peters in the spine, Silverman said. A photo of Peters, her breast exposed, was found in a refrigerator in Franklin's garage.
The defense declined to give an opening statement, but will have the opportunity to do so after the prosecution rests.
Former LAPD Det. Dennis Kilcoyne, the first witness called, said it was Peters' 2007 slaying that prompted the search for a serial killer after the attacker's DNA matched two earlier cases. Then-LAPD Chief William J. Bratton ordered up a task force to search for related killings. "We started connecting the dots," Kilcoyne said.
The controversial DNA evidence that pointed to Franklin will probably be argued at length between a prosecutor and a defense attorney whose interactions at earlier hearings have been contentious. Hundreds of potential jurors — warned that the case may take about three months and possibly feature more than 400 witnesses — were asked their thoughts on DNA analysis and interpretation in a 31-page questionnaire.
In 2008, officials collected DNA data from state prisoners, hoping for a hit on the Grim Sleeper. Nothing turned up. A year later, then-state Atty. Gen. Jerry Brown approved a new technique that allowed officials to check whether a crime suspect's DNA partially matches anyone in the state's offender DNA database.
The "familial search" for the Grim Sleeper came up with a name: Christopher Franklin. Arrested in 2008 and charged with firearm and drug offenses, he had been required to submit his DNA. His father was Lonnie Franklin.
Interested in the stories shaping California? Sign up for the free Essential California newsletter >>
Police focused on the elder Franklin, tailing him to ensure he was a DNA match. A detective posing as a busboy at a restaurant collected a discarded pizza crust, fork, napkin, drinking glass and cake crumbs.
Last year, Franklin's attorneys said that an expert hired by their team had determined that DNA collected from two crime scenes linked to their client matched convicted serial killer Chester Turner. The judge ruled that their expert wasn't qualified to testify. In court papers, the defense also listed more than a dozen other men as potential sources of DNA found at crime scenes tied to Franklin.
Turner — convicted of killing 14 women, many of whom were found in an area straddling Figueroa Street — was among a handful of serial killers in Los Angeles County targeting women during the 1980s and 1990s at the height of the crack cocaine epidemic. Ivan J. Hill, known as the 60 Freeway Slayer, strangled women in the San Gabriel Valley. Michael Hughes targeted women who had drug problems, dumping three of them in a commercial area of Culver City. Samuel Little choked his victims, leaving their bodies in alleyways or abandoned garages.
See the most-read stories this hour >>
The Grim Sleeper, however, has been called the most enduring serial killer of the group, continuing to kill for decades. It's a distinction that angers many who attribute the murders to an indifference toward the victims.
"It's been wrenching for the families, demoralizing for the community," said Margaret Prescod, an activist who believes the victims' race was a factor in the cases going unsolved. She has pushed for more than two decades for authorities to be more aggressive.
"Everybody remembers the young blond who was killed in Aruba, and rightly they should," Prescod said. "But meanwhile you have all these women in South L.A. and they didn't get the same attention. They're considered the riffraff of society." She added that Enietra Washington, the lone survivor who escaped as a 30-year-old in 1988, didn't know for two decades that she had encountered a possible serial killer.
Prescod, who acts as an advocate for victims' families, also said the women's line of work and drug problems should be de-emphasized. "That doesn't mean they should be killed, that their lives should be devalued."
Franklin faces 10 counts of murder and one of attempted murder, but investigators suspect that he is responsible for additional deaths. LAPD detectives had continued to search for victims after Franklin's arrest, publicly releasing photos of unidentified women found inside his home.
After reviewing hundreds of unsolved homicides and missing person reports, they announced in 2011 that they had traced six more killings to Franklin. By then, the complicated case was moving sluggishly toward trial. In a strategic decision, police decided against seeking additional charges out of fear it would lead to even more delays.
For those who have sat through numerous court proceedings over the last five years, the first day of testimony was about progress and pain.
After court ended, Porter Alexander walked slowly down the hallway, struggling to speak about the daughter found dead at 18 and the grisly images that had been displayed.
"To sit there and see all the trauma that those young girls endured," he said. "I don't have the words."
corina.knoll@latimes.com
stephen.ceasar@latimes.com
For more Southern California courts news, follow @corinaknoll and @sjceasar.
ALSO
O.C. deputy fatally shoots man at Yorba Linda hotel
Looting prompts closures at mining sites in Joshua Tree
Blame the balloons: Thousands without power in South L.A., other areas
Sign up for Essential California for news, features and recommendations from the L.A. Times and beyond in your inbox six days a week.
You may occasionally receive promotional content from the Los Angeles Times.