Bel-Air mega-mansion developer Mohamed Hadid sentenced with community service, fines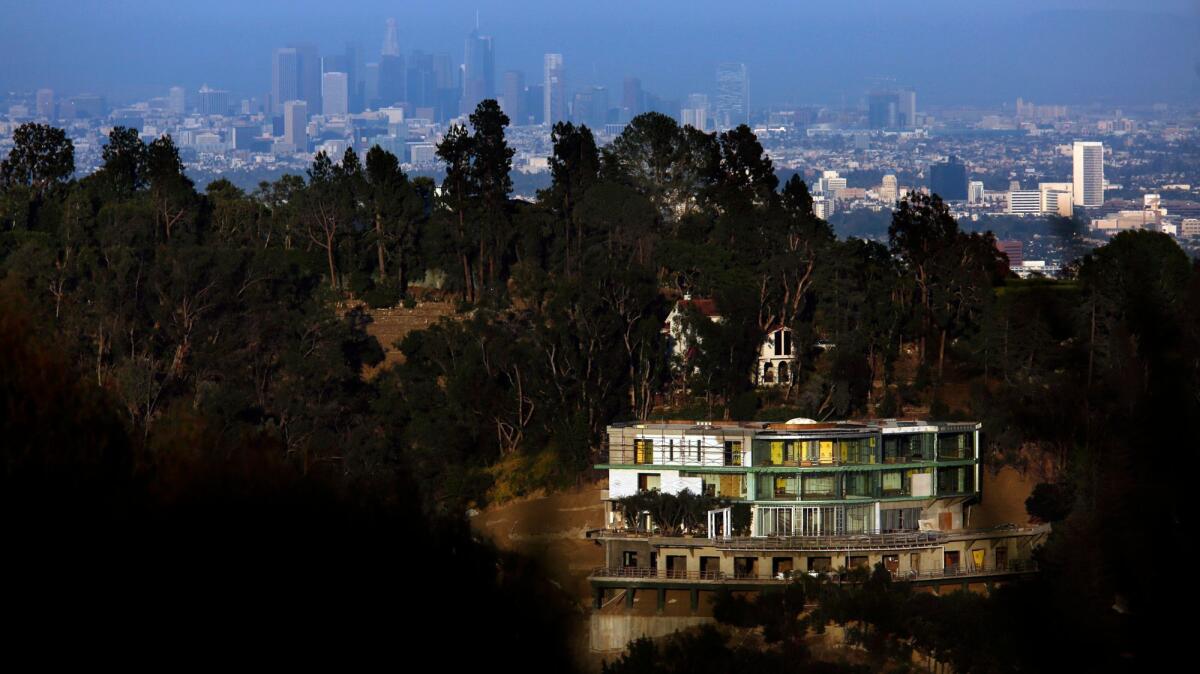 Real estate developer Mohamed Hadid must do community service, pay fines and put forward a plan to stabilize a Bel-Air hillside after pleading no contest to criminal charges tied to a mammoth mansion in the hills of Bel-Air.
It remains undecided whether Hadid will be required to secure a bond to cover the costs of tearing down the roughly 30,000-square-foot house if it cannot be legally finished. The fate of the mansion will depend on whether Hadid can get city approval to continue construction.
"We're interested in one thing and one thing only … bringing this building into compliance," his attorney Robert Shapiro told reporters Thursday after a sentencing hearing. "I can assure you that when this building is complete, it will be one of the most beautiful homes in Bel-Air, if not the country."
Hadid was accused of illegally building a colossal home that was bigger and taller than city rules allowed. The Strada Vecchia Road mansion had bedrooms, decks and an IMAX theater that the city said were never approved, according to court documents filed by prosecutors.
Los Angeles officials demanded a halt to construction three years ago and later yanked permits for the home. But the building department said that construction continued illegally on the massive house, defying the city order.
At Thursday's hearing, Superior Court Judge Eric Harmon imposed three years of probation under a host of requirements, including more than $3,000 in fines, 200 hours of community service and payment of more than $14,000 to the city to cover building department costs, along with an additional amount yet to be decided to the Los Angeles Department of Water and Power.
Hadid must also hire an engineer to craft a plan to stabilize the hillside. At the hearing, Harmon said the developer needed "to fix it and fix it soon."
"It's not fair to have mud and water running through a neighborhood for years on end," the judge said, referring to complaints from neighbors about dirt tumbling down the hillside.
However, Harmon decided not to impose jail time on Hadid for the misdemeanor charges. He also rejected a proposed requirement for the developer to pay $250,000 to a community fund, saying he didn't think it would be legal.
The judge has not decided whether Hadid will be required to obtain a bond that covers the cost of tearing down the house if the developer is unable or unwilling to finish it legally — a requirement that prosecutors had sought to ensure that the city was not on the hook for those costs. Demolition could cost more than $1 million, Senior City Atty. Tina Hess said in court. Another hearing will be held later this year to decide the issue.
Hadid, who did not appear in court Thursday, is a flashy figure known for his opulent homes for the rich, his supermodel daughters Bella and Gigi, and his stints on reality television.
His attorneys have argued in the past that he was not the one responsible for getting permits. They have also emphasized that the Strada Vecchia house was repeatedly inspected by the city during construction. And Shapiro said Thursday that the building was "as safe as any building that's ever been built."
Neighbors said they feared that the hillside above them had been dangerously destabilized. The Bel-Air Assn., a homeowner group, urged "the stiffest financial and incarceration penalties possible," complaining that Hadid had repeatedly flouted the law and shown "zero concern for his neighbors."
"These were serious violations," City Atty. Mike Feuer said in a statement. "The conditions we fought for, and which the court granted, are essential for the safety of this community."
But some neighbors who showed up in court Thursday were dismayed that Hadid would not face stiffer punishment. Steve Twining, president emeritus of the Bel Air-Beverly Crest Neighborhood Council, called the sentence "atrocious."
"He should be in jail," Twining said. "He violated the city's ordinances over and over again."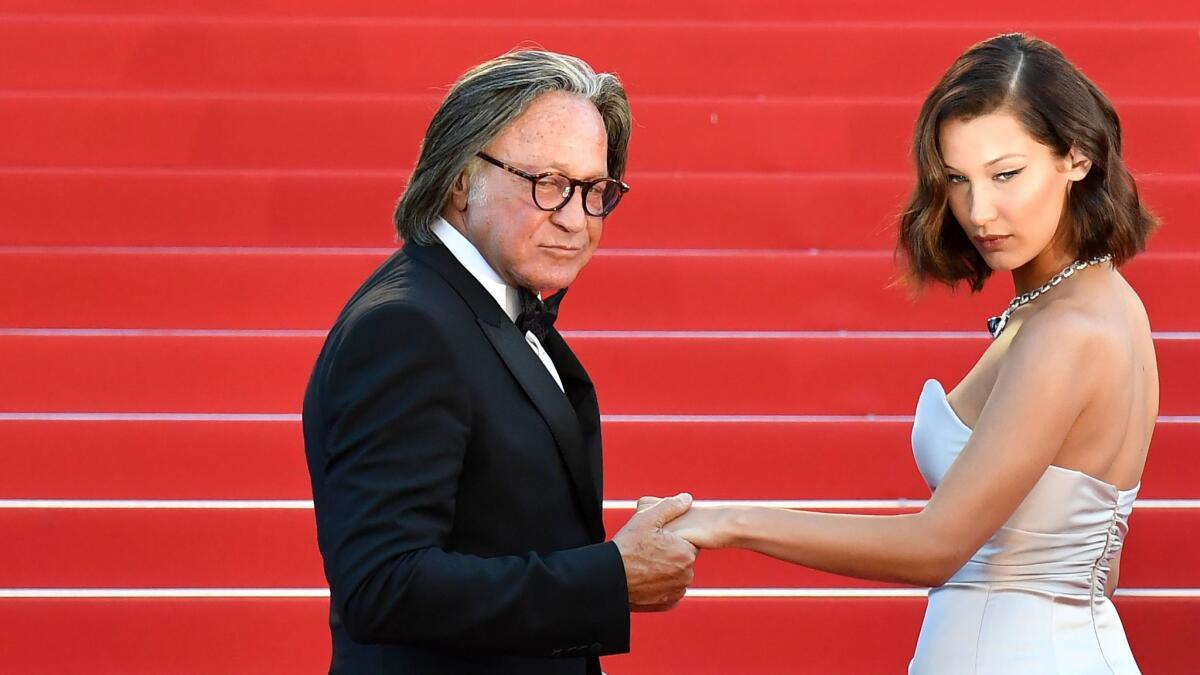 Hadid has turned in revised plans for the Strada Vecchia mansion in an attempt to get new permits. But City Councilman Paul Koretz, who represents the area, has urged city officials to declare the "hazardous building" a nuisance and force it to be torn down — an idea cheered by some neighbors.
"We cannot teach developers that it is better to ask forgiveness than to ask for permission," the councilman wrote in a letter to building department head Frank Bush last month.
Hadid and his attorneys have repeatedly rejected that idea, saying that the unfinished home is not a nuisance and will be brought in line with city rules. Shapiro said Thursday that demolishing the home would take tremendous effort and inconvenience the community — an assertion that triggered hissing and shouts of "No" from some neighbors in the courtroom.
Finishing the house could take 3½ years, a building department official said during the hearing. Shapiro said it could be completed within two years.
But city officials pointed out that Los Angeles has imposed additional rules for building in the area since Hadid first began construction, which could make the process drag out longer.
Twitter: @LATimesEmily
ALSO
Forum owners sue Inglewood over efforts to lure Clippers
Griffith Park groups press on with legal battle over access to Hollywood sign trail
Baldwin Hills mall may soon get a makeover that would add more than 900 housing units
Massive Valley blackout again puts spotlight on L.A.'s failing infrastructure
New Wilshire Grand hailed as a 'gorgeous nest' for Los Angeles
---
UPDATES:
3:50 p.m.: This article was updated with additional details from Thursday's hearing.
This article was originally published at 11:30 a.m.
Sign up for Essential California for news, features and recommendations from the L.A. Times and beyond in your inbox six days a week.
You may occasionally receive promotional content from the Los Angeles Times.