Hannah Anderson case: Search warrants reveal new details
Phillip Garrido enters a courtroom in Placerville, Calif. Phillip Garrido was sentenced to 431 years in prison for Jaycee Dugard's abduction.
(Rich Pedroncelli / Associated Press)
A tent in the backyard of a home in Antioch, Calif., where authorities say kidnap victim Jaycee Lee Dugard lived.
(Paul Sakuma / Associated Press)
Elizabeth Smart addresses the media outside a federal courthouse following the guilty verdict in the Brian David Mitchell trail in Salt Lake City. Mitchell was found guilty in the June 5, 2002, kidnapping of Elizabeth Smart.
(Colin E. Braley / Associated Press)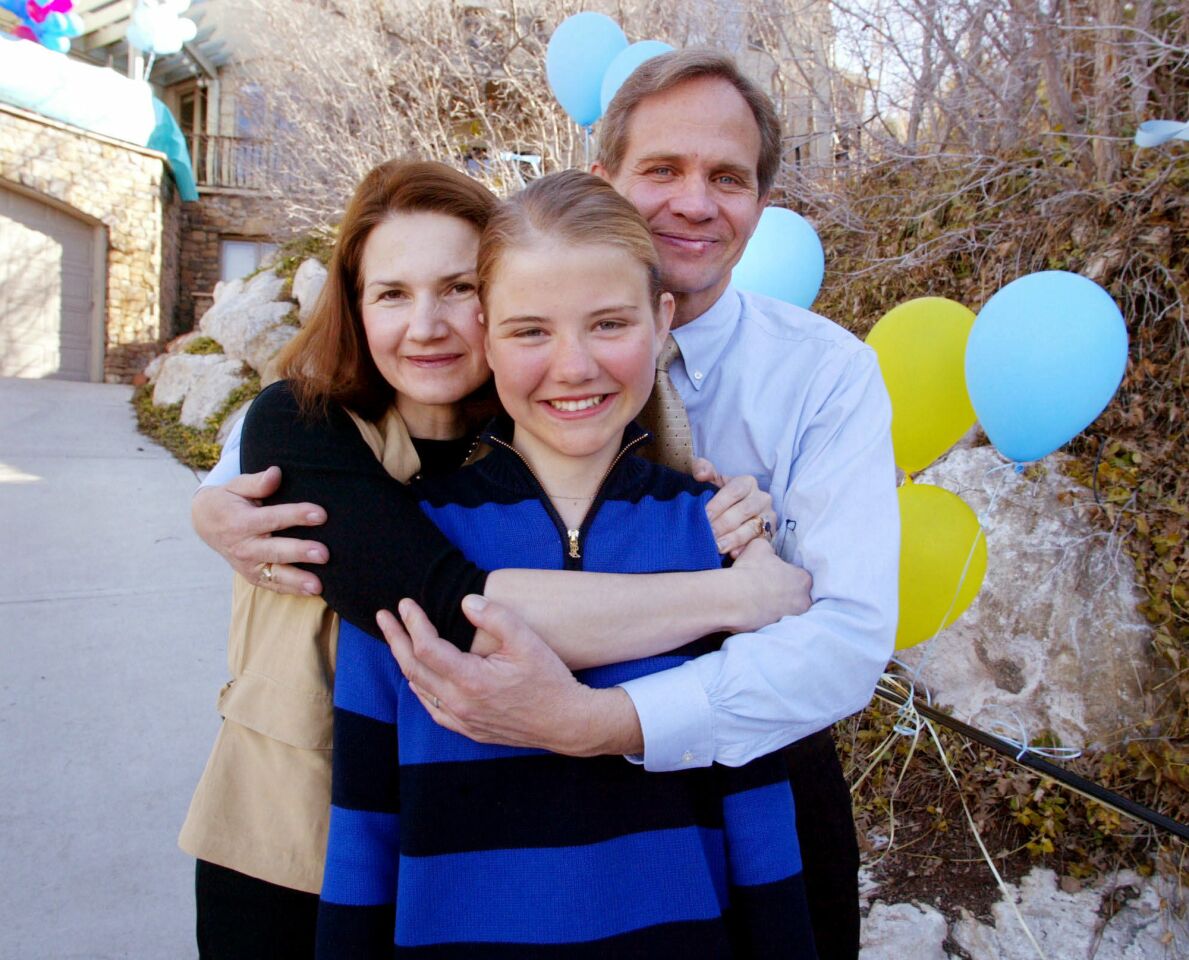 Elizabeth Smart poses with her parents, Lois and Ed, outside their home in 2003. Smart was abducted from her Salt Lake City bedroom in 2002
(Tom Smart / Associated Press)
Brian David Mitchell, Elizabeth Smart's kidnapper, is escorted into the Frank E. Moss Federal Courthouse in Salt Lake City in 2010.
(Jim Urquhart / Associated Press)
Katie Beers, whose kidnapping attracted nationwide headlines in 1992, poses for a photo in Old Westbury, N.Y. The 30-year-old mother of two co-wrote a new book about her ordeal.
(Frank Eltman / Associated Press)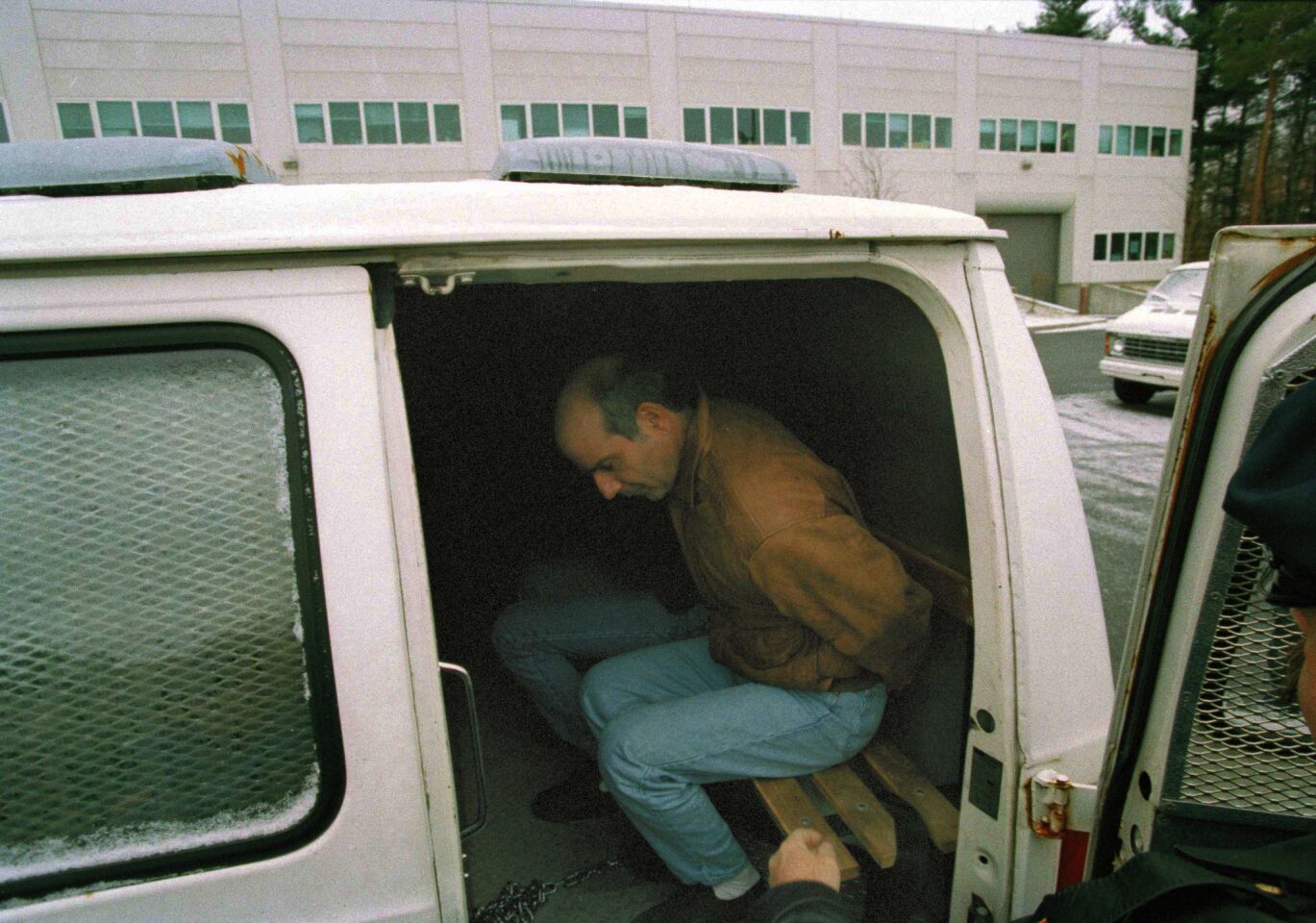 John Esposito sits handcuffed in a van in Hauppauge, N.Y., as he is about to be taken to court for arraignment on charges of kidnapping Katie Beers.
(Michael Albans / Associated Press)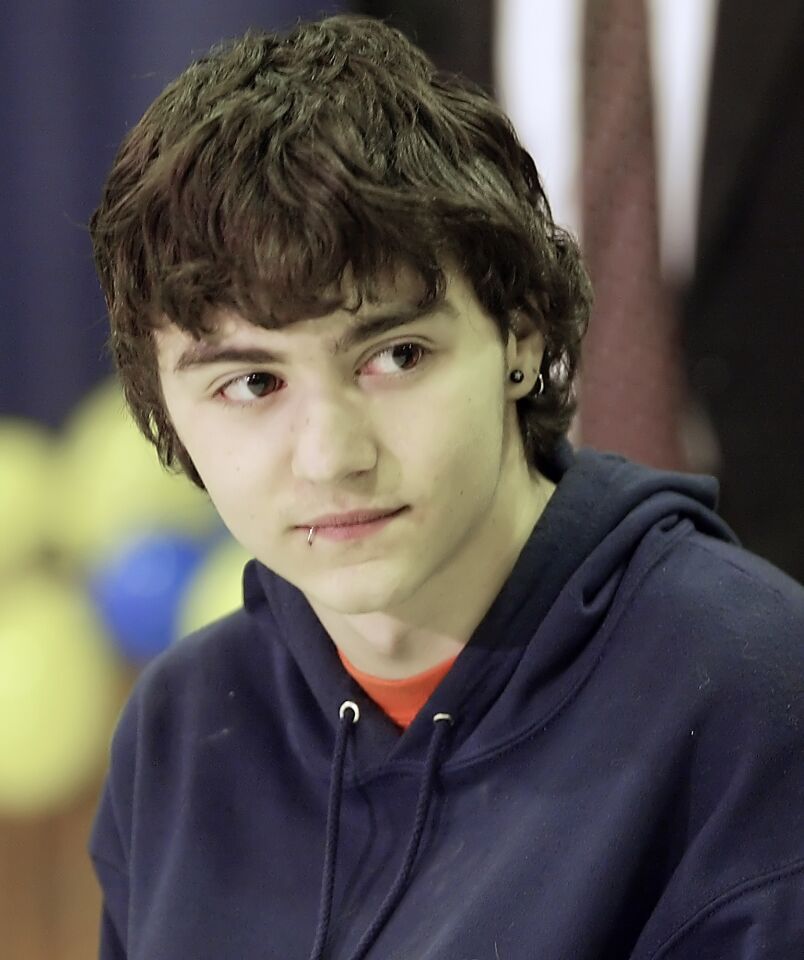 Shawn Hornbeck, 15, watches as his parents Craig and Pam Akers talk to the media in Richwoods, Mo. Shawn, who was missing since Oct. 2002, was recovered in 2007 with another missing boy.
(Tom Gannam / Associated Press)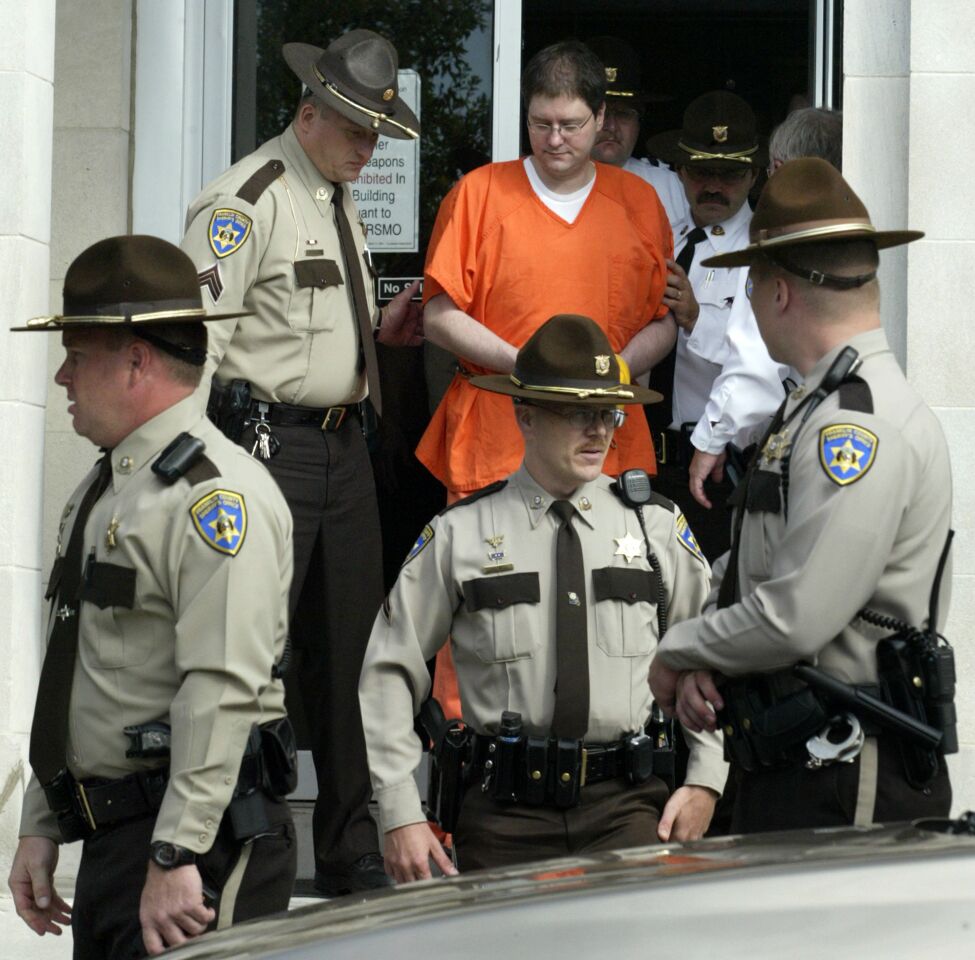 Michael Devlin is escorted out of the Franklin County Courthouse in Union, Mo. Devlin pleaded guilty in Franklin County to one charge of child kidnapping and one count of armed criminal action in the 2007 abduction of 13-year-old William "Ben" Ownby.
(Tom Gannam / Associated Press)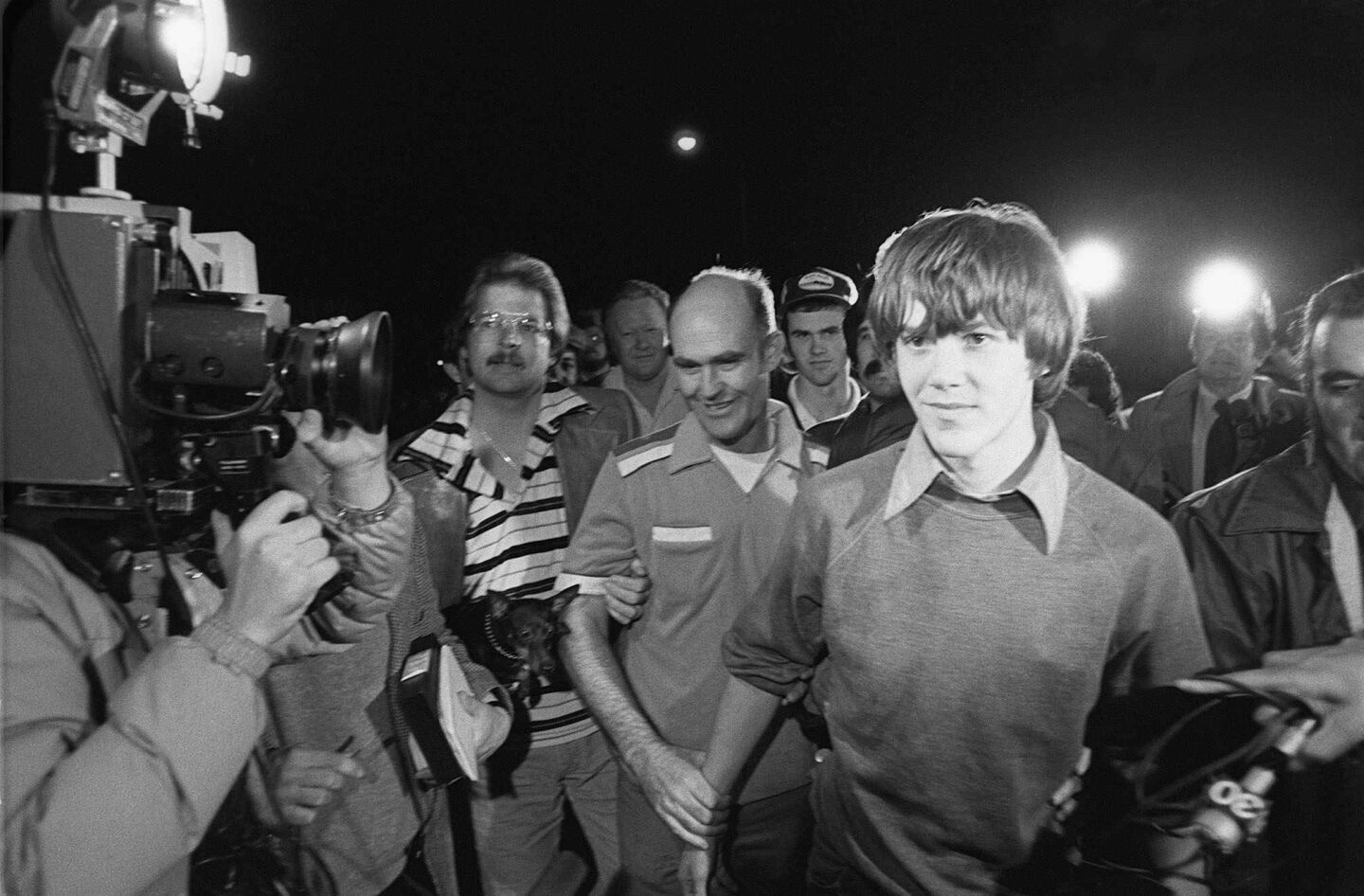 Steven Stayner, right, and and his brother Delbert Stayner walk toward their Merced County home as Steven was reunited with his family following a 7-year kidnap ordeal.
(Ted Benson / Associated Press)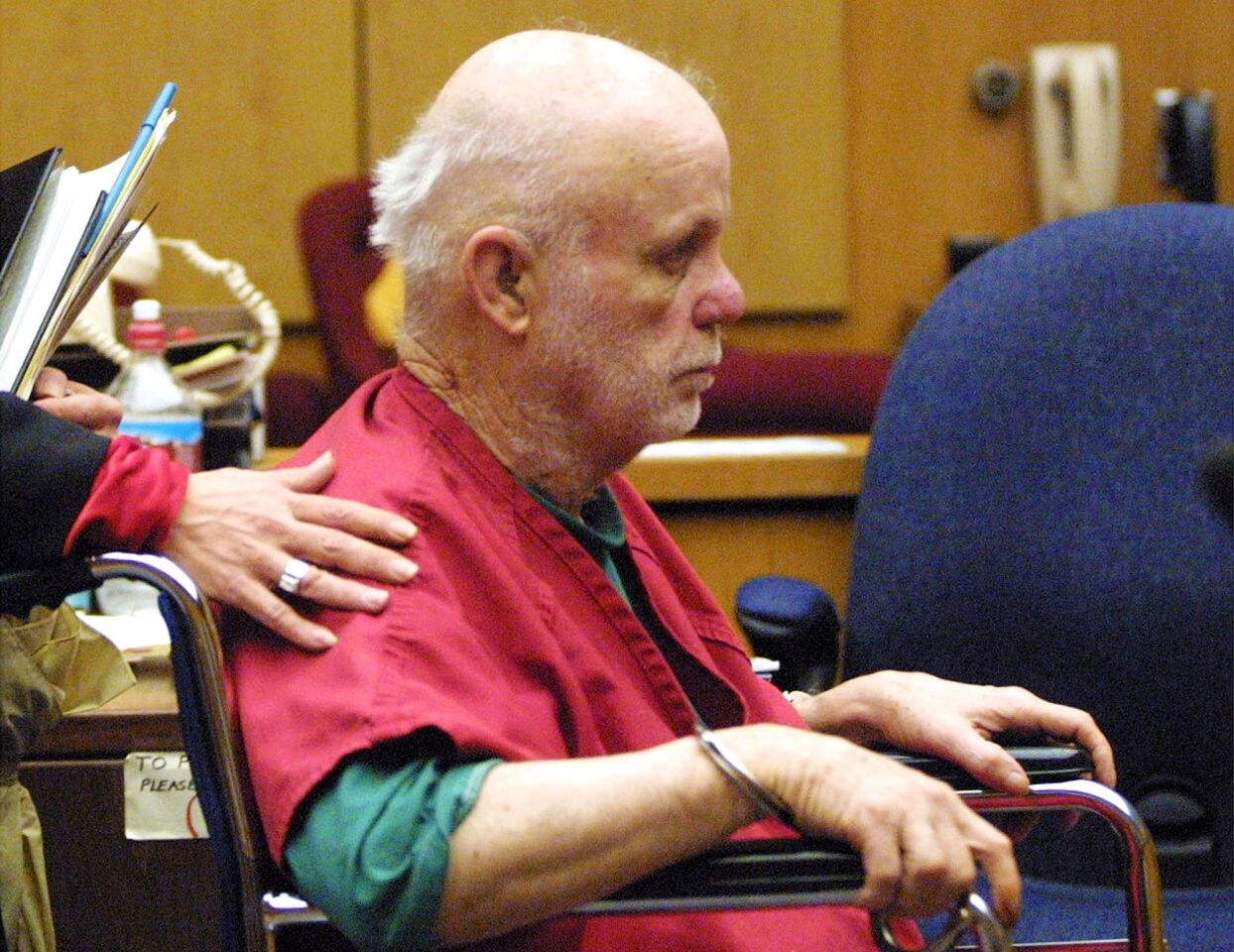 Convicted kidnapper Kenneth Eugene Parnell during a court appearance in Oakland in 2003. Parnell was convicted in the kidnappings of Steven Stayner in 1972 and Timothy White in 1980.
(Nick Lammers / Associated Press)
The family of James Lee DiMaggio struggled to come to grips with the latest revelations included in a series of search warrants released this week as part of the investigation into the abduction of San Diego County teen Hannah Anderson the murder of her mother and younger brother.
Letters from 16-year-old Hannah were among the items seized from DiMaggio's San Diego property, as were handcuff boxes, used condoms and incendiary devices, according to the warrants.
Authorities did not detail what the letters -- or another handwritten note -- said.
Empty boxes of camping gear and ammunition, a Yosemite camping printout, "arson wire," model rocket containers and cut electrical cords were also recovered.
The documents released provided a glimpse into the nearly weeklong search for the 16-year-old Anderson and the slaying of her mother and brother, who were found dead Aug. 4 at DiMaggio's burning property.
Authorities allege DiMaggio -- so close a friend to the Anderson family that the children called him Uncle Jim --"tortured and killed" Hannah's mother and brother before kidnapping the teen, eventually taking her to a remote stretch of Idaho back country.
Other warrants showed an unknown person picked Hannah up from cheerleading practice the afternoon of Aug. 4. Phone records showed that prior to her phone and DiMaggio's phones being shut off, the pair called each other about 13 times, but authorities did not specify over what time period those calls took place.
But Andrew Spanswick, a spokesman for DiMaggio's family, told The Times this week that the narrative of a man bent on death and destruction was a far cry from the person described by his sister in an interview with KGTV-TV (Channel 10) as the "kindest, sweetest soul that you could eve imagine meeting."
"They were great friends, they've known each other for years," Robinson told the San Diego ABC affiliate. "My children played with Hannah when she was little … they had a lot of good times together.
"He took care of them as if they were his own."
In seclusion, DiMaggio's family is now trying to come to terms with allegations that the 40-year-old of kidnapping Hannah, but also the brutal murders of her mother, Christina Anderson, and 8-year-old brother, Ethan.
Spanswick said that while DiMaggio's family isn't trying to excuse what happened, it's important to them to try to find some sort of explanation to achieve a sense of closure.
"Condemning doesn't mean you shouldn't still look for an explanation," he said.
ALSO:
Debbie Rowe reveals personal moments with Michael Jackson
Family to Rockefeller impostor: 'Why did you kill my brother?'
Mayor Bob Filner could be ousted under obscure city charter provision
kate.mather@latimes.com
tony.perry@latimes.com
jason.wells@latimes.com
---
Life is stressful. Our weekly mental wellness newsletter can help.
You may occasionally receive promotional content from the Los Angeles Times.