Family of Anaheim girl shot by an officer cries for 'answers that we deserve'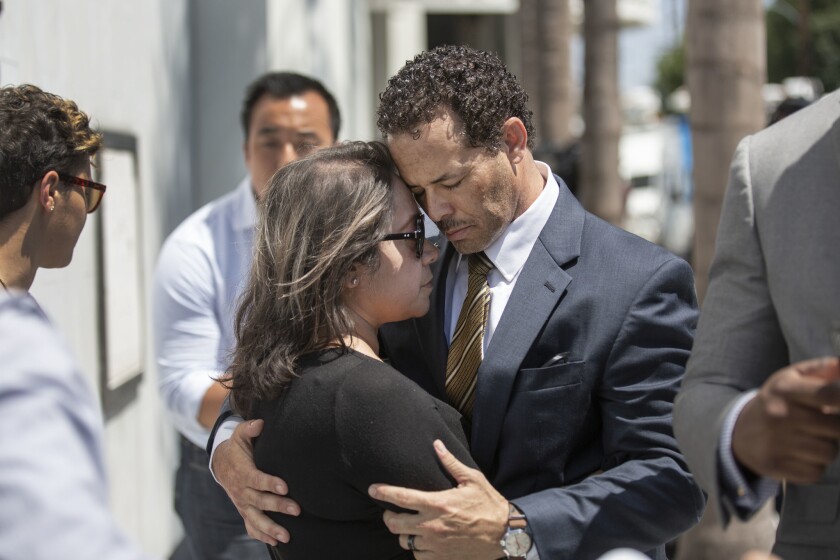 On the evening she died, Hannah Williams jumped into a rental car to run an errand a few miles from her home. But without a driver's license — the teen lifeguard had just applied for a learner's permit — her family believes that it's likely she didn't know what to do when she ended up on an Anaheim highway.
Yet something unfolded on July 5 that forced her to maneuver onto the 91 Freeway. That's where an on-duty Fullerton police officer's bullet struck her, officials said, leaving her loved ones desperately trying to piece together her final minutes while demanding the release of footage attached to the shooter's body camera.
On Thursday, the 17-year-old's father, mother, sister and grandmother gathered in Santa Ana, some of them quietly weeping outside the Orange County district attorney's office, to renew cries for "answers that we deserve to hear."
S. Lee Merritt, a civil rights attorney who's made a name in police brutality cases nationwide, stood in front of them, saying his clients are "not looking to blame anyone. They just want to know what happened to their child."
Fullerton Police Department officials on Thursday said they would release information behind the shooting, called a Critical Incident Community Briefing that will include footage and photos, through social media. They did not specify a time or date. Meanwhile, Merritt said the family is eager to know whether the person who pulled the trigger about 7 p.m. last Friday has a history with brutality.
The shooter, who has not been named, is a K-9 officer who had been taking his dog to the vet when his marked police SUV made contact with the car carrying Williams. He saw her driving "at a high rate of speed" on the 91 Freeway near Glassell Street, according to the district attorney's office. A replica firearm that looked exactly like a Beretta handgun was discovered next to Williams, who died at a hospital.
The Rev. Jarrett Maupin, a spokesman for the Williams family, called the replica a toy and said police had given them no indication that the victim had been holding it when she was shot.
It's "a mystery," Merritt added, how a girl could go from "a joyous moment" of anticipating Fourth of July weekend festivities with relatives to "a fender-bender with a police officer" on the eastbound 91 Freeway near the Kraemer Boulevard on-ramp. And so far, the narrative given by law enforcement "is completely void" of important details, he added.
Williams, a rising senior at Magnolia High School in Anaheim, had been working as a lifeguard at Knott's Berry Farm. She loved "saving people," said her older sister, Nyla Williams, 19, who flew home from New Mexico to join Thursday's news conference. She was "very kind, very fun," often silly, she added, a happy girl who had hopes of joining the military.
Nyla Williams described her sister as "the most loving person in the world…. She deserved all the stars in the skies."
Benson Williams and Pilar Looney, the victim's father and mother, nodded as their elder daughter spoke. Grandmother Lynn Williams clung to her son. On that final night, family members said Hannah Williams was excited to go to Hollywood, touring the sights with visitors from Houston. That's why the Williams clan rented a car — to chauffeur them around.
Hannah Williams had eaten pancakes and had been "pranking" her nephew, popping Mentos candy into soda to make it explode, before she left in the car. She had been practicing driving on short trips around the block.
"We don't know if she went down the wrong road and then had to get on the freeway," Merritt said, adding that the victim has no history of drugs or alcohol.
Anaheim police are investigating Williams' actions leading up to the incident, while Fullerton police are reviewing whether the officer followed policies and procedures involving deadly force. Meanwhile, the district attorney's office will investigate the officer's actions.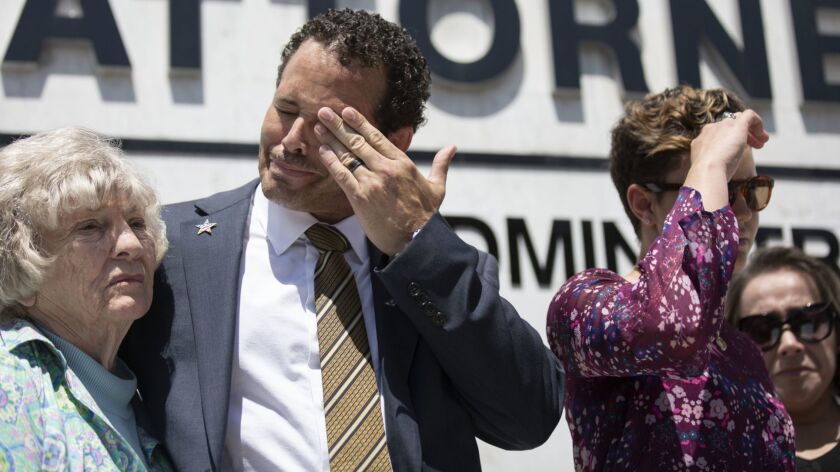 Twitter: @newsterrier
---
The stories shaping California
Get up to speed with our Essential California newsletter, sent six days a week.
You may occasionally receive promotional content from the Los Angeles Times.