Defiant Harvey Weinstein denies sex crime charges. He 'did not invent the casting couch,' attorney says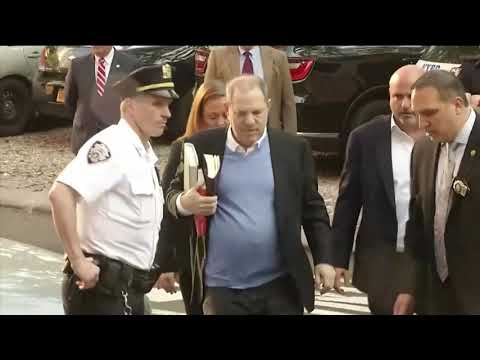 Harvey Weinstein arrives at the New York Police Department's 1st Precinct headquarters Friday morning. 
Reporting from New York —
In a milestone for the #MeToo movement, disgraced movie mogul Harvey Weinstein turned himself in to New York authorities Friday morning, and prosecutors filed criminal charges against him, including rape.
Weinstein was charged with rape in the first degree, rape in the third degree and committing a criminal sexual act in the first degree for alleged forcible sexual acts against two women in 2013 and 2004, Manhattan Dist. Atty. Cyrus R. Vance Jr. said in a statement. Authorities have withheld the alleged victims' names, although one is believed to be a woman who went public with allegations against Weinstein in a magazine article last year.

For the record:
5:15 p.m. May 25, 2018A previous version of this article quoted Jane Manning as referring to "correlative witnesses." She said "corroborative witnesses."
On Friday morning, Weinstein was led into a courtroom with his hands cuffed behind his back. He did not speak during the brief appearance.
The judge set his bail at $10 million and restricted his movements to New York and Connecticut. Weinstein consented to 24-hour-a-day GPS monitoring and a temporary restraining order requested by one alleged victim.
Manhattan Assistant Dist. Atty. Joan Illuzzi said in court that Weinstein "used his position and power" to sexually exploit his victims. She said he was being prosecuted for "two separate forcible sexual assaults against two separate women."
Speaking to reporters after the court appearance, Weinstein's attorney, Benjamin Brafman, said the former producer continues to "vehemently deny" any criminal acts. Weinstein, he said, maintains that any sexual acts with the women were consensual and that the charges are "constitutionally flawed."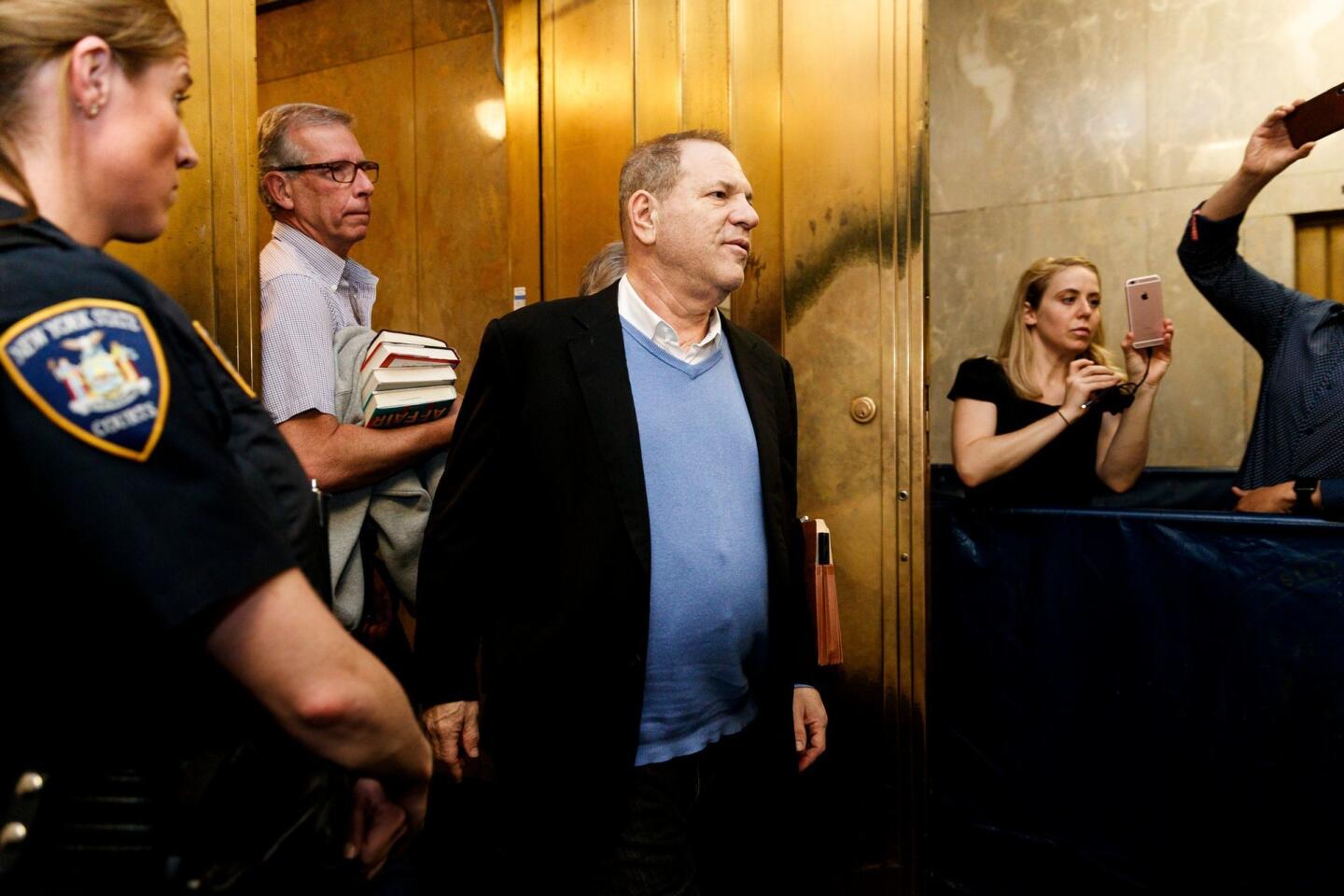 Harvey Weinstein leaves court after being charged with multiple sex crimes in New York.
(Justin Lane / EPA/Shutterstock)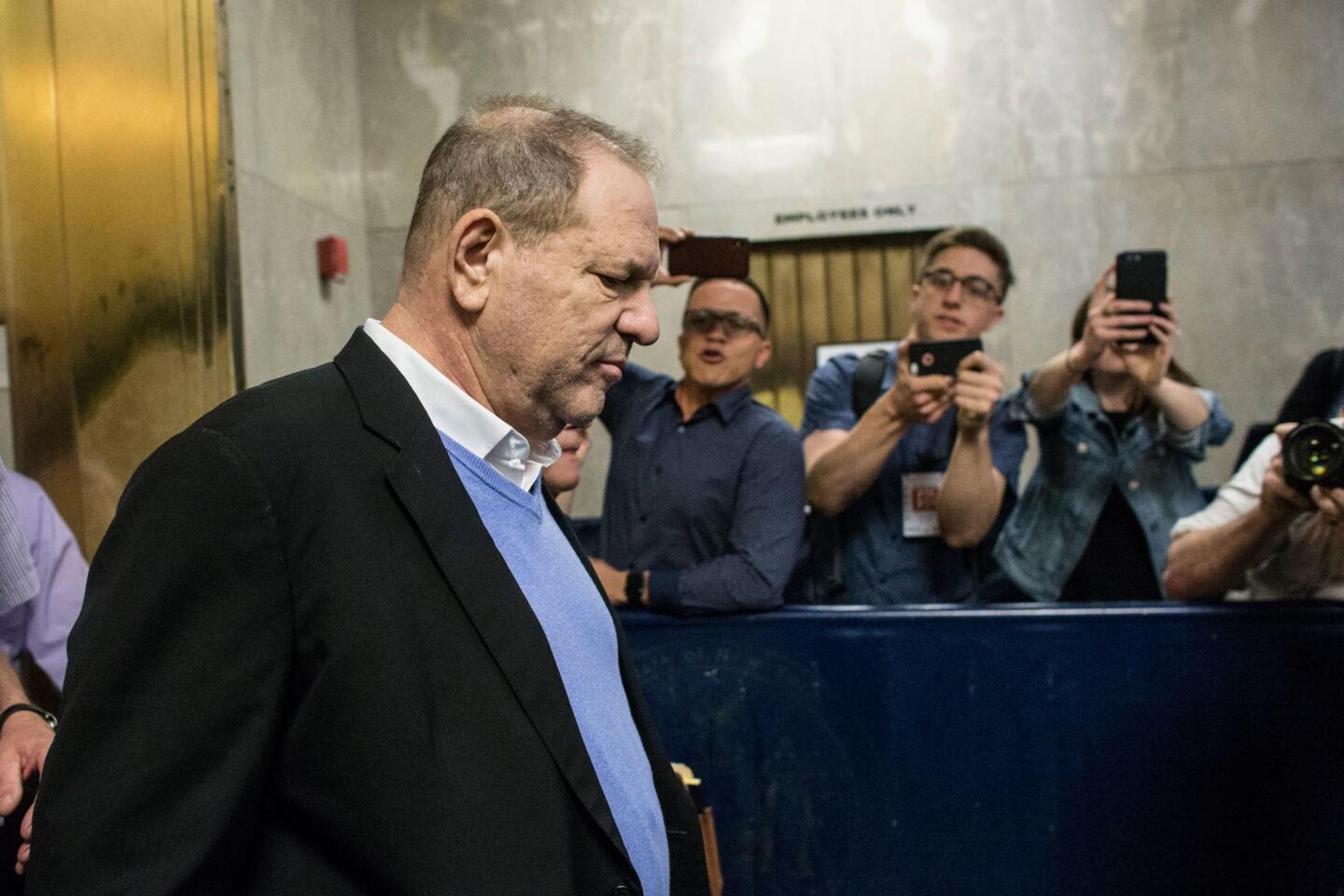 Harvey Weinstein was released on bail after being charged with multiple sexual crimes in New York.
(Kena Betancur / AFP/Getty Images)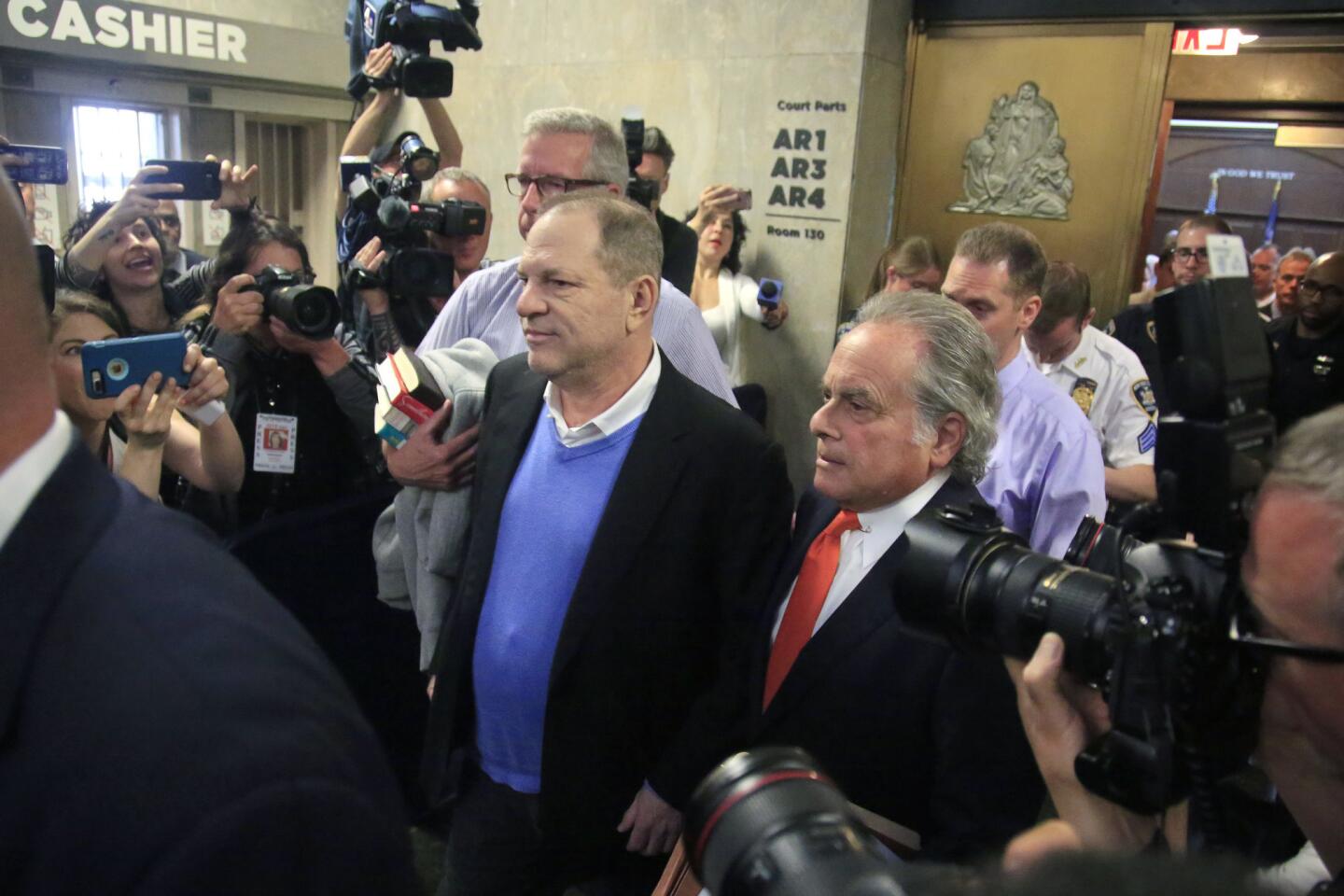 Harvey Weinstein, center, heads for the exit with his lawyer Benjamin Brafman after posting bail at Manhattan Criminal Court.
(Bebeto Matthews / Associated Press)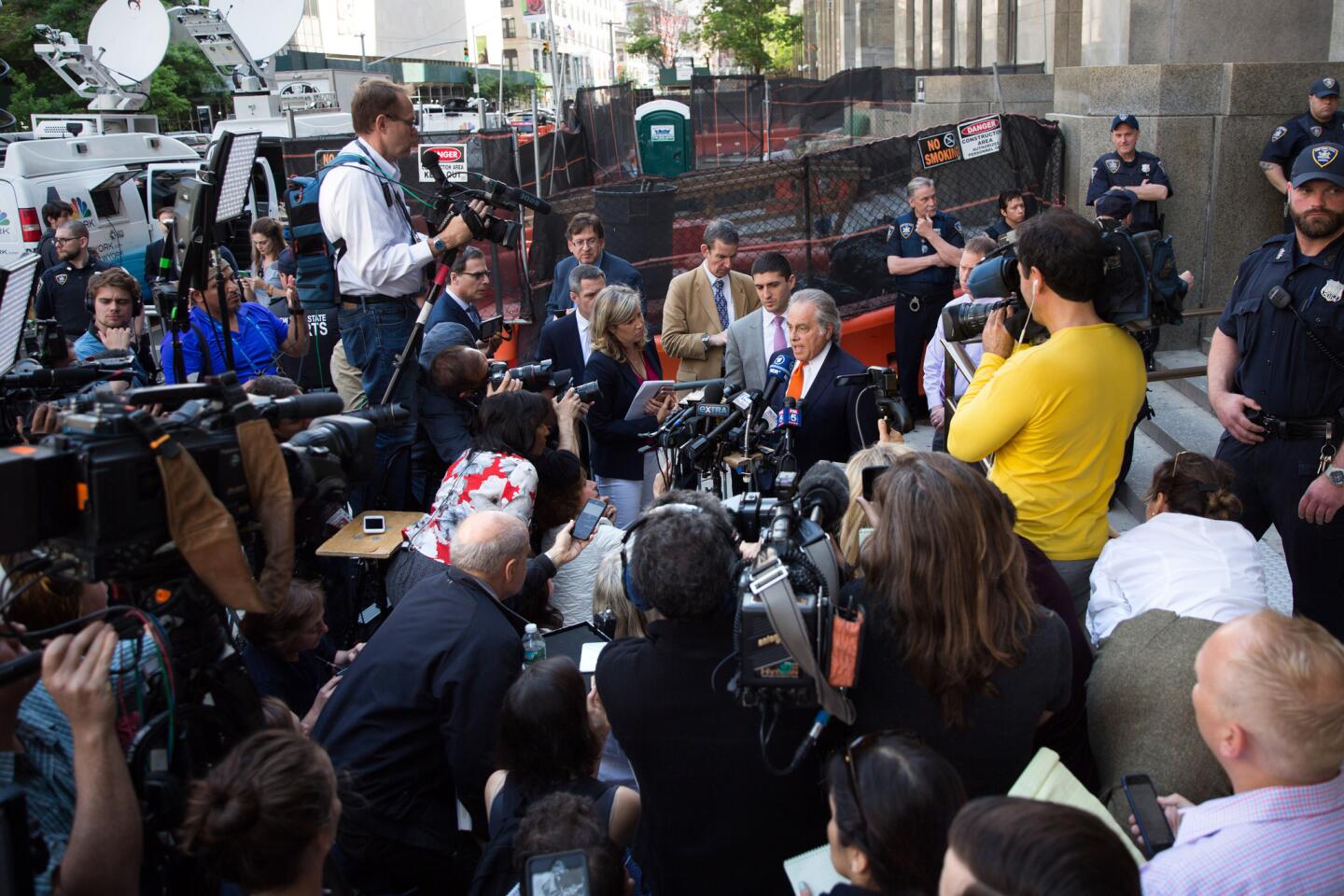 Harvey Weinstein's attorney Benjamin Brafman speaks to the press following Weinstein's appearance in criminal court.
(Kevin Hagen / Getty Images)
Harvey Weinstein leaves the New York Police Department's 1st Precinct headquarters in handcuffs after his arrest on sex crime charges.
(Bryan R. Smith / AFP/Getty Images)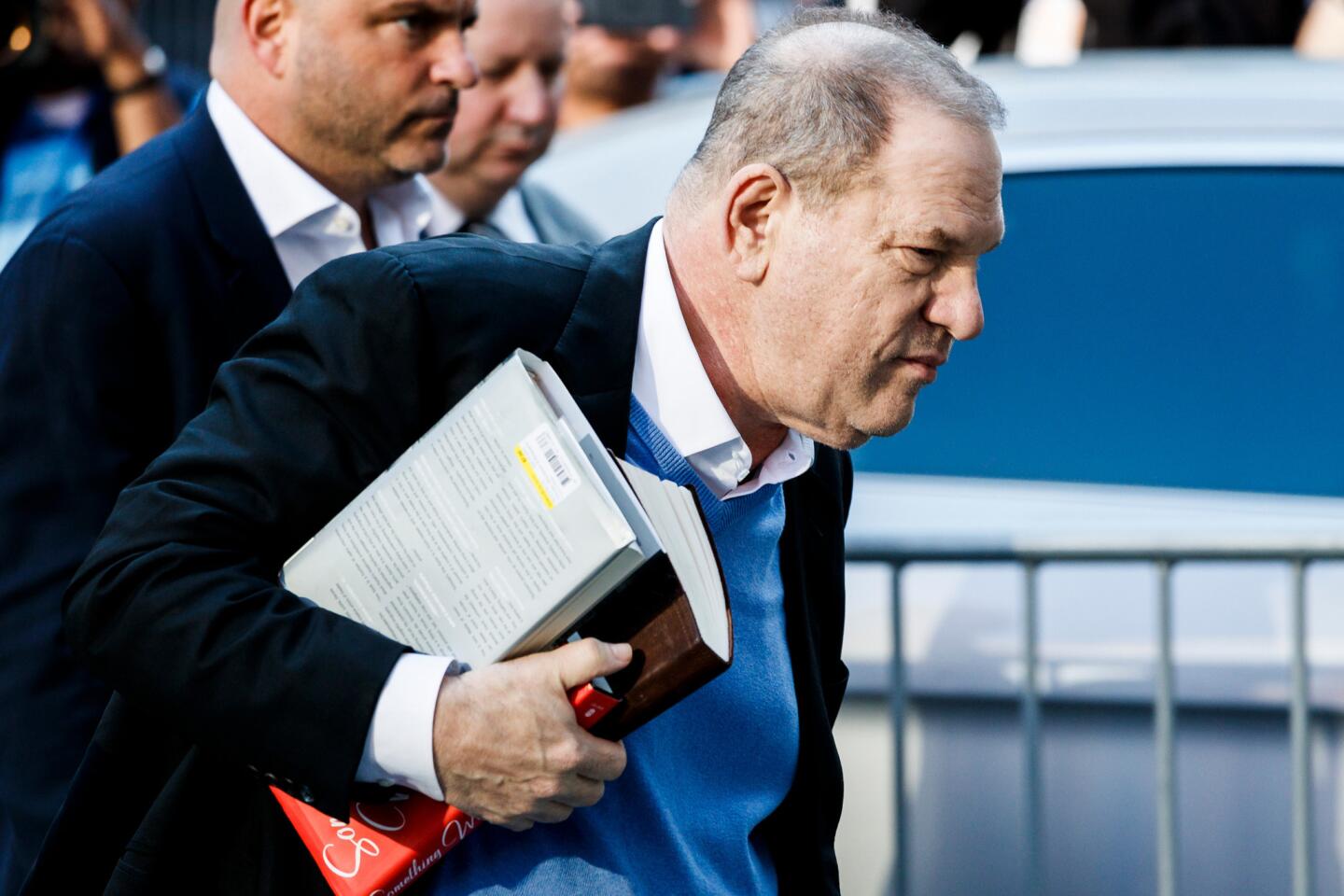 Harvey Weinstein arrives at the NYPD's 1st Precinct headquarters to turn himself in to face multiple sex assault charges.
(Justin Lane / EPA / Shutterstock)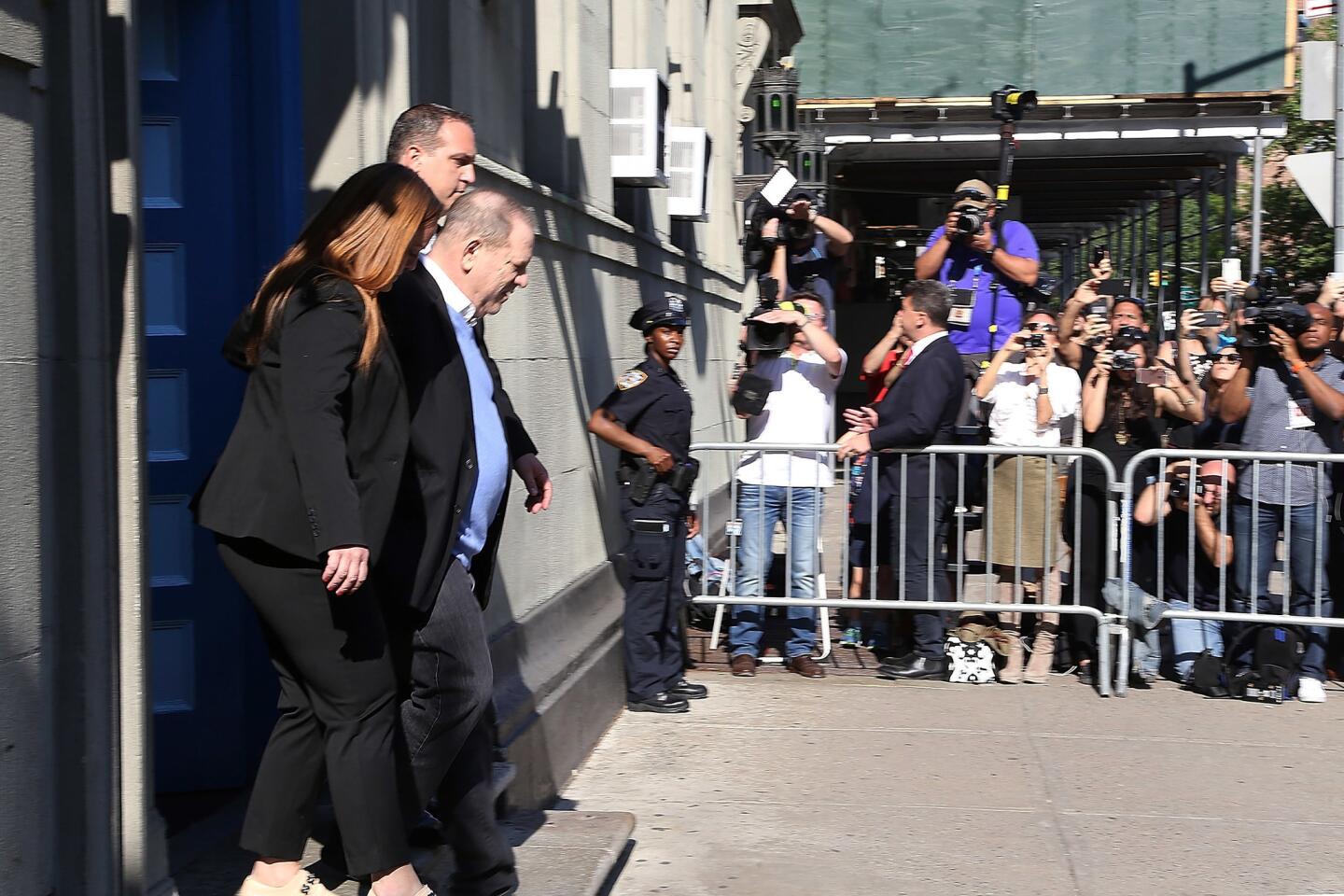 Harvey Weinstein is escorted from police precinct headquarters in handcuffs after being charged with rape, committing a criminal sex act, sexual abuse and sexual misconduct.
(Manny Carabel / Getty Images)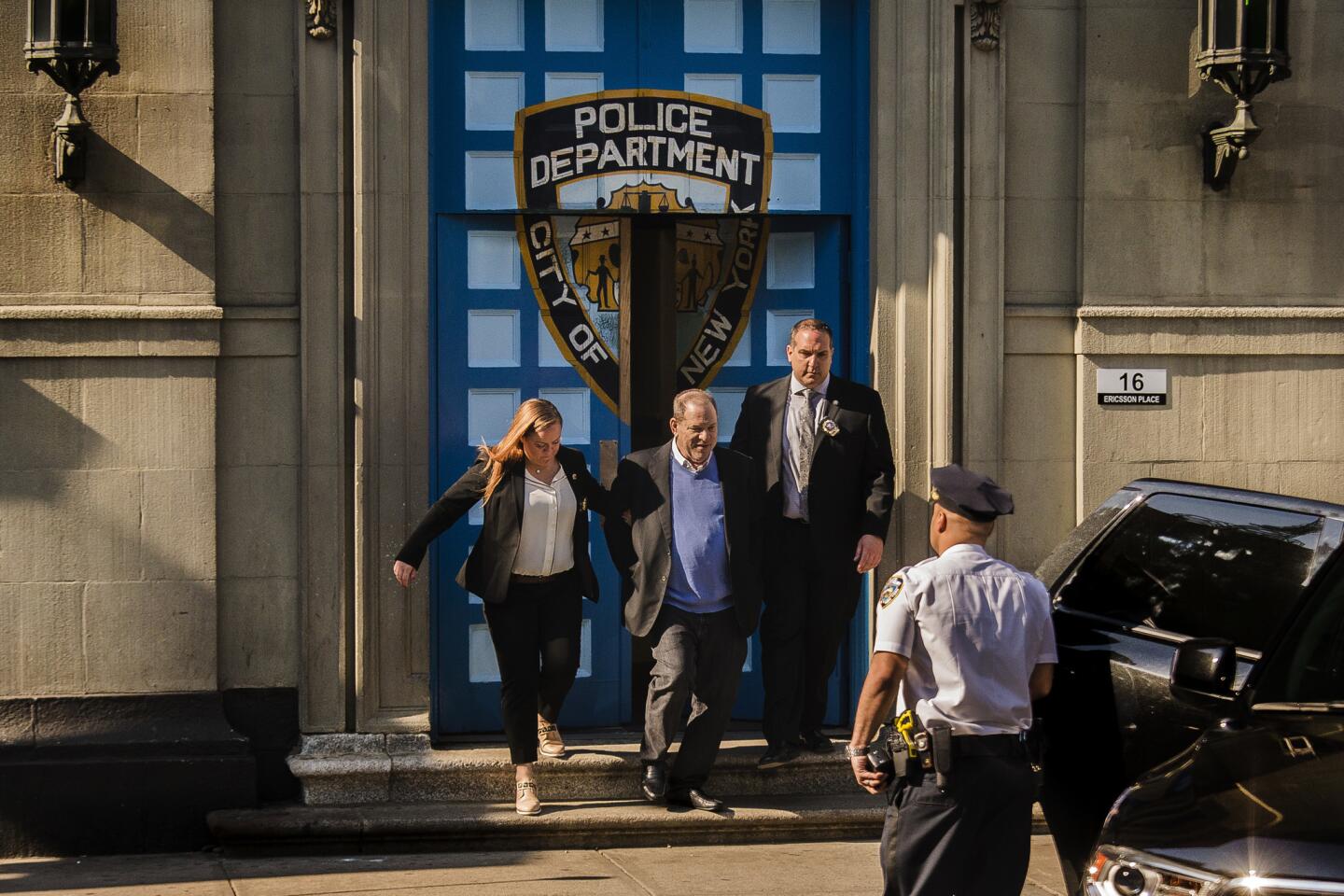 Harvey Weinstein leaves New York Police Department station after being charged with multiple counts of sexual assault.
(Andres Kudacki / Associated Press)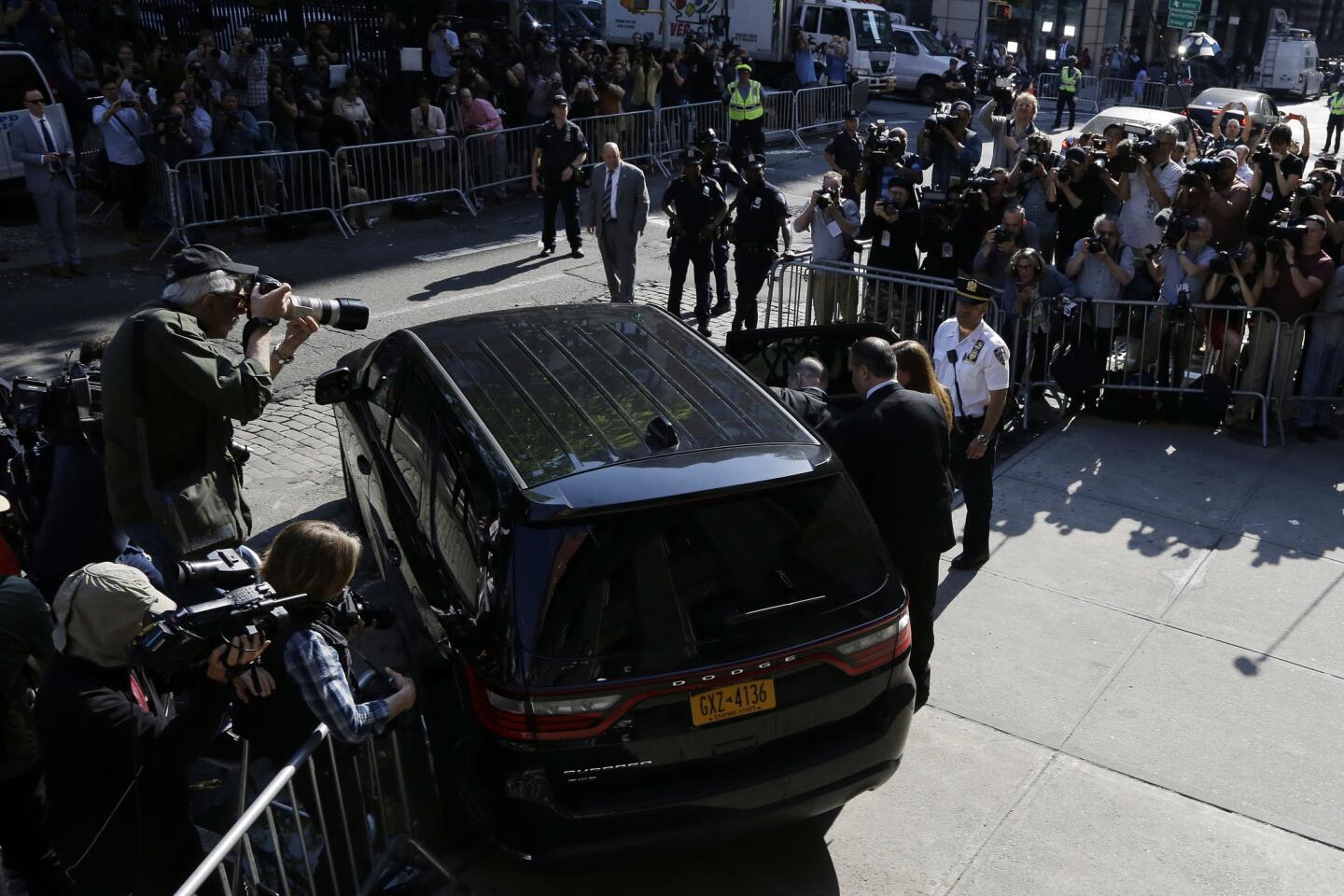 Press and onlookers crowd around as Harvey Weinstein climbs into a waiting car after being charged with rape and other sex crimes in New York.
(Julio Cortez / Associated Press)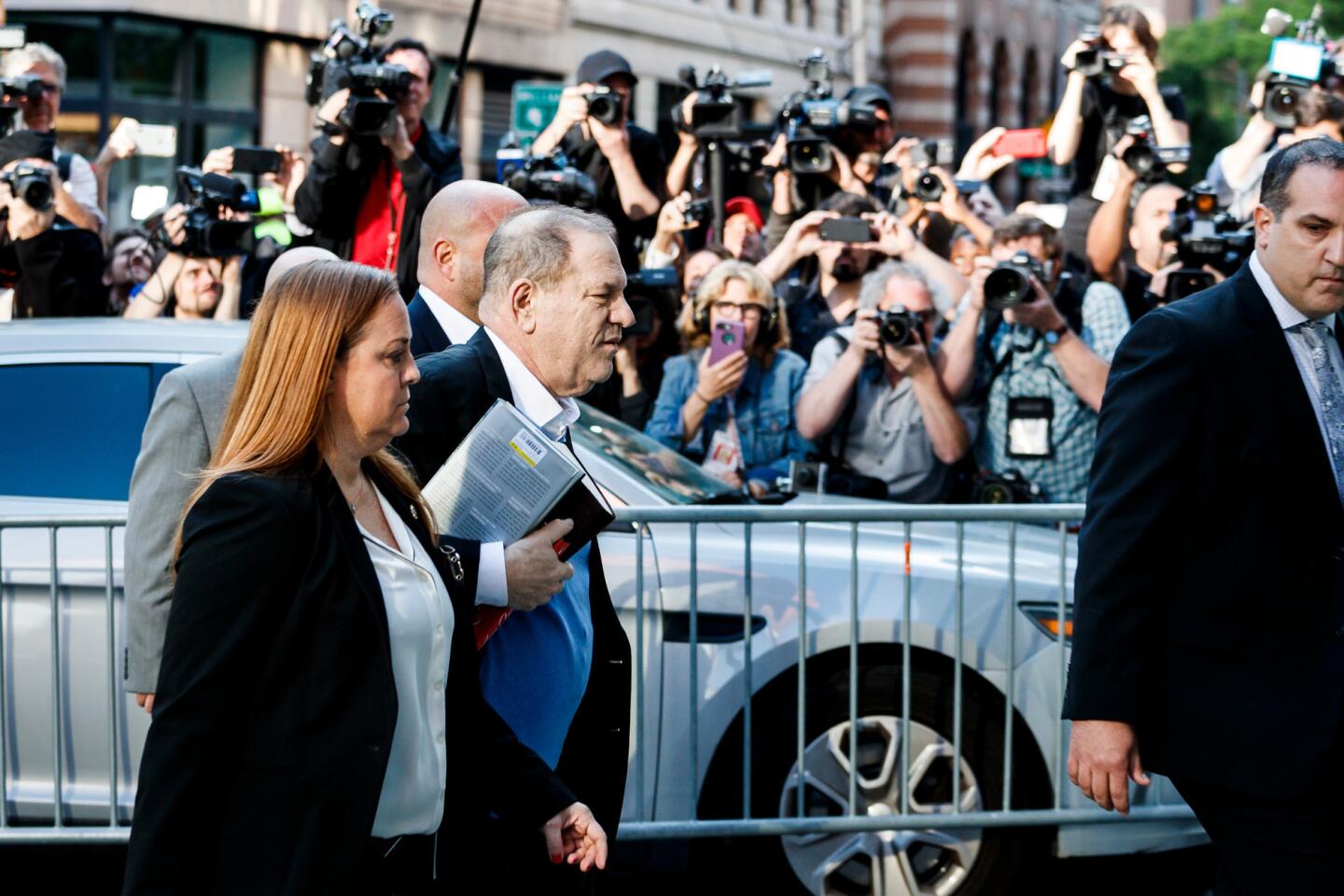 Former movie producer Harvey Weinstein arrives at the New York Police Department's 1st Precinct station to turn himself in to face multiple sexual assault charges on Friday.
(Justin Lane / EPA/REX-Shutterstock)
Brafman said that if the women are cross-examined before a jury, "the charges will not be believed by 12 people, assuming we will get 12 fair people who are not consumed by the movement that seems to have overtaken this case."
"Mr. Weinstein did not invent the casting couch in Hollywood," Brafman said. "And to the extent that there is bad behavior in that industry, that is not what this is about. Bad behavior is not on trial in this case. It's only if you intentionally committed a criminal act, and Mr. Weinstein vigorously denies that."
Brafman later said that Weinstein would enter a plea of not guilty and that he planned to file a motion to dismiss the case on behalf of his client.
"We intend to move very quickly to dismiss these charges," he said. "We believe they are constitutionally flawed. We believe they are not factually supported by the evidence, and we believe that in the end of the process, Mr. Weinstein will be exonerated. … We knew that Mr. Weinstein was under investigation for more than seven months. He voluntarily surrendered this morning, and we have met all the bail conditions by agreement so we would not have extended court proceedings."
The charges are the first to result from months of investigations in New York, California and London.
Before his arrival Friday morning, at least 100 reporters and photographers waited outside the New York Police Department's 1st Precinct station in downtown Manhattan. Police set up barricades along Varick and Beach streets, drawing bemused stares from passing motorists, who repeatedly rolled down their windows to ask what was happening.
Police blocked off traffic around 7:25 a.m., and Weinstein exited a truck that pulled up near the precinct headquarters entrance. He was sporting a light blue sweater under a dark blazer and carrying two books — "Something Wonderful: Rodgers and Hammerstein's Broadway Revolution" by Todd S. Purdum and "Elia Kazan" by Richard Schickel, a biography of the legendary director and former member of the Communist Party who named names of other party members during a wave of U.S. anti-communist hysteria.
Weinstein ignored a din of shouted questions from reporters.
Sources with knowledge of the case who spoke on condition of anonymity said one of the women involved is a once-aspiring actress who has alleged that Weinstein assaulted her during a meeting at his Miramax office in 2004. Lucia Evans told New Yorker magazine last year that Weinstein said during a meeting that she'd "be great in 'Project Runway' " before forcing her to perform oral sex.
The second alleged victim's identity has not been reported.
RELATED: Full coverage of Harvey Weinstein sexual misconduct scandal »
According to the New Yorker story, Evans said she met with Weinstein in one of his offices when she was a student at Middlebury College.
"He immediately was simultaneously flattering me and demeaning me and making me feel bad about myself," she told the magazine. Weinstein told her that she'd be perfect for "Project Runway" — the show, which Weinstein helped produce, premiered later in 2004 — but that she needed to lose weight. She also said he told her about two scripts, a horror movie and a teen love story.
"At that point, after that, is when he assaulted me," Evans said.
She said that she objected but that Weinstein exposed his penis and pulled her head down toward it.
"I said, over and over, 'I don't want to do this, stop, don't,' " Evans told the New Yorker. "I tried to get away, but maybe I didn't try hard enough. I didn't want to kick him or fight him." In the end, she said, "he's a big guy. He overpowered me." She added: "I just sort of gave up. That's the most horrible part of it, and that's why he's been able to do this for so long to so many women: People give up, and then they feel like it's their fault."
Weinstein has been accused by more than 80 women of misconduct that includes sexual harassment and rape. Police in Los Angeles, Beverly Hills, New York and London have conducted investigations into more than 20 allegations.
Los Angeles County Dist. Atty. Jackie Lacey's team has been reviewing two investigations into Weinstein by Beverly Hills police, as well as three Los Angeles Police Department investigations — including an Italian actress' allegation of rape in 2013.
According to law enforcement sources, detectives believe that case is promising for prosecution because the woman told her story to three people, including a priest, relatively soon after the alleged attack. LAPD detectives also have evidence the woman was a guest at the Beverly Hills hotel where she claims Weinstein attacked her, the sources said. The case does have flaws, they added. Detectives found little physical evidence of an attack and have been unable to secure proof that Weinstein was at the hotel when the woman says the rape occurred.
Meanwhile, the Manhattan district attorney's office has impaneled a grand jury to examine other potential charges against Weinstein, while federal prosecutors investigate allegations that the former producer may have lured women across state lines for the purpose of sex crimes.
Steve Cooley, former Los Angeles County district attorney, said it will be difficult for Weinstein's lawyers to win a change of venue for the trial, which has drawn international publicity.
"If they want to bring a change of venue motion to have the trial outside New York, they're going to have to go to Mars or the moon or maybe North Korea to find someone who has not heard about Weinstein's bad acts," he said.
Cooley said Braffman's bravado outside the court won't help with potential jurors. "I thought that was pretty aggressive," he said, noting that the defense will do everything it can to discredit the alleged victims.
Jane Manning, the director of advocacy at the National Organization for Women of New York and a former sex crimes prosecutor, said: "The case will rest on the credibility of the main witnesses, and in this case, you have at least two different women with no apparent motive to lie — nothing to gain by telling their stories — who are willing to come forward and subject themselves to sworn testimony."
Manning pointed out that Evans' "low profile underscores her believe-ability … she has nothing to gain here."
Manning said this case has "a team of skilled experienced NYPD detectives who spent months interviewing witnesses and securing corroborative witnesses, and there was a veteran prosecutor who built a relationship with the victims. When those things happen, sexual assault cases can be very provable and winnable cases in court."
On Monday, actress Rose McGowan, who has accused Weinstein of rape and reportedly settled a lawsuit against him years ago, tweeted: "We got you, Harvey Weinstein, we got you."
RELATED: Rose McGowan on Weinstein arrest: 'His face has terrorized me for so long' »
"I can say this: The man who pinned me down had handcuffs on today," McGowan said on NBC.
She said it was surreal "to see him do the Bill Cosby old-man perp walk on the way in" and that "to see him in cuffs on the way out … that's a very good feeling."
Actress and director Asia Argento, who also has accused Weinstein of rape, tweeted that Weinstein on Friday "will take his first step on his inevitable descent to hell."
She continued: "We, the women, finally have real hope for justice."
Queally reported from New York, and Winton and Branson-Potts reported from Los Angeles.
---
UPDATES:
1:20 p.m.: This article was updated with additional comments from Benjamin Braffman, Weinstein's attorney.
12:10 p.m.: This article was updated with comments from legal experts and a victims' advocate.
9:35 a.m. This article was updated with comments from actresses who have accused Weinstein of abuse.
7:25 a.m. This article was updated with additional details of the charges against Weinstein and statements from his attorney.
6:50 a.m.: This article was updated with Weinstein's court appearance.
6:15 a.m. This article was updated with details of charges.
5:35 a.m. This article was updated with the books Weinstein was carrying.
This story was originally published at 4:25 a.m.
Sign up for Essential California for news, features and recommendations from the L.A. Times and beyond in your inbox six days a week.
You may occasionally receive promotional content from the Los Angeles Times.