Northern California firestorm brings illness, strains healthcare system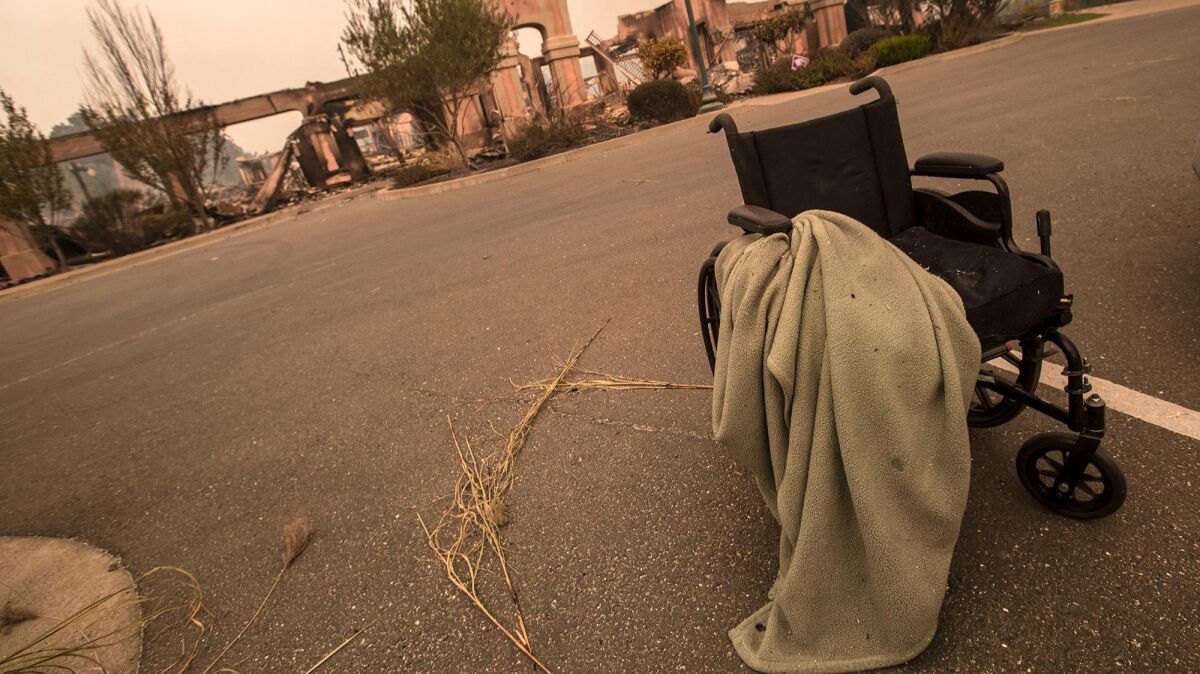 The deadly Northern California fires — by forcing the evacuation of several hospitals and clinics and destroying the homes of many doctors and nurses — have put a strain on available medical services.
The Petaluma Health Center canceled all scheduled appointments this week to make time for people requiring urgent care. They've treated asthmatics struggling to breathe amid some of the most unhealthy air in Bay Area history, as well as people who sprained their ankles or forgot to grab their medications as they raced from burning homes in nearby Santa Rosa, clinic chief administrative officer Pedro Toledo said.
Echoing health providers across the region, Toledo said the situation has been especially stressful because the danger isn't gone. The many fires devastating wine country are nowhere near containment, and the clinic could be threatened if the wind changes. This week, staff made emergency supply kits for their cars.
"A major earthquake hits and then it's over … we still have no sense of when this is going to end," Toledo said. "This thing could get worse."
Hospitals evacuated, medical offices destroyed
As the Tubbs fire closed in Monday morning, staff evacuated more than 200 patients from Kaiser Permanente Santa Rosa and Sutter Santa Rosa Regional hospitals. Video footage showed people in scrubs wheeling patients hooked up to IVs out of the Kaiser hospital — with orange flames just feet away.
The hospitals that remain open have been treating the transferred patients, as well as tending to those suffering from severe smoke inhalation or burns. Others have shown up at emergency rooms after being injured while evacuating, in car crashes or falls.
"There's certainly been a strain on some of our facilities," said Dr. Josh Weil, assistant physician-in-chief at Kaiser Permanente Santa Rosa.
Weil said staff were using medical offices on the Santa Rosa campus, which escaped damage, as a command center, but that the rapidly changing conditions made it difficult to plan.
About 150 Kaiser employees, including Weil, already had lost their homes to fire, he said. And those who haven't were monitoring the potential risk to theirs.
"You keep thinking … 'All right, we're through this.' And then we're not," Weil said. "You think it's safe, and then it's under threat again. You think it's safe … and then it's gone."
Skies filled with smoke
The air quality in the Bay Area has been abysmal this week. Cars are filled with ash, and apartments smell like smoke. The air feels thick.
Health officials have advised residents not to go outdoors unless absolutely necessary. The polluted air can cause coughing or dizziness. It also can exacerbate emphysema, asthma and other lung diseases.
Toledo said that on Wednesday alone the clinic treated 600 patients, most of whom were complaining of smoke-related issues. Asthma flare-ups. Red and stinging eyes. Many asked for inhalers to breathe easier.
Doctors and nurses at the clinic wore masks and handed them out to patients.
One company installed air purifiers to try to help with the smoke at three of its dialysis clinics, said Gerry Argue, a division vice president at DaVita.
"The dialysis patient population is already quite fragile ... so they're more vulnerable," Argue said.
According to weather experts, shifting conditions make it hard to know when the air quality will improve.
Short on medical supplies
Shivawn Brady, who evacuated from her Glen Ellen home in the Sonoma Valley on Monday, has been helping distribute goods to shelters across the region.
"From what I'm hearing, the hardest thing is getting hold of medical supplies," Brady said.
The need was particularly severe, she said, at shelters housing patients evacuated from nursing homes. Requests have come in for syringes, inhalers, bed pans, eye drops, hydrocortisone cream and glucometers to check for diabetic patients' blood sugar levels.
"They're just in short supply everywhere," Brady said.
After the roof of the Vista Family Health Center began to melt Monday morning, Santa Rosa Community Health Centers CEO Naomi Fuchs said, sprinklers flooded the facility that treats 27,000 patients a year.
Now staff members are trying to serve patients from the system's other facilities and have set up a phone bank to answer people's medical questions.
Fuchs said the most common requests have come from residents who evacuated without their prescription medications.
"We're trying to do as much medicine as we can without having people come into the clinic," she said.
She recalled holding a meeting this week and seeing her staff, many of whom had lost their homes, eager to work.
"Tears just started streaming down my face," Fuchs said, describing it as both "heartbreaking and heartwarming."
soumya.karlamangla@latimes.com
Twitter: @skarlamangla
ALSO
Smoke from wine country fires leads to 200 canceled flights, hazardous air quality: 'It is basically like living in Beijing'
They survived six hours in a pool as a wildfire burned their neighborhood to the ground
Death toll from Northern California fires jumps to 31; names of 10 victims released
The stories shaping California
Get up to speed with our Essential California newsletter, sent six days a week.
You may occasionally receive promotional content from the Los Angeles Times.