'Hollyweed' prankster surrenders to LAPD, arrested in trespassing case, police say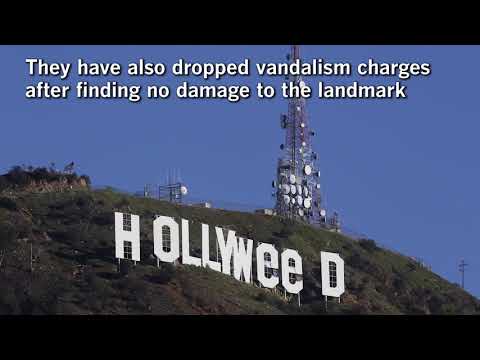 Since the sign was erected in 1923, it has been modified by protesters and pranksters. In fact, this is not the first time the sign has read "HOLLYWeeD."
A Pomona artist was arrested Monday on suspicion of trespassing in connection with altering the Hollywood sign to read "HOLLYWeeD" on New Year's Day, police said.
Accompanied by an attorney, Zachary Cole Fernandez, 30, surrendered at 12:10 p.m. to Los Angeles Police Department detectives in Hollywood, according to Capt. Cory Palka. He was booked on the misdemeanor offense and released on a $1,000 bond two hours later.
Fernandez is scheduled to appear on Feb. 15 in Los Angeles Superior Court in downtown L.A., according to the Hollywood Division captain.
"I never expected it to get as big as it did," Fernandez told The Times.
The Hollywood sign was not damaged in Fernandez's prank, but the letters were briefly changed, police said.
Police said surveillance footage showed a man dressed in black, tactical-style gear scaling the sign's ladders and hanging tarps over the O's to change them to E's at 3 a.m. Jan. 1. One of the tarps was decorated with a peace sign and another with a heart.
"The Hollywood Sign has seen many alteration attempts over the years for people seeking notoriety or commercial gain," Los Angeles City Councilman David Ryu said in a statement. "Pranks of this nature deplete the resources of our valuable public safety personnel, in both responding to the prank and in responding to the increased crowds and copycat attempts that these incidents generate."
Last week, an LAPD spokeswoman had said investigators were "talking to a person" in connection with New Year's Day prank. Officer Liliana Preciado said detectives would not arrest the prankster on suspicion of trespassing, but instead would present their findings to prosecutors.
Days after the sign alteration, Fernandez, who calls himself "Jesus Hands," told Vice that he and his "creative partner/former wife, Sarah Fern," were responsible for the prank.
Fern and Fernandez said they were aware they could face consequences for revealing their identities. But Fern told Vice, "We're OK with that."
Fern told Vice that she and Fernandez "mapped it out together and double-checked measurements and everything."
Fernandez told the online magazine he used a rope to swing around the letters and used clamps to clip sheets of fabric and photographs to them. The entire act took about two hours, he told the magazine.
The prank, they said, was an homage to Daniel Finegood, a Cal State Northridge student who pulled off the same act on New Year's Day in 1976.
Finegood scaled Mt. Lee with $50 worth of curtains and changed the sign to coincide with the first day that California classified possession of up to 1 ounce of marijuana as a misdemeanor, rather than a felony.
He first conceptualized the prank in October, and asked his friends on Facebook whether anyone was interested in participating. At the time, he didn't know about Finegood's prank.
The couple said they also drew inspiration from the divisive election, saying they hoped the piece brought conversation and positivity.
After altering the sign, Fernandez told The Times that he went home and fell asleep. Fern woke him up later that morning and told him that the prank had gone viral.
"In my opinion, it brought joy and happiness," Fernandez said.
For breaking news in California, follow @VeronicaRochaLA on Twitter.
ALSO
L.A. needs to borrow millions to cover legal payouts, city report says
Wife of a U.S. marshal accused of framing his ex-girlfriend in Craigslist 'rape fantasy' plot
Storm brings widespread flooding across Northern California; more rain on the way
---
UPDATES:
9:20 a.m. Jan. 10: This article was updated with comments from Fernandez.
3:30 p.m. Jan. 9: This article was updated with details about Fernandez being released from custody two hours later.
This article was originally published at 3:15 p.m. Jan. 9.
Sign up for Essential California for news, features and recommendations from the L.A. Times and beyond in your inbox six days a week.
You may occasionally receive promotional content from the Los Angeles Times.